The Cost of Living Is High for the Characters in Martyna Majok's Latest Play
Martyna Majok's newest play burned through a number of titles (one of which would have been a very ill-timed Moonlight) before landing on Cost of Living, now running at New York City Center – Stage I as part of Manhattan Theatre Club's off-Broadway season.
While fitting for this particular play — an exploration of two separate relationships that develop from places of mutual need — the name encapsulates much of Majok's work. In last season's Ironbound (which made its off-Broadway debut at Rattlestick Playwrights Theater), Majok told the story of a poor Polish immigrant and her means of survival in working-class New Jersey. Members of that forgotten population are represented once again in Cost of Living, which layers in the stories of John (Gregg Mozgala), a man with cerebral palsy, and Ani (Katy Sullivan), a quadriplegic. Jess (Jolly Abraham), who lives paycheck to paycheck, becomes John's professional caregiver, while Eddie (Victor Williams), a truck driver, puts his life on hold to take care of his newly disabled ex-wife Ani.
Jess and John were originally written as subjects of a short play (a comedy in Majok's mind) that she wrote for a Youngblood "brunch" at Ensemble Studio Theatre ("They're called "brunches" because they serve you brunch food and unlimited alcohol," says Majok. "It is the best thing in the world because everyone is just sh*t-faced and supportive.")
"As soon as Gregg entered in a wheelchair, everyone got really quiet," Majok remembers. "That was fascinating to me — for the entrance of a human body on the stage to be so shocking." Fascination eventually spawned a full-length piece, which made its way to Williamstown Theatre Festival last summer, and now to the New York stage under the direction of Majok's dream collaborator, Jo Bonney. Majok and Bonney discuss the play and its genesis, as well as the onstage representation of disabled performers — which, with any luck, will soon be a far less novel event.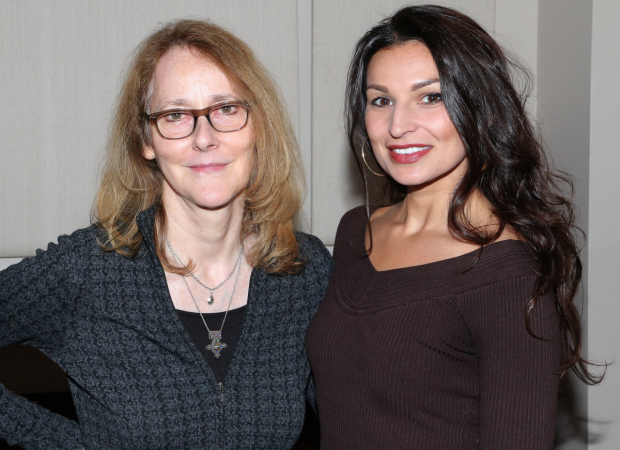 This interview has been condensed and edited for clarity.
The fact that your play features two disabled actors has been one of the main conversations around Cost of Living. Is that where you intended the focus to be?
Martyna Majok: I think it's more about class and people's need for each other and helping each other. But I guess when you put two disabled actors onstage, given that there haven't typically been that many disabled artists onstage, then that's the focus. It's in the fabric of these characters and we don't deny that it's part of their experience, but the lens is not on that.
Where did the story between Eddie and Ani come from, and how did you come to join it with the story of John and Jess?
Martyna: I had written the first Eddie Torrez monologue and I became curious about who his wife was and wrote a short play about the two of them. I realized that there were things from these two plays in conversation with each other that had to do with class and caring, so I put them together. I realize, in retrospect, Cost of Living started from a place of grief and loss. I watched the show again and remembered where I was in my life when that first monologue arrived in my imagination.
At the time a very close family member had recently died, unexpectedly, in Poland. (I was born in Poland, where the vast majority of my family still lives.) I didn't have the money to fly to be at his funeral, and I was afraid to go — to say goodbye. I felt the furthest away I've ever felt. I started wishing I could see his ghost. I was longing for some kind of magic — for something beyond. And Eddie's voice came to me that snowy night. I wrote that first scene in one sitting and it hasn't really changed much since then. A few months later, I wrote about John and Jess. And then Ani. This show took me about two years to write because I was finding the story as I went along. For a long time I didn't have an ending. Then Mandy Greenfield called me into her office at Williamstown and was like, "This play that you wrote — we'd like to produce it." And I was like, "Great! I'll write it then!"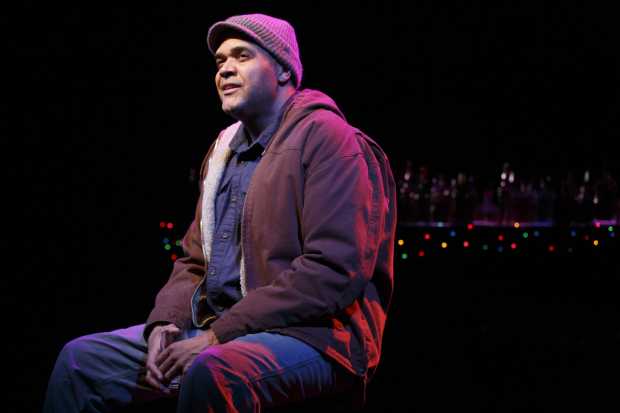 Why are the topics of class structure and relationships ones you find yourself going back to?
Martyna: That's just my experience of life — not really having that net. We didn't have much money growing up, and when I started going to see theater I didn't really see those stories. I just assumed that every play had to be in a second empire drawing room. But when I was teaching myself playwriting, I would go to the Chicago public library and take out as many plays as I could and I found this collection of Danny Hoch's plays that Jo had directed. I was reading and was like, "This is my experience. These are the people I grew up with. This is my world." Then I found the recording and was obsessed with that, so I thought, "I want to work with Jo Bonney one day."
Did you specifically seek out Jo for this play?
Martyna: She was my dream person. Mandy asked me who I wanted to work with so they sent Jo the script. And she was like, "Great!" From that moment, my heart was beating. We were going to meet at a Starbucks and I was like, "F*ck, I hope she likes me."
Jo Bonney: It was mutual. It's always mutual, because it's like a little speed dating. I already knew she was smart from the page, but I'm looking for someone who is kind of funny and warm. And she is. She's sort of crazy. I like working with people who are a little crazy.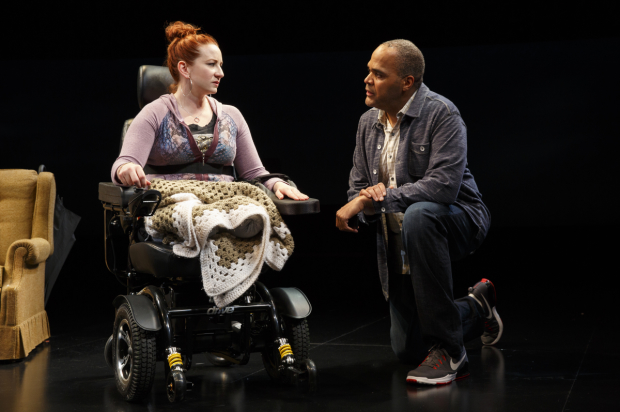 What was your impression of the play after reading it, Jo?
Jo: When I first read it I was like, "Oh I so get this." It was so funny and painful at the same time. These four characters were sort of orbiting around each other, looking to connect and looking how to survive. We're all these constellations floating around each other.
Was there any trepidation on your part about working with disabled actors?
Jo: It was one of the things that actually drew me to it. I feel like we all, in the breadth of life with family and friends, have people who deal with disabilities. It just seems like such a void to not have these characters represented onstage.
Martyna: I experience the same narratives about disabled people all the time: The dying with dignity narrative, or "inspirational" stories. That is not the experience of the disabled people that I know. I remember I sent the play out for a reading — a competition where you could win like 50 bucks. And they said, "We really would love to have you win this prize but we just don't have the actors so we're going to say you're a finalist." Now in the publication of the play I'm going to list organizations where you can find disabled actors so that is less of an excuse.
Jo: Where we are now in terms of casting, it would be hard to question the fact that you would want to, if in any way possible, give a piece of storytelling to someone who could truly bring that piece of storytelling to the stage.
Martyna: I didn't set out to write a play about disability. I had been wondering about care — about the nature of helping others and being helped. And about need and survival. I was thinking of the survivors in and around my life. I always hope something I write can be useful. Personally, nationally and globally, we're often confronted by loss and tragedy. I tried to build a home for four people in Cost of Living where they could feel held by each other, and where I could be held — and hopefully, someone in an audience.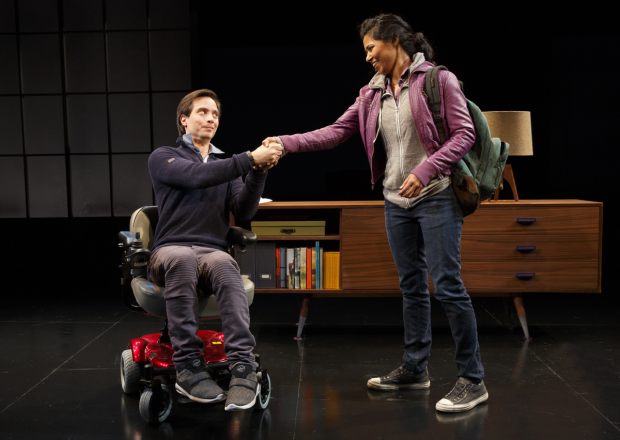 ---
See below the list of resources for disabled artists provided by Martyna Majok:
–Alliance for Inclusion in the Arts
–KMR Talent: Diversity Department
–The Apothetae
–Deaf West Theatre
–Phamaly Theatre Company
–Theater Breaking Through Barriers (TBTB)
–Lark New Play Development (partnering with The Apothetae to launch a new fellowship for disabled artists)