The Confessions of A Brooklyn Boy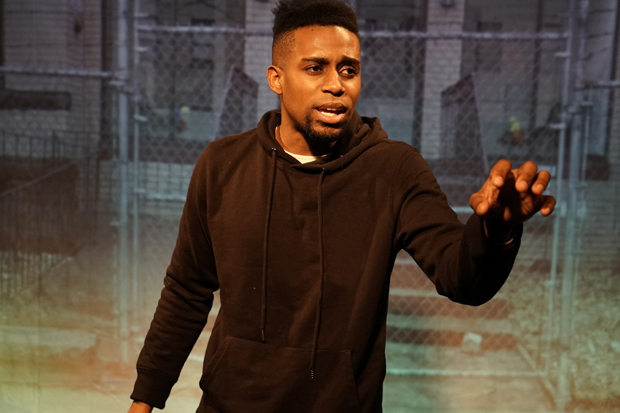 The Duke and Duchess of Cambridge are fans of Steven Prescod. Three years ago, Will and Kate caught an excerpt of Prescod's solo play, A Brooklyn Boy. That command performance has led to further engagements, including at the East Village Playhouse, where the play is currently being performed under the auspices of CityKids. Coauthor and director Moises Roberto Belizario recounts Prescod's brush with royalty during the curtain call, adding the role of proud uncle to his list of production credits.
One wouldn't normally associate British Royalty with a play like this, which charts a young man's adolescence in the mean streets of Bedford-Stuyvesant, where the pull of gang life was ever-present. Then again, the crown has been boosting the theater since the days of Elizabeth and Shakespeare. And who were the Lancastrians and Yorkists but Crips and Bloods with fancier heraldry? Prescod's earnest personal testimony is theater in its essential form, and it is definitely worth hearing.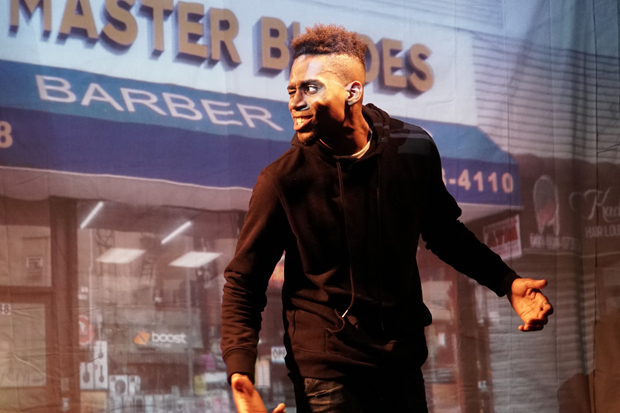 The son of two Caribbean immigrants, Prescod begins this hourlong story on the night his parents met, a chance encounter at a party that resulted in his mother's pregnancy at age 15. By Prescod's first birthday, his father was behind bars. By age 16, Prescod was facing his own seven-year prison sentence. Prescod gives us a sense of what he did to end up in that situation, enhancing his story with six original songs that make this one of the most unexpected musicals of the season.
The show is performed on an empty stage adorned with a single chair and evocative projections of Bed-Stuy (by Brad Peterson and Howard Olga-Reiken). Belizario's staging is light on its feet, meaning it could easily be performed on makeshift stages across the city, something the producers seem keen to do.
Within its minimalist form, A Brooklyn Boy indulges in many of the clichés of solo performance: Archetypal gestures denote each character, emotionally fraught moments explode into lyrical dance, and Prescod regularly jumps back and forth between two roles in tearful dialogue. With agility and confidence, Prescod fills every inch of the tiny stage with his truth, so that even if we recognize his methods as overplayed, we're still impressed with his variation.
Group scenes, like one in which Prescod and several friends cross into Bushwick to jump some strangers, are often the most confusingly staged, but also the most enlightening. Not only do we witness Prescod mercilessly beat a "Spanish" (most likely, Puerto Rican) kid, but we get to understand the peer pressure that led to that moment. We also hear his confession that it won't be the last time he feels like he needs to prove himself that way, and how much that troubles him. As someone who has been assaulted in Bushwick, I had never previously pondered the fear and guilt that may have haunted my attackers, perhaps as long as the dread of future violence haunted me.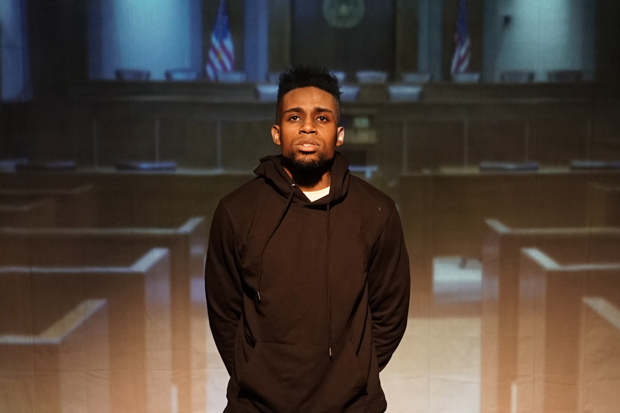 Violence is the overarching theme of Prescod's story. It is a force that doesn't just derive from rival street gangs, but from the police, who are the gang we the taxpayers hire. Prescod spends much of the story walking a tightrope between street violence on one side, state violence on the other, occasionally slipping into one pit or the other. The fact that he was able to get back up and make it to the other side, to an off-off-Broadway theater, is the most extraordinary part of his story — even more than a royal audience.