TEDx Broadway Roundup: Is the Broadway of Rodgers & Hammerstein Preparing for a System Upgrade?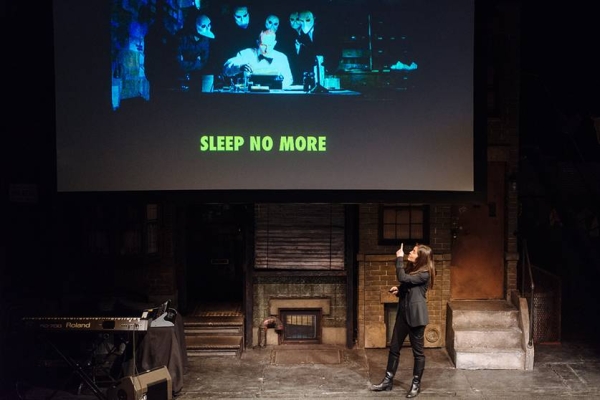 Theater professionals, amateurs, and enthusiasts gathered at New World Stages on Monday, February 24 for the 3rd annual TEDx Broadway conference, organized by Damian Bazadona (president of Situation Interactive), Broadway producer Ken Davenport, and Jim McCarthy (CEO of Goldstar Events). Over the course of six hours, members of the "Broadway ecosystem" (as the trio has labeled it) took the stage to propose answers to the conference's standing question: "What's the best that Broadway can be?"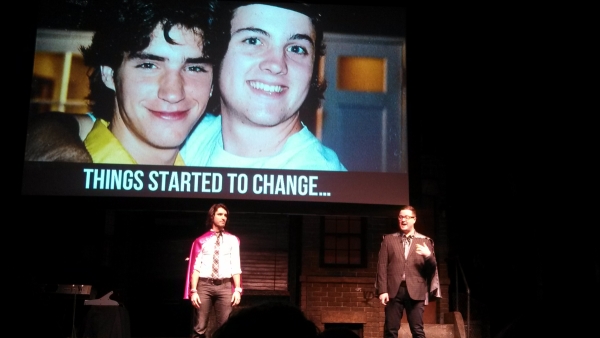 Technological takeover was the trend that emerged from this year's group of speakers, which was also peppered with entertaining presentations by comedian Lea DeLaria, improv hip-hop group Freestyle Love Supreme, variety artist Todd Robbins, and theatrical fitness gurus (or "ninjas" as they prefer to be called) Mark Fisher and Michael Keeler of Mark Fisher Fitness. Several of this year's speakers proposed ways to harness the power of interactive technology to capture the population of tech-savvy and often distraction-prone millennials — the new web-driven tactics being employed to counteract Broadway's diminishing audiences.
"This is the third year in a row we just saw attendance drop," Davenport told TheaterMania. "The last time we saw it drop three years in a row was the time of the recession in 2008-2009. That's an extreme concern to me. At the same time the grosses keep getting higher and higher, so everyone keeps celebrating. [But] this is a giant bubble. If we don't do something to increase that audience base, the bubble will eventually pop."
Dexter Upshaw, digital media manager for Harlem's Apollo Theater, took the floor with this philosophy: "Stop thinking about digital last." Upshaw argued that the digital realm of the theatrical experience should begin to move to the fore of creative projects. He leads by example with the digitalization of the Apollo Theater's famous Amateur Night competition, the victor of which is now determined by virtual cheers and boos from an international audience via an iPhone and Android app.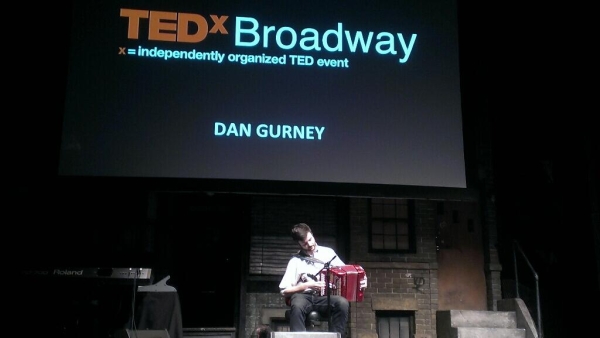 Dan Gurney (who prefaced his talk with a brief performance on the button accordion) spoke of the unique audience experience that is offered by his company Concert Window. Artists perform on their laptops to viewers on the Web whose applause and snickers become comments in a private chat room. While David Drake, founder of LDJ capital, has made his fortune on this untapped well of Web-based resources through crowdfunding, an industry expected to see $10 billion in transactions in 2014.
The most dramatic proposals, however, came later in the day when speakers began to transition the conversation from technological methods of reaching audiences to a technological transformation of art itself. Multimedia performance artist Natasha Tsakos described a "system upgrade of theater" filled with projection mapping, virtual costume changes, and fast-paced information, tailor-made for today's young generation defined by low attention spans and a craving for instant gratification.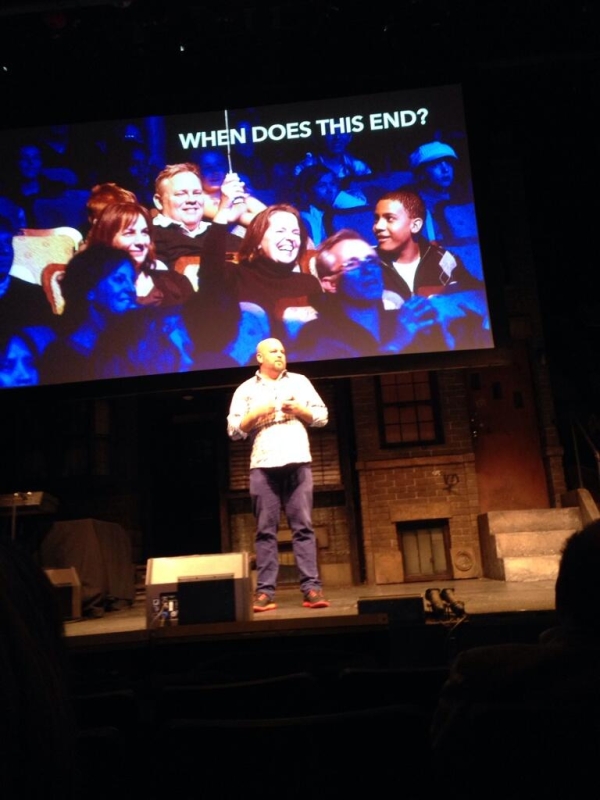 In the midst of what seems like Broadway's war against cell phones, many of the TEDx speakers touted a controversial philosophy. Rather than fighting this trend, they are beginning to encourage people to use their cell phones and interact with the production on Twitter in the middle of performances. Gamification expert Gabe Zichermann proposed that the Broadway community begin to infuse the same dopamine stimulants into the theatrical experience as those intrinsically built into video games that manage to keep children occupied for hours on end. Games harness the power of "feedback, friends, and fun," Zichermann explained — elements that social media outlets like Twitter and Facebook can offer audiences to engage with the performance in front of them.
Interestingly enough, while technological advancement seems to be an agreed-upon method of boosting Broadway's sinking attendance and audience engagement, it is also the industry's greatest hurdle. "There's more for [kids] to do [today] than there was fifty years ago… Nowadays… [theater] is one of a hundred [options] instead of one of ten," Davenport commented to TheaterMania.
"The expectation of a lot of people today, particularly the young people, is that they have some influence on the entertainment that they are experiencing," added McCarthy. "[Zichermann helps] us think about gamification [in theater] in a constructive way, where the expectation is that I'm not just a passive spectator, I'm involved in some way."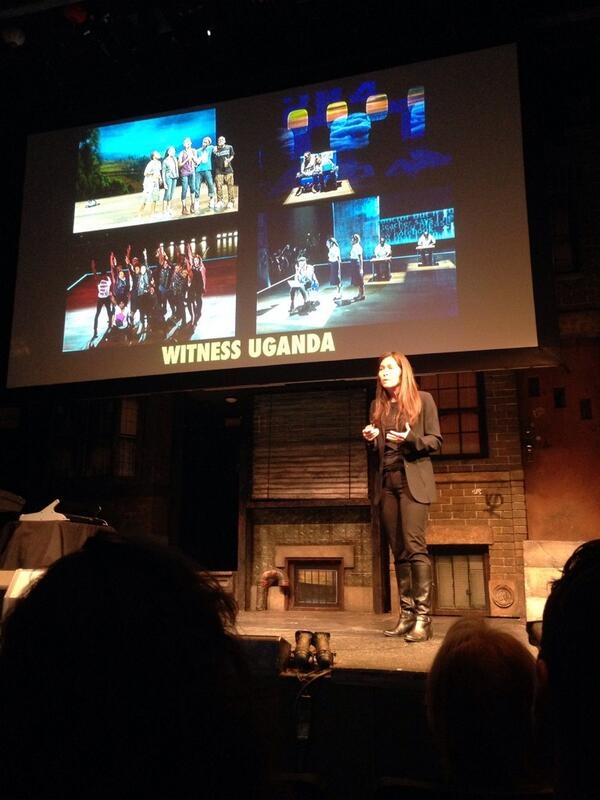 Diane Paulus, the Tony Award-winning director of Pippin and artistic director of Cambridge's American Repertory Theater, addressed this concept of interactive theater separate from the technological realm. She spoke of this growing theatrical trend not as a way of making the theater a more palatable medicine, but as a way of challenging its accepted boundaries and even heightening the standards to which artists should hold their audiences. "Think of theater as what happens before, during, and after the show," she said. "Don't rush people out as soon as curtain falls." Sleep No More, the popular immersive experience of Shakespeare's Macbeth, and The Donkey Show, a nightclub adaptation of A Midsummer Night's Dream, are two of her theater's proven successes in this arena.
As successful business partners Fisher and Keeler of the Mark Fisher Fitness phenomenon can attest, theatrical experiences can extend far beyond the confines of a proscenium and often build lasting bonds. "Theater has the power to create community," said Fisher, who has witnessed the effects of this philosophy in his very own unicorn-filled ninja clubhouse (a "gym" to the traditionalists among you), which is frequented by some of the theater community's heaviest hitters. "The goal of business is to improve the quality of life of all involved whether clients, owners, or stakeholders."
"How [this] generation creates entertainment is going to be vastly different than how Rodgers and Hammerstein created entertainment," said Davenport. "This is a very archaic industry with a lot of old school traditions that don't make a lot of sense in modern business terms," a potentially saddening realization for those who find comfort in Broadway's enduring rituals.
Yet, as images of a futuristic theater flew across the stage, Broadway and Frozen composer Robert Lopez offered a refreshing presentation that harked back to these "old school" days of Rodgers-&-Hammerstein-ian Broadway. On the stage that serves as the home of his very own foulmouthed puppets of Avenue Q, he sat at a keyboard and sang the audience through his development as an artist from his first attempt as a 14-year-old novice to his latest Oscar-nominated hit, "Let It Go."
The audience was completely captivated — and Lopez didn't even tell us his Twitter handle.