School Girls; or, The African Mean Girls Play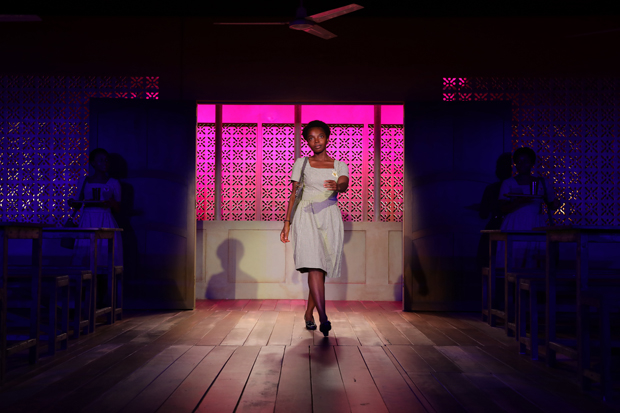 In the movie-now-musical Mean Girls, Tina Fey imagines what happens when a white girl moves from Africa to a suburban American high school. Jocelyn Bioh tells the story of a black girl going the opposite direction in School Girls; or, The African Mean Girls Play, now at the Lucille Lortel Theatre in a production by MCC. Theatergoers who have enjoyed Bioh's comic performances in An Octoroon and In the Blood will be unsurprised to learn that her first major off-Broadway bow as a playwright is one of the funniest shows of the season, benefiting not just from sharp writing, but a stellar cast that knows how to ground this comedy in real stakes.
It's 1986 and Paulina (MaameYaa Boafo) is the queen bee of Aburi Girls Boarding School, an elite academy in Eastern Ghana. Within the first minute of the play, she has already called fellow classmate Nana (Abena Mensah-Bonsu) a "cow" and "fat-fat." Gifty (Paige Gilbert) and Mercy (Mirirai Sithole) back her up, but then apologize to Nana as soon as Paulina is out of earshot: "We just don't want her coming after us," says Mercy. Ama (Níkẹ Kadri) thinks she's being extra judgmental because a recruiter for the Miss Ghana Pageant is coming to the school. Everyone is sure that Paulina will be chosen, but no one wants to get on her bad side since she has promised to lend them dresses for the audition — garments that her American cousins sent her from trendy boutiques like Wal-Mart and Conway.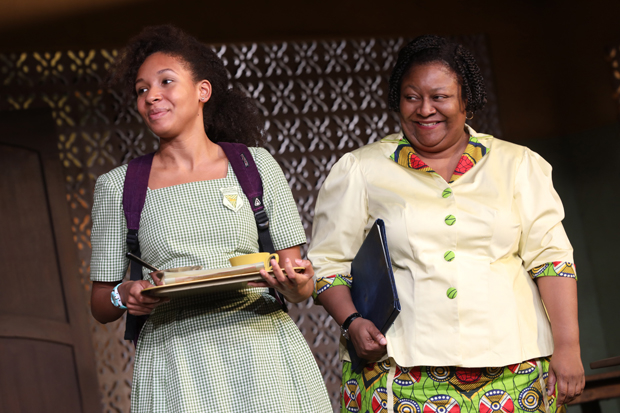 However, their political calculus changes when the headmistress (Myra Lucretia Taylor) walks into the cafeteria with Ericka (Nabiyah Be), a new student from the U.S. in possession of light skin and hair like Whitney Houston (magnificent work by hair designer Cookie Jordan). The audience audibly responds when Ericka steps onstage. We know she's gorgeous, but does that say more about us than it does about her? Certainly the other girls know who wins in a contest between Paulina and Ericka, immediately gravitating toward the new American girl.
Director Rebecca Taichman has impressively fostered a familiarity within the cast that makes it seem as though they've been living together for years. That makes the visual storytelling even stronger (half of this play is conveyed through side-eye), helping us to understand what these women value: They're floored to learn that Ericka doesn't even use skin bleaching cream (she has a white mom). On top of that, she speaks with an American accent and her father owns a cocoa factory. Be does an excellent job of presenting these humble brags with plausible humility, which only adds to Paulina's fury.
It would be easy to condemn Paulina as a mean girl, but Bioh forces us to question how she became that way. As played with ruthless precision by Boafo, we begin to understand that her talons are sharpened from years of clawing her way up in a world designed to bury her at the bottom. Playing Eloise Amponsah, the pageant recruiter and Miss Ghana 1966, Zainab Jah gives a tangy portrayal of a woman who has spent a lifetime with her claws protracted: "I asked some students where I could find you and they said the cafeteria," she says to the headmistress, a thinly veiled jab at her weight. Sporting a posh British accent and designer duds, Jah plays Eloise like the black Alexis Carrington — ambition buttressed by chandelier earrings.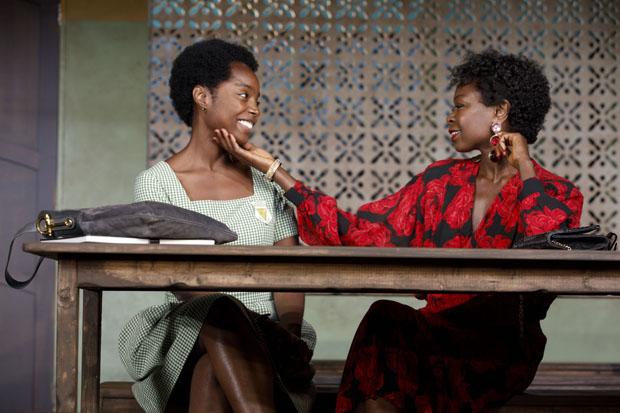 Part of the hilarity of Bioh's writing is seeing retro '80s American culture through a Ghanaian filter, something Taichman emphasizes in the design. From Paulina's pink poofy prom dress to Eloise's yacht captain outfit, Dede M. Ayita's costumes are a hoot, especially in the context of Arnulfo Maldonado's West African cafeteria. Mountain air and natural light (by Jen Schriever) seep into the room, cooled by nine ceiling fans. Palmer Hefferan's transitional music has an undeniable '80s pop sound, with slight West African inflections, which encapsulates this proto-globalized environment: These are the most privileged and promising students in Ghana, but their lives are mostly consumed by Judy Blume books and American teen heartthrobs like Bobby Brown.
There's an insidious aspect to this wholehearted embrace of American culture. It is the reason Eloise comes to believe that Ericka has the best shot at the Miss Global Universe Pageant, in which no Miss Ghana has ever cracked the top 10. But even if Ericka becomes Miss Ghana, what does she win? The opportunity to be judged next to Swedish and Italian women by men like Donald Trump. Bioh's play is a timely reminder of the lasting hold of Eurocentric notions of beauty, even as the cultural means of production spread beyond the West.