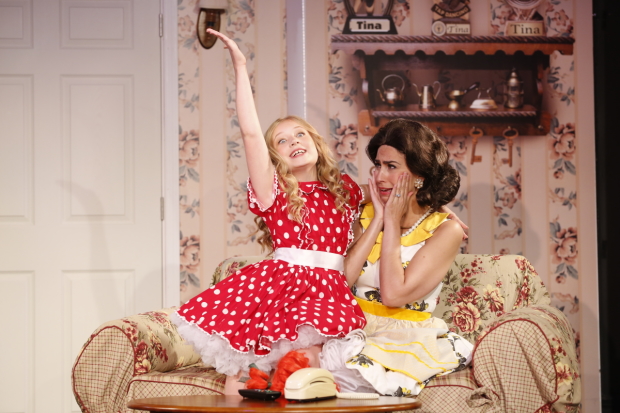 There's rarely been a higher concentration of child actors on Broadway than there is right now. Finding Neverland, Kinky Boots, Matilda, Fun Home, The King and I: Can you imagine the epic backstage tantrums? And I'm not talking about the kids, but the stage parents. Joel Paley and Marvin Laird do the imagining for us with the off-Broadway revival of Ruthless! This send-up of classic Hollywood and the backstage bildungsroman is as ridiculous as ever, but with an added poignancy now that the creation of child stars has blossomed into a cottage industry — all fully documented by reality TV shows like Dance Moms and Here Comes Honey Boo Boo.
Judy Denmark (Kim Maresca) is an all-American housewife with an absentee husband and a precocious daughter named Tina (Tori Murray). Talent agent Sylvia St. Croix (Peter Land) wants to make Tina a star and sees the upcoming school play as the perfect launching pad for her career. Sadly, the lead role of Pippi Longstocking goes to Louise Lerman (Tracy Jai Edwards), whose parents are financial backers of the production. Tina is cast as the understudy for the one-night-only performance, meaning that she'll never get to play Pippi unless something were to happen to poor Louise before opening night.
Much of the show satirizes the horror novel-turned-play-turned-movie The Bad Seed, about a murderous little cutie-pie. Ruthless! features soundalike names from that property ("Penmark" becomes "Denmark") and extrapolated dialogue. Elements of Gypsy and All About Eve are thrown in, raising the show's camp quotient to sky-high levels.
In a genuine star turn, Murray offers an uncanny imitation of Patty McCormack from the 1956 film adaptation of The Bad Seed, including feigned syrupy sweetness and the dagger eyes of a natural born killer. In addition, she has one of the most powerful sets of pipes currently exhibited off-Broadway (and all at the tender age of 10). The moment she enters for her introductory number, "Born to Entertain," the stage lights up and you know she isn't joking. If the actors who have previously played Tina are any indication (Laura Bell Bundy originated the role in the 1992 world premiere; Britney Spears was her understudy), Murray has a big future in showbiz.
Of course, that might not be such a good thing. So much of Ruthless! is about the pitfalls (and pratfalls) of talent. As the alcoholic Miss Thorn, Andrea McCullough awkwardly embodies a failed actress who has fallen back on teaching. With a voice like Ethel Merman, Rita McKenzie portrays vindictive critic Lita Encore, who sings an overlong number titled "I Hate Musicals!" that ends with the conclusion that her own song stinks (I agree). Both actresses have an unfortunate tendency to twist their faces into gruesome masks as a means to punctuate a beat.
Surprisingly, the drag queen ends up giving one of the more committed and believable performances. Decked out in fabulous old-lady gear (splendid costumes by Nina Vartanian), Land is spectacularly over-the-top as Sylvia yet completely grounded in the improbable tragedy of the story. He plays particularly well off the equally heightened Maresca, who executes an awesome character transformation from June Cleaver to Joan Collins.
Librettist Paley (who also directs) helms a zippy and efficient production in the first half that becomes increasingly plodding as the actors claw and mug for every last laugh. Contemporary references (like Caitlyn Jenner) have been added to the script in an almost perfunctory manner. Ninety minutes is long enough for this fun diversion that doesn't quite rise to the level of a gut-busting so-bad-it's-good classic, try though it might.
"Comedy is being true to what you are playing," stage and screen legend Bea Arthur once told Fresh Air host Terry Gross. "You must never show people you're trying to be funny." Disappointingly, too many of the actors in Ruthless! are in on the joke.