Review: There's a Lot to See — Maybe Too Much — in A Transparent Musical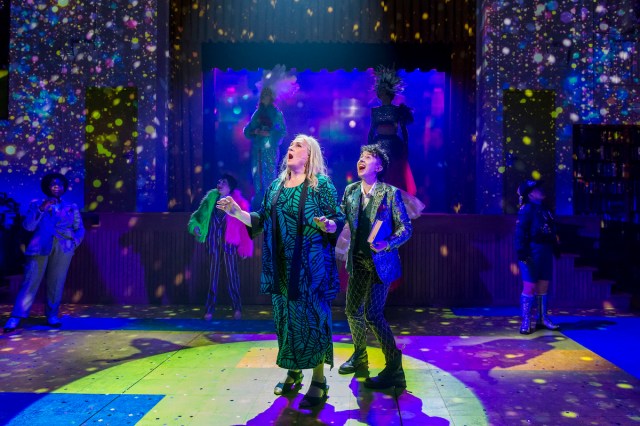 A Transparent Musical is special — more for what it is about than what it actually is. The ambition and sentiment are admirably high, but the execution needs serious work. Director Tina Landau gathers an excellent cast who perform strongly, but the text gives them too little with which to produce a truly fulfilling evening.
Based on playwright Joey Soloway's Amazon TV series Transparent, the book by Soloway and MJ Kaufman follows the story of Maura, head of the Pfefferman family, who comes out as transgender. Maura (Daya Curley) already had a precarious relationship with her heavily neurotic adult kids Sarah (Sarah Stiles), Josh (Zachary Prince), and Ali (Adina Verson), and had long ago divorced her wife, Shelly (Liz Larsen). Maura's pronouncement triggers confusion for everyone and forces each member to reevaluate their own life choices.
Intertwined with the story is a historical journey for Ali to her ancestors in Weimar-era Berlin. The book contains at least three storylines that could be rich programs individually, but they are awkwardly looped in together, so that no story receives the depth it deserves. The book suffers from not finding a central character, so that Maura becomes ancillary to her own journey.
The beloved but problematic TV series — made so by its lead cis-male actor, Jeffrey Tambor, playing a trans woman, and made more so by accusations of Tambor's predatory and abusive behavior on the set — had the luxury to take its time with the characters. The story breathed so that audiences could immerse themselves in the many facets of the Pfefferman family. In attempting to telescope four seasons into two-and-a-half hours however, the musical's book crams in so many of the storylines that it is essentially a recap of the series, not a fleshed-out story in its own right. Even audience members who have seen the TV series don't really get to know and understand these characters.
The score by Faith Soloway does not serve the story enough either. Some of the melodies are lovely, invoking a klezmer flair, but the lyrics are shallow, with dull metaphors and lazy rhymes. Instead of delving deeper into the characters' motivations, they leave the audience non-plussed.
The cast members have remarkable singing voices, and even when the songs don't work, they  showcase the actors' talents, particularly those of Verson and Kasper, who plays an employee at the neighborhood Jewish Community Center harboring a special fascination with the JCC director of diversity, Davina (Peppermint from RuPaul's Drag Race). Peppermint, who is a delightful and grounding presence, is granted a brassy number, "Chosen Family," in which she's fiercely dynamic. Larsen steals the show as the diva matriarch who could easily kick Mama Rose out of the spotlight and hog the stage. Bombastic, but still shivering from the pain of an impossible marriage, her Shelly is given the most compelling arc.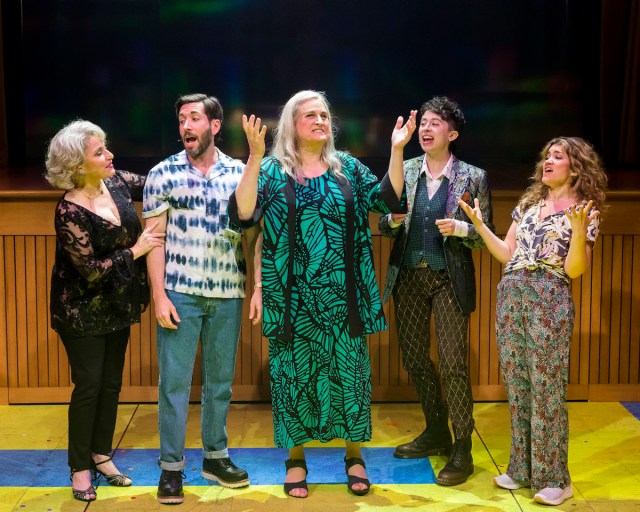 But the three children are not given the time or the dialogue to feel connected. On the TV show, Gaby Hoffman, Jay Duplass, and Amy Landecker always felt like siblings battling together over the years while their parents constantly screamed at each other. Here, the three actors, all good in their individual roles, sadly appear to have no such familial bond. Curley captures that stance of defiance for stating Maura's true self and also the natural selfishness of making a declaration and expecting unsuspecting loved ones to catch up and respond immediately to her liking. Curley brings Maura to life; it is just unfair that the story focuses so little on her.
Toni-Leslie James's costumes include some dazzling outfits for the 1930s Germany scenes and a fabulous flesh-colored, bedazzled, body suit for Davina in her big Act 1 number. Adam Rigg lovingly converts the Taper into a well-worn local JCC, with tacky linoleum floorings, faded walls, and a dull orange curtain for the stage-within-a-stage. Every church, temple, and secular school attendee has spent many days in an auditorium that looks just like Rigg's frighteningly realistic set.
Director Landau, who has written for theater (including the intimate but riveting Adam Guettel musical Floyd Collins) has an opportunity to work with Kaufman and the Soloways to take what is rewarding subject matter and parse it down to enhance the story they want to tell. Representation in theater is essential, and the prospects the creators have here can be magical. At a special Pride performance of A Transparent Musical, I witnessed the joy and gratitude of many audience members seeing their story up on stage at the Mark Taper. With alterations, the story could be even more invigorating and thought-provoking as well as inspiring. At this moment though, A Transparent Musical — earnest as it is in its intentions — is merely a skeleton of that aspiration.