Review: Sorry for Your Loss Is a Comedy Show About Death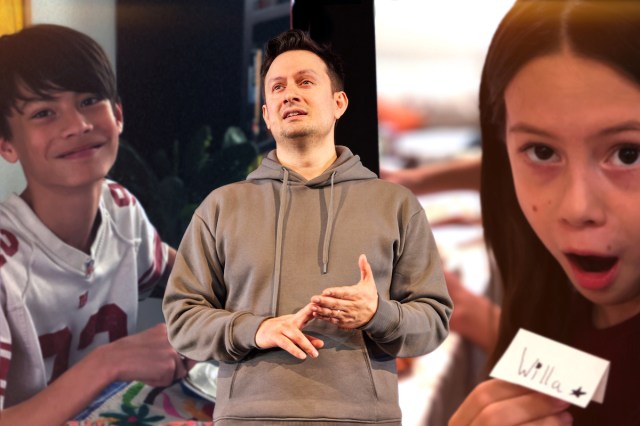 One of the saddest moments in the musical Hamilton is when Eliza and Alexander Hamilton watch their eldest son, Philip, die following an ill-advised duel. But something Lin-Manuel Miranda doesn't mention is the fact that Eliza gave birth to another son just months after that — and the Hamiltons named him Philip.
People in the 19th century had a different relationship to the death of the young, which was seen as less of a tragic failure than a statistical inevitability. Michael Cruz Kayne has a compelling theory about how that shift in attitudes came to be in Sorry for Your Loss, his unlikely stand-up comedy routine about death, now performing off-Broadway with Audible Theater at the Minetta Lane Theatre.
The impetus for the show is a family tragedy that is better left for Kayne to explain. When he first mentions it onstage, a heavy silence blankets the house — the kind that no sane comedian would ever actively court. But Kayne seems to be going after something beyond laughter, which turns out to be the saving grace of this show.
Kayne gives the audience a cursory sense of his comic schtick in the first 10 minutes, arriving onstage wearing a gray hoodie and pants that had me silently paraphrasing T.S. Eliot ("I grow old… I grow old… / I shall wear the cuffs of my mom jeans rolled"). The costume (by Rodrigo Muñoz) suggests the office funny guy at Google, and the gentle faux-arrogance of Kayne's banter ("sorry, ladies," he says with a grin when he mentions his wife) further reinforces the effect. We settle in for 70 minutes of bland, corporate retreat-friendly comedy.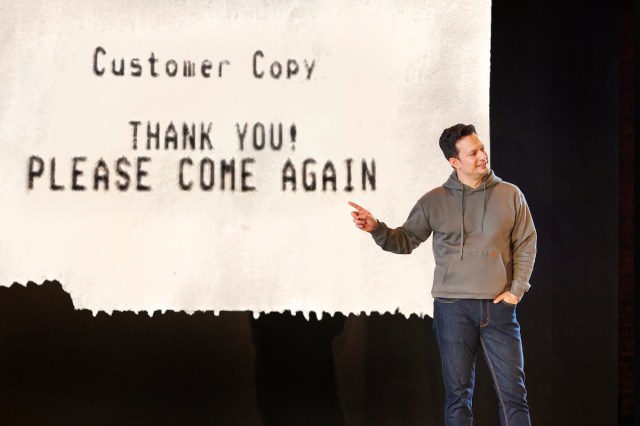 But Kayne's revelation of why we're actually at the Minetta Lane (to talk about death) counterintuitively results in a show that is less guarded, more daring, and a whole lot funnier. A bit about a funeral home receipt with the phrase "Thank you, please come again" printed at the bottom absolutely kills, as does a segment about condolence greeting cards that seem to have been written by a chatbot. Kayne guides us through these moments with humor and warmth, giving us permission to roll our eyes at the grief-industrial complex at one moment, and then cry during the next.
Director Josh Sharp has smartly built the show around Kayne's natural storytelling abilities, with projections (by Aaron Rhyne) that illustrate his jokes and a set (by Brett Banakis) that features not one, but two whiteboards: Kayne previously worked as a tutor, and illuminates a few of his points through English and math analogies; these segments have the potential trigger those of us with lingering anxiety around the SAT. Banakis and lighting designer Cha See collaborate for a remarkable moment near the end that uses 45 lightbulbs hanging in formation above the stage to make an analogy about quantum mechanics. My understanding of physics certainly hasn't improved after watching this show, but I do have a greater appreciation for how people process grief in 2023.
Kayne, who hosts the podcast A Good Cry, is presently occupying the intersection of grief and comedy, which isn't as sparsely populated as it might seem (Joan Rivers often told jokes about her late husband, Edgar, who killed himself in 1987). Sorry for Your Loss is a great opportunity to get to know his unique voice, and to laugh in the face of death even while recognizing that it will come for us all.