Review: Sean Hayes Plays Oscar Levant in Good Night, Oscar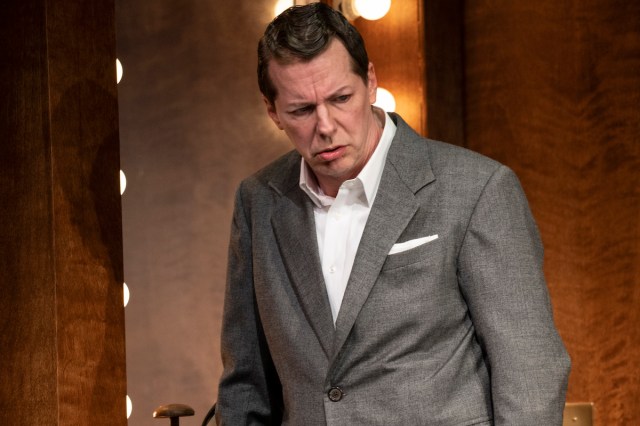 There was a time when late-night television was genuinely risqué, rather than a ritual reheating of the same topical jokes (with the names swapped out like mad libs) followed by 30 minutes of softball interviews. Doug Wright revisits that time in Good Night, Oscar, now at Broadway's Belasco Theatre, with Sean Hayes in the role of pianist, actor, and controversial talk show guest Oscar Levant. A towering comedy that casts a long shadow of melancholy, it's a beautiful tribute to one of America's great wits and the woman who sustained him.
The play opens in 1958 in the brand-new office of Jack Paar (charmingly mischievous Ben Rappaport), who has agreed to move The Tonight Show from New York to Los Angeles at the behest of NBC executives like Bob Sarnoff (Peter Grosz). But he refuses to let the network dictate the kind of guests he will have, despite Sarnoff's misgivings about the scheduled appearance of Oscar Levant: "For some members of our audience, Oscar's little quips — his zingers — they're too rarified. Too neurotic." Paar wonders if this is code for too Jewish.
But Levant's mordant wit is the least of NBC's problems. June Levant (Emily Bergl) has arrived at the studio ahead of Oscar to inform Paar that her husband won't be arriving from their home, but on a guest pass from Mt. Sinai's mental ward, where she has had him committed. He will be accompanied by an orderly (Marchánt Davis) carrying a small black bag full of pills (this provides for much of the farcical energy in the play). Refusing to let Sarnoff win, Paar conspires with his production assistant, Max (an appropriately boyish and wide-eyed Alex Wyse), to keep this information under wraps and go on with the show.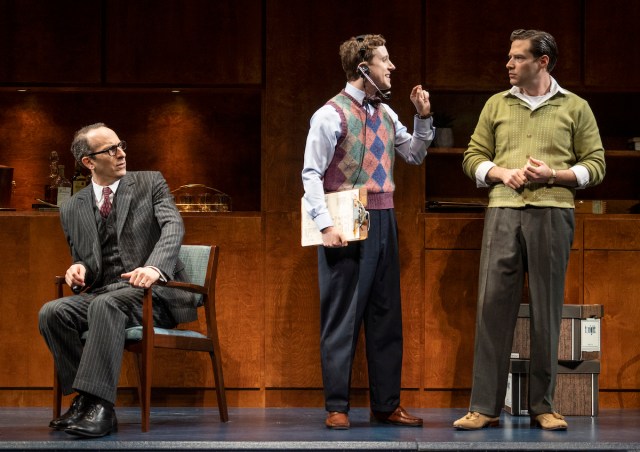 It could be the setup for a lost episode of I Love Lucy, complete with sneering references to Xavier Cugat, Sarnoff's replacement guest of choice. The NBC president tries to secure a promise from Levant that he will avoid any discussion of politics, religion, and sex. "You just took the whole world off the table," Levant retorts. And we know that despite any pledges, these are the exact topics Parr and Levant will be discussing on live TV.
Hayes, who is most recognized for his portrayal of the flamboyant Jack McFarland on Will and Grace, makes a sharp departure from the expected, fully embodying a character whom June describes as "Eeyore in a cheap suit." All jowls and slumped shoulders, he's a chain-smoking black hole of a man, darkly suggesting universal doom as everyone magnetically revolves around him. While his vocal delivery conjures Jimmy Stewart more than Levant, every obsessive tic suggests a nervous wreck whose work as a concert pianist has clearly exacerbated any preexisting conditions.
Late in the show, Hayes (who previously worked as a pianist himself) performs a lovely rendition of Gershwin's "Rhapsody in Blue" that comes eerily close to Levant's own interpretation (John Zdrojeski makes a cameo appearance as a preppy and insulting George Gershwin, who lives on rent-free in Levant's brain). It makes us all understand why June felt it was so important for him to keep this booking.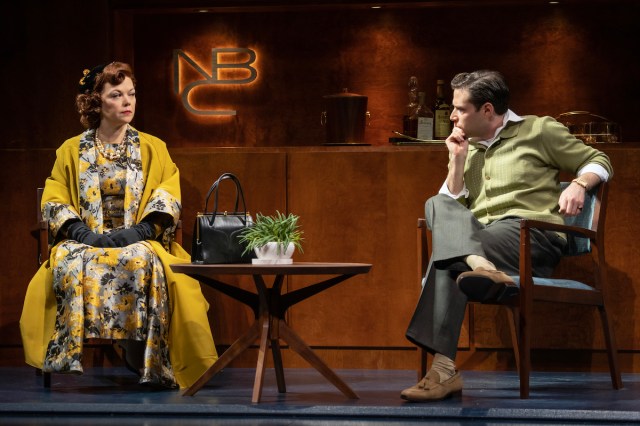 "If you only knew the sacrifices the rest of us make," she seethes at her temperamental genius husband, whose income has afforded her gorgeous floral print dress and matching coat (eye-candy costumes by Emilio Sosa), but whose eccentric-verging-on-abusive antics exact a high toll. Equal parts ferocious and tender, Bergl gives the other revelatory performance of the evening as a dedicated wife who has nearly reached the end of her patience but hasn't given up yet. As frustrated as she is with Oscar, she remains firmly in his corner: "You don't book a zebra, then bitch about its stripes," she bluntly tells Sarnoff.
Wright seems to have the most fun drawing those stripes, concocting laugh-out-loud one-liners in the voice of Oscar Levant that have the potential to scandalize even now. A crack about a delusional mental patient posing as a gynecologist elicited gasps alongside laughs the night I attended, vividly underlining a point that so many stand-ups have made: Comedy isn't supposed to be safe.
Director Lisa Peterson deftly balances the comic and dramatic strains in Good Night, Oscar, never allowing one to overpower the other in this richly designed production. In addition to providing a handsome environment for the actors, set designer Rachel Hauck delivers a dark joke of her own: The sound-absorbing walls of the studio could double as the padded walls of Oscar's cell. André Pluess has created an alarming and beautiful soundscape to make us hear what Oscar hears, while lighting designers Carolina Ortiz Herrera and Ben Stanton create much of the magic in this world, stunningly bathing the stage in incandescence for the concert portion of the play.
Despite that transcendent performance, Sarnoff still feels the need to scold: "This so-called humor of yours? It's not funny; it's cruel," he tells a half-conscious Levant in the green room, "And when we laugh at it, we debase ourselves. It makes us less decent. Less kind." Throw in the word "problematic" and give him a Twitter account, and he could be a character from 2023.
Levant's existence in the borderland (between high and popular culture, beauty and ugliness, love and cruelty, comedy and despair) is precisely what makes him such a fascinating subject, and what makes Good Night, Oscar such a satisfying play. While reminding Broadway audiences of a unique American figure, Wright also explores the geography of a marriage just as complex and contradictory as its two participants. Padded walls aside, this is a play that will resonate for years to come.