Explore Shows from this Story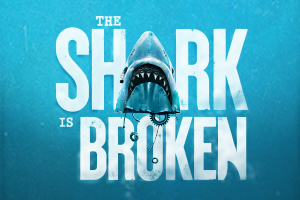 Final performance: November 19, 2023
Review: No Shark but Lots of Jawing in The Shark Is Broken
If like me you've rewatched the movie Jaws at least a dozen times since it premiered in 1975 (I first saw it at a drive-in when I was 7 or 8), you have a lot of nostalgia built up for the story — based on Peter Benchley's novel — as well as for the memorable performances of Roy Scheider, Richard Dreyfuss, and Robert Shaw. Then of course there's that incredible mechanical shark that scared the crap out of us all and made us afraid to go in the water.
If that's you, that nostalgia factor makes you the prime audience for The Shark Is Broken, a new comedy written by Joseph Nixon and Ian Shaw, Robert's son, and now running at the Golden Theatre under the direction of Guy Masterson. (It premiered at the Edinburgh Festival Fringe in 2019 before a West End run in 2021.) Here, the younger Shaw plays his father getting into behind-the-scenes gab sessions and pissing contests with Scheider (Colin Donnell) and Dreyfuss (Alex Brightman) as they wait impatiently for Jaws director Steven Spielberg to resolve the shark's mechanical issues and let them all get this movie behind them. "I pray this is as simple-minded as Hollywood films ever get," grumbles the chronically boozed-up Robert.
Shaw and Brightman give laugh-inducing performances in their respective roles as the constantly sparring Robert Shaw and Richard Dreyfuss, with Donnell coming in a distant third in his well-executed but underwritten and snoozy role as Scheider. With spot-on comedic timing, these three are the reason the show works at all.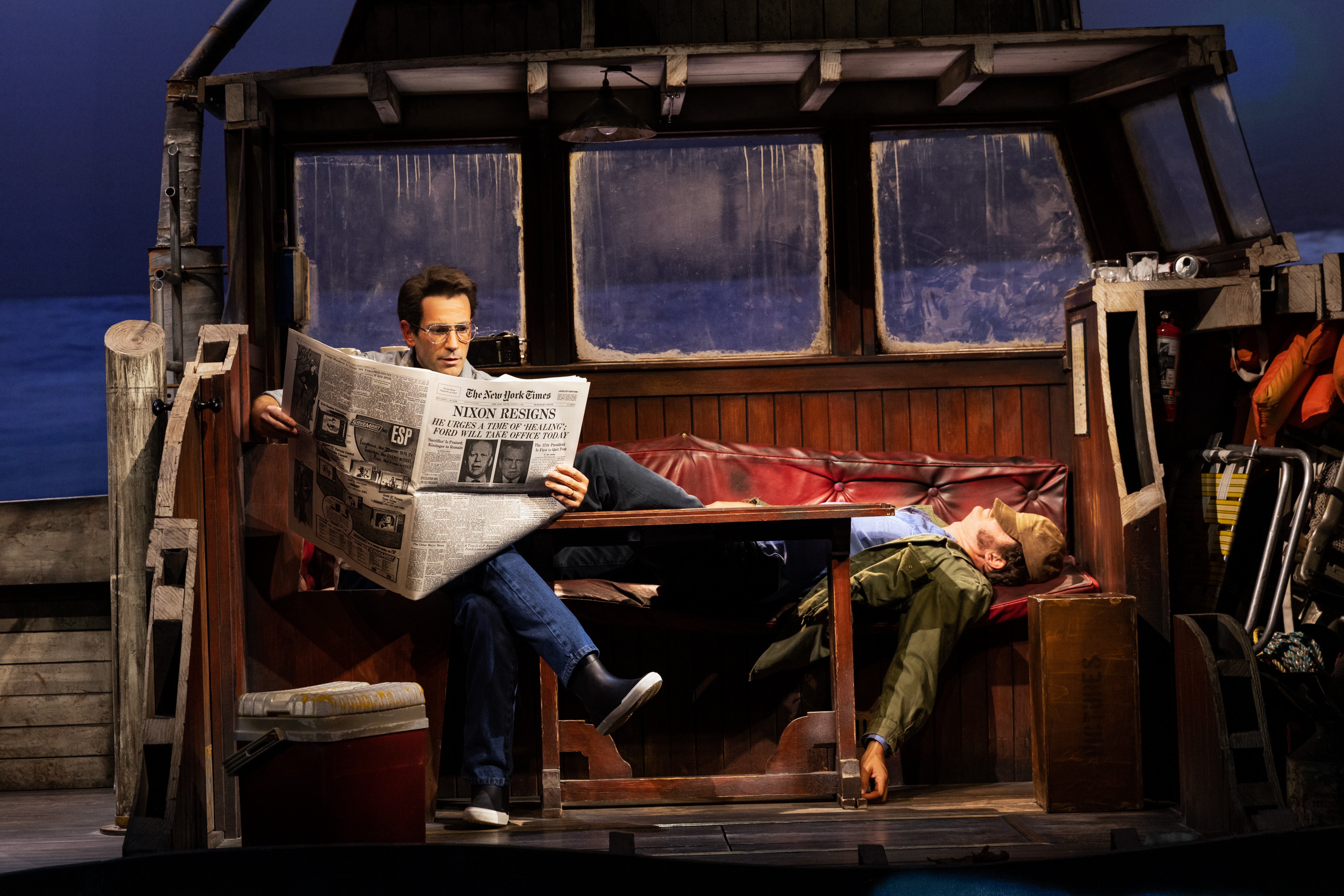 That's because The Shark Is Broken has little in the way of a plot or dramatic tension — and nothing in the way of a shark (like Godot, it gets talked about a lot, but it never appears). That may come as a disappointment for those who expect to see high-tech animatronics in this production (as far as effects go, the impressive background video design by PixelLux's Nina Dunn does create images of undulating waves that really make you feel like you're on a rocking boat). But the shark itself is not what Nixon and Shaw are interested in.
It's become a part of Hollywood lore that the film's realistic but robotic great white kept breaking down while the movie was being shot near Martha's Vineyard. It's during the unintended pauses in filming (the passage of time is indicated by Jon Clark's sunset lighting and Adam Cork's atmospheric music) that Nixon and Shaw have imagined Dreyfuss, Scheider, and the elder Shaw sitting in the tiny cross-section of the movie's famous boat, the Orca (set by Duncan Henderson), talking about their lives, the film industry, and the glory of the stage, while taking pot shots at one another.
For fans of the movie, this is chum in the water. Ian channels his father with uncanny precision right down to the gruff voice and masculine hand gestures (Campbell Young Associates' hair and wig design and Henderson's costumes complete this effect to perfection). Besides his near-identical appearance to his father, he also gives Shark an insidery authenticity. Using Robert's diaries, the playwrights delved into Robert's childhood, his stalled writing career, and his struggle with alcoholism, while dropping tasty factual morsels about his friendship with Harold Pinter and his love of deviled kidneys on toast. It all comes together in a performance that swallows you whole.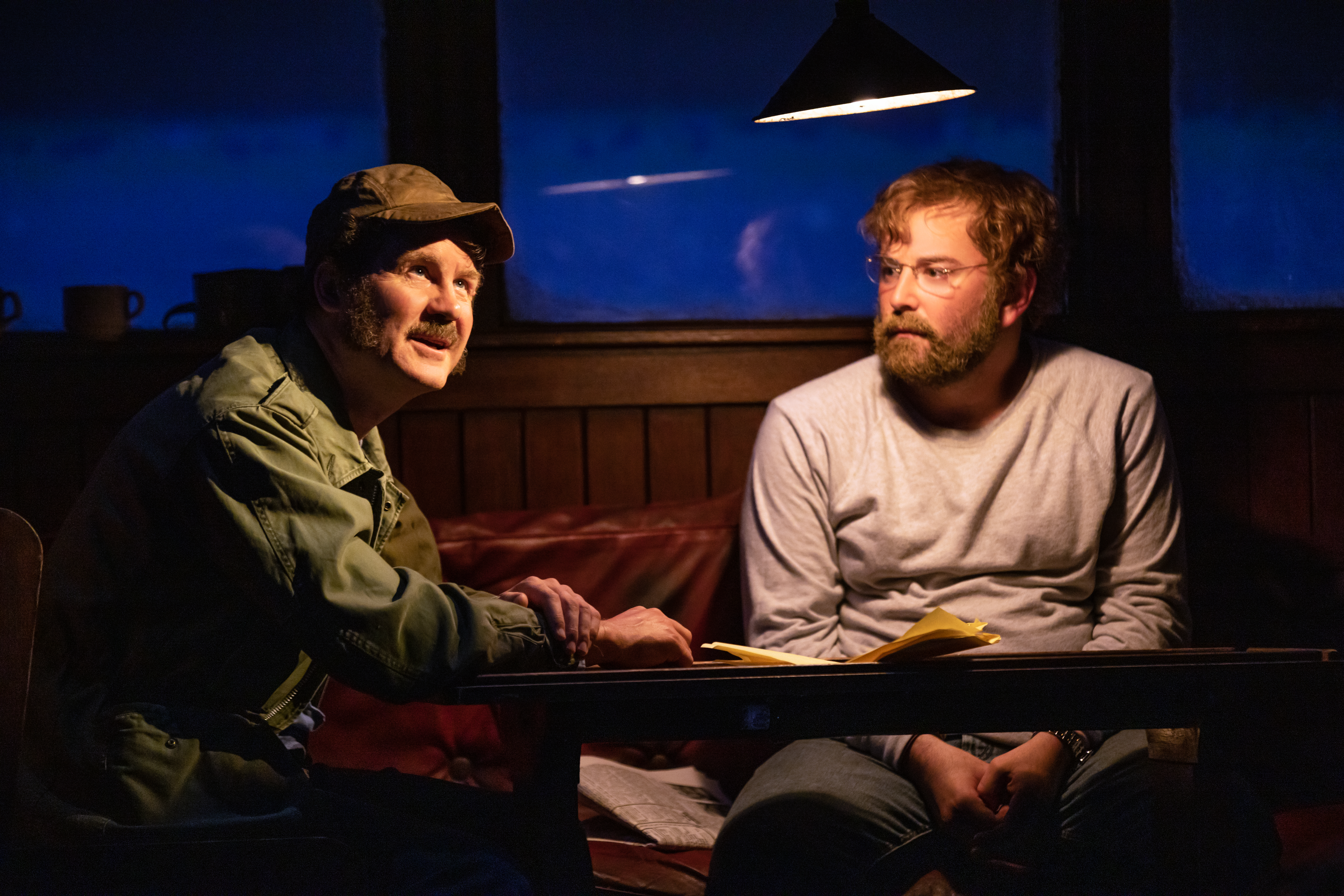 That leaves less room for developing the other two characters over the course of 90 minutes, and the writing sounds less genuine (and less funny) when Shaw, Nixon, and director Masterson do find the space to do that. Donnell does his best with what he's given: a dry-as-toast Scheider who likes to read the newspaper and worship the sun between takes. We don't learn much about him, but we do get one embarrassingly long scene in which his sun-bathing routine is interrupted and he has an unhinged meltdown (an apparent allusion to the scene in the film where Scheider's character, Brody, freaks out with a baseball bat). The episode is as gratuitous as they come.
Dreyfuss's character, played with hilarious agility by Brightman, fares better as we learn about Dreyfuss's fondness for the occasional bump of coke and his father's displeasure at his choice of profession (there's a distinct theme of father-son antagonism trawling through the play). But Brightman shines most when he's giving us spot-on impressions of Dreyfuss at his neurotic, twitchy best and when he's facing off with Shaw in their own quirky father-son relationship. Jaws fans will immediately sense the scar-comparing rivalry between Shaw's and Dreyfuss's movie counterparts, Quint and Hooper.
Whether audience members who aren't familiar with the film will get as much out of The Shark Is Broken is an open question. There are a couple momentous episodes from the film that get special treatment in the play, namely Quint's long monologue about his first encounter with a shark in which hundreds of his shipmates perished. It's a centerpiece of Jaws, and Ian pays homage to his father by performing the same set piece verbatim with loving gravitas. If nothing else, The Shark Is Broken is that, a homage — one that got me to return to the film once again and watch Shaw deliver that speech as only he could.
Featured In This Story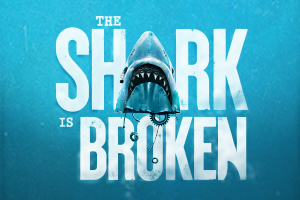 Final performance: November 19, 2023