Review: It's a Hit! Daniel Radcliffe, Jonathan Groff, and Lindsay Mendez Bring Heavenly Merrily We Roll Along to Broadway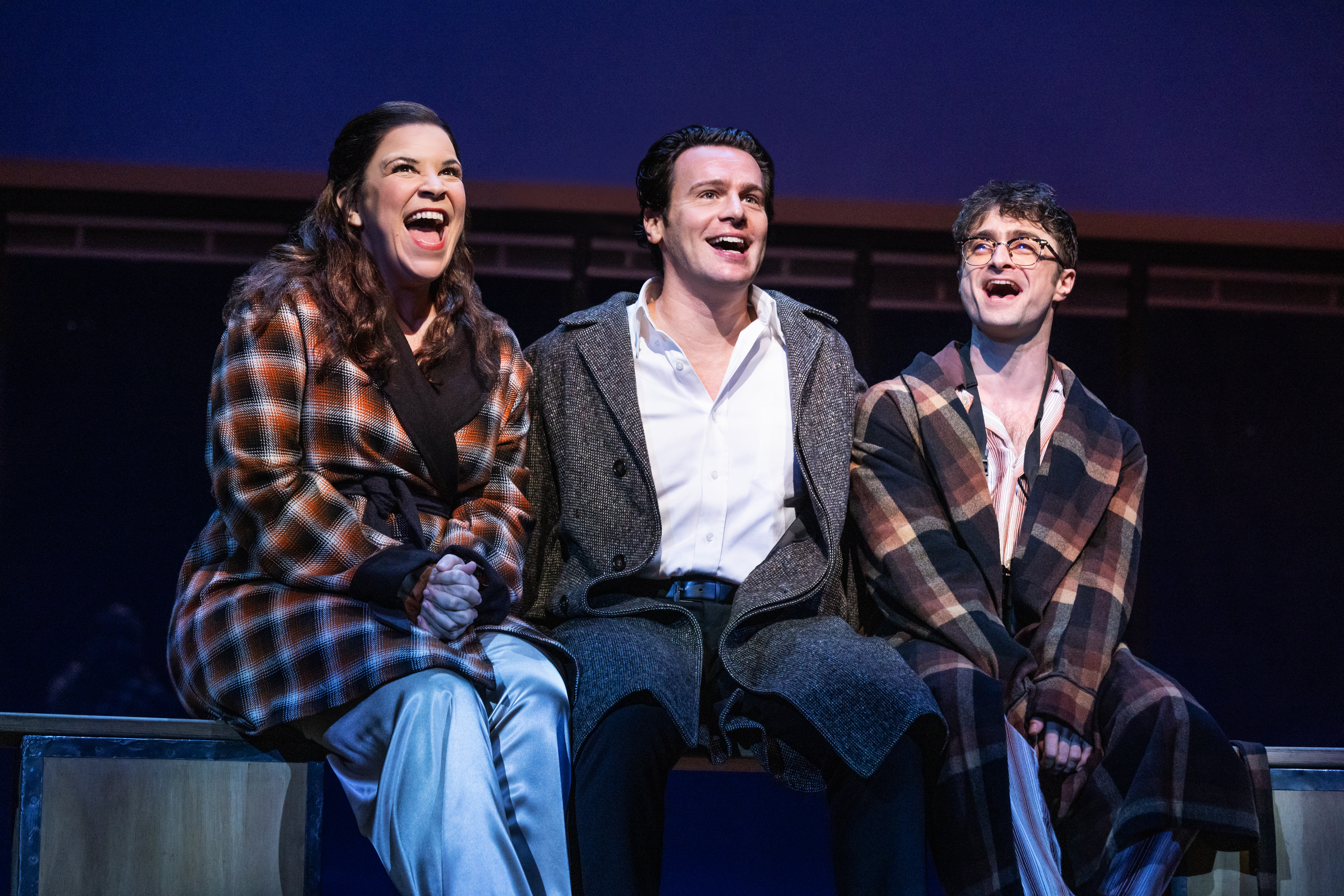 I'd like to imagine that somewhere in the spirit world, the ghosts of Stephen Sondheim, George Furth, and Harold Prince are living out a version of a scene they created 40-odd years ago. There they are, hearing the raucous applause, seeing the house full of audience members who didn't leave at intermission, looking at grosses to the tune of $1.4 million, and thinking, for the first time, "It's a hit."
That's Maria Friedman's revival of Merrily We Roll Along for you, a reputation-rescuing take on Sondheim and Furth's legendary flop, which at long last has come to Broadway. Friedman, who herself was a cast member of the show in England in the 1990s, began exploring the property as a director more than a decade ago now with students (and then at the Menier Chocolate Factory), and has since developed her vision in places as far as Japan and as near as New York Theatre Workshop. Sitting comfortably in the Hudson Theatre, this Merrily is one of those transcendent productions I'll look back on fondly forever.
Charting 20 years in the lives of three best pals and told in reverse, Merrily starts in 1976 at the Bel Air mansion of Franklin Shepard (Jonathan Groff), a composer-turned-movie producer surrounded by Hollywood sycophants celebrating the release of his newest picture. Frank has it all, except he doesn't. He's divorced from Beth (Katie Rose Clarke); his marriage to Broadway star Gussie (Krystal Joy Brown) is basically over; his son won't talk to him.
Frank is also on the outs with his closest friends. His longstanding partnership with lyricist/playwright Charles Kringas (Daniel Radcliffe) ended after Charley called him a money-grubbing corporation on national television. The third in their trio, novelist/theater critic Mary Flynn (Lindsay Mendez) has become a self-destructive alcoholic after spending decades secretly pining for Frank. Over the course of the show, Furth and Sondheim peel back the years to reveal the choices that led our heroes to their current states. At the end, we finally meet them as young dreamers looking up at the stars in 1957.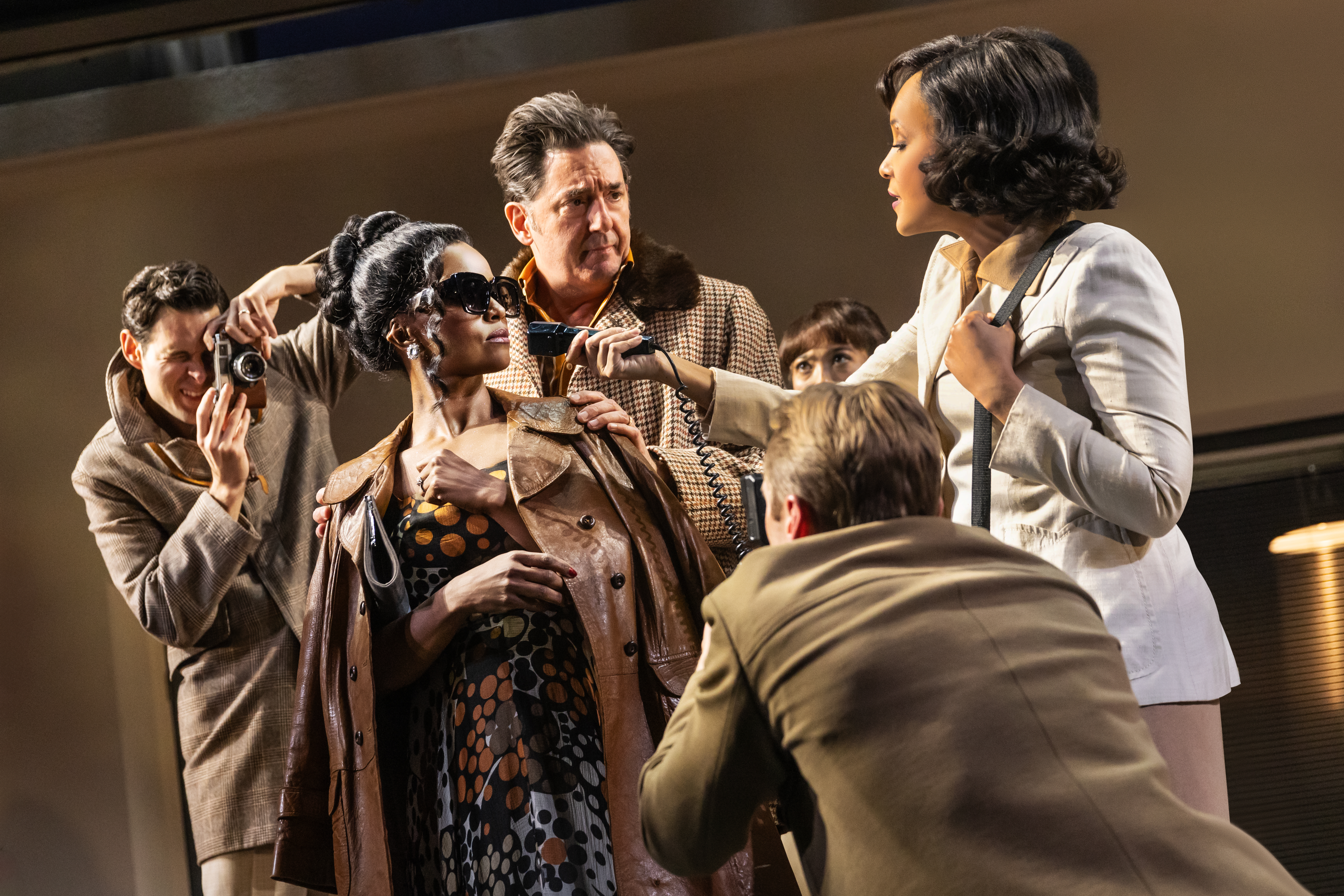 Where most Merrilys trip up (including, by most accounts, Prince's original) is in this reverse storytelling. Prince cast largely inexperienced teenage actors, thinking it would enhance the irony to position their youthful idealism against the bitterness of the characters. But Furth's book is tricky: You need people who've had the ups and downs of life to really convey the sentiments necessary to get from the magnitude of desperation in the first act to the optimistic innocence of the second.
Friedman refocuses the show as a memory play, where Frank's past swirls to life around him in Soutra Gilmour's airy mansion set, as vast and empty as his life. The glow of Hollywood from Amith Chandrashaker's lighting casts murky shadows of reminiscence. Friedman casts actors who've all had their fair share of life to tell this story. Groff, Mendez, and Radcliffe create a Frank, Mary, and Charley that burst with energy. They're giving career-best performances, and you not only buy them as friends, but palpably sense their joys and crushing disappointments.
Radcliffe's Charley is adorably filled with nervous energy, and he continues to blow the roof off the joint with "Franklin Shepard, Inc." Groff beautifully grounds Frank in the reality of a man who has gotten everything he wanted, only to realize that the most important things in his life have completely disappeared. Mendez lives and breathes every single emotional beat to its fullest potential, making a meal out of Furth's sardonic quips. Watching them sing "Old Friends" transported me to a plane of musical-comedy heaven which I have not visited in a long time, and their idealistic "Our Time" is a genuine tearjerker.
The supporting performances have deepened since this revival's debut last year in the East Village. Brown has found a way into Gussie that gives depth to the crumbs of villainy that Furth left for her, while Reg Rogers (as Frank and Charley's Broadway producer, who happens to be Gussie's former husband) expertly conveys a different version of mile-high success and crushing failure. Clarke's "Not a Day Goes By" is filled with the perfect level of heartbreak — you can really sense that she and Frank loved each other once.
Stylistically, the Broadway Merrily is pretty much the same as the off-Broadway version (Gilmour's costumes and Cookie Jordan's wigs still stylishly depict the ebbing and flowing fads of the decades better than projections ever could), with one major exception: they've enhanced the band from nine players to 13, and the difference is palpable. Conductor Joel Fram builds a wall of sound from Jonathan Tunick's brassy orchestrations, with designer Kai Harada allowing us to hear every single instrument. Best of all, they've restored the full overture (it was curtailed before the "Old Friends" section downtown), and I envy the theater ushers who get to hear it every single night.
Friedman's production is a theatrical miracle, finding the heart at the center of this story of dreams, regrets, and good things going, going, gone. Somewhere, its creators are bursting with pride to see their vision fully realized, at long last.