Review: In Annie Baker's Infinite Life, Pain is a Hum Drum Cosmic Mystery
Existential agony is familiar territory for the theater. But physical pain is a hard-to-describe, poetry-less human experience that's both too big and too boring to put on a stage. So naturally, Annie Baker wrote a play about it.
Infinite Life — a world premiere directed by James Macdonald at the Atlantic Theater Company before a move to London's National Theatre — ticks off the slow-moving days at a healing center in Northern California where paying customers try to fast away their life-threatening illnesses and chronic pain. Time can jump 22 hours with a light cue (designer Isabella Byrd exactingly encapsulates every position of the sun), but the slog from one moment to the next feels like a Biblical trial.
That's because, in many ways, it is Biblical. Pick any religious tradition and you're sure to find a ritual fast wrapped up in a quest for rebirth, renewal, and a connection with the infinite ('tis the season of Yom Kippur after all). We universally revere the practice as a profoundly spiritual act. And yet it's defined by the most mundane of bodily functions: Being.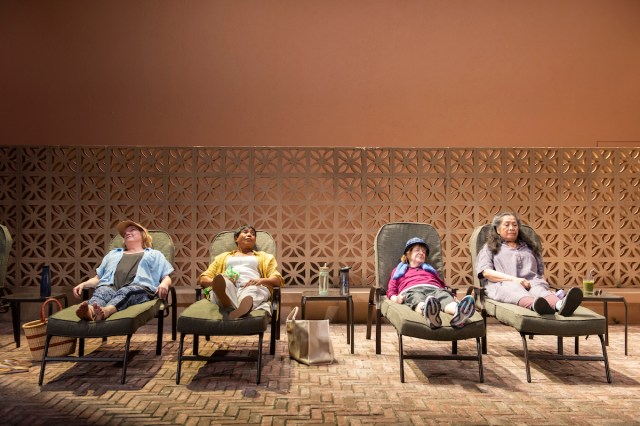 A seemingly effortless overlaying of the transcendent and the mundane is the elusive and enrapturing touch of Annie Baker — a playwright who meets accusations of tedium with the stoic attitude of a mother telling her disgruntled children, "only boring people get bored." Whether it's watching movie theater ushers sweep popcorn for three hours (her 2014 Pulitzer Prize winner The Flick) or seeing a conference room of TV writers indulge in can after can of La Croix (2017's The Antipodes), she makes you work for your dramatic satisfaction. But no matter how head-scratching the task, everything you need is always there waiting to be found.
In Infinite Life, Baker isolates the simple act of existing as (or in) a body and shows us how it's not so simple. It's certainly a puzzle for Sofi (a soft-spoken but unwavering Christina Kirk), whom we meet on the first of an intended eight-to-ten days of fasting, hopeful it will cure her chronic bladder pain that has ravaged her sex life and marriage. As her body begins its cleansing journey, she reclines on a chaise lounge, slogging through George Eliot's Daniel Deronda. Because what better way to distract yourself from your body's cravings for food and sex than to read densely worded descriptions of Victorian repression?
Whether words are even capable of conveying physical sensations, be they excruciating or euphoric, is one of Baker's biggest questions — either an ironic or masochistic project for a play about pain. Most of the time Baker's characters don't even mention their aching bodies as they kibbitz al fresco: Eileen (the singularly endearing Marylouise Burke) draws Sofi into conversation with small talk about her family, while the more brazen Ginnie (Kristine Nielsen bringing her impeccably wry humor) spouts questionable factoids and proposes a moral thought experiment about a pirate (a scene that epitomizes Baker's ability to tee up an excellent joke that simultaneously makes you contemplate Cartesian dualism).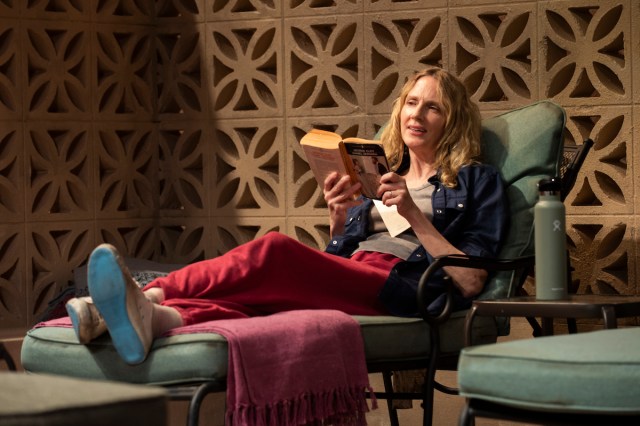 Elaine (the calming physical presence of Brenda Pressley) brushes the topic of disease with her theories about pesticides, and Yvette (the memorable Mia Katigbak), like a modern-day Job, monologues interminably about her laundry list of ailments and the many pills it's taken to cure them. And still, not so much as a groan from any of these women. The only thing to remind us that the individuals before us have (or are) bodies (again with the mind-body problem) is the static lineup of chaises where the women lie side by side, never touching or moving. It's amazing how aware you become of a body when it quits doing what bodies do (the simple but effective scenic design is by the dots design collective).
At one point, Sofi speaks and then retracts her best attempt at turning sensations into words. And Eileen, in a moment of omniscient narration, blankly declares that no one has ever experienced a worse pain than hers. Of course, that's impossible to verify. Sensation may be what connects one body to another, but it's also what keeps bodies irrevocably isolated.
Even so, artists continue their futile projects of narrating experience. Perhaps with a dash of self-effacement, Baker has Sofi, who unexpectedly finds herself in the presence of an attractive man (Pete Simpson), read his beautiful dozing body the sentence from Daniel Deronda that has stalled her food-starved brain. By the time she lands at the period, the torrent of Eliot's emotionally rich language is a fuzzy blanket of white noise. Sofi's body, however, is shouting divine mysteries into the universe.