Review: Gutenberg! The Musical! Fails to Impress on Broadway
Musical-theater tends to flatten nuance in favor of big characters and big emotions that can be expressed through song. Scott Brown and Anthony King know this and use it as a primary source of humor (with diminishing returns) in their two-man tuner Gutenberg! The Musical, which is now making its Broadway debut at the James Earl Jones Theatre. It's a belated and improbable arrival that perfectly illustrates the adage, "Be careful what you wish for."
The sincerest wish of the show's protagonists, Bud Davenport (Josh Gad) and Doug Simon (Andrew Rannells), is to have a musical produced on Broadway. They've tried writing what they know in an "achingly autobiographical" musical, but no one seemed interested. "If your new musical isn't already a movie or a book or a fairy tale told from the lady's point-of-view, people will not sell their cars to see it," Bud observes.
In that spirit, they've taken a shot at writing what they don't know with a highly fictionalized account of the life and times of Johannes Gutenberg. It's not exactly Nicholas Sparks, but why settle for one book when you can celebrate the man who made mass market paperbacks possible by inventing the printing press?
Doug sold his parents' house and Bud used a small inheritance from his uncle to rent out the James Earl Jones Theatre, where they will present Gutenberg! for one night as a backer's audition, donning labeled baseball caps to play every role in their sprawling Les Mis-like epic. It has the potential to be an uproarious tour de force for two very talented actors (which Gad and Rannells unquestionably are). Unfortunately, it proves to be a heavy lift on Broadway, where the luster of a first-rate production somewhat undermines the scrappy DIY quality director Alex Timbers is attempting to capture.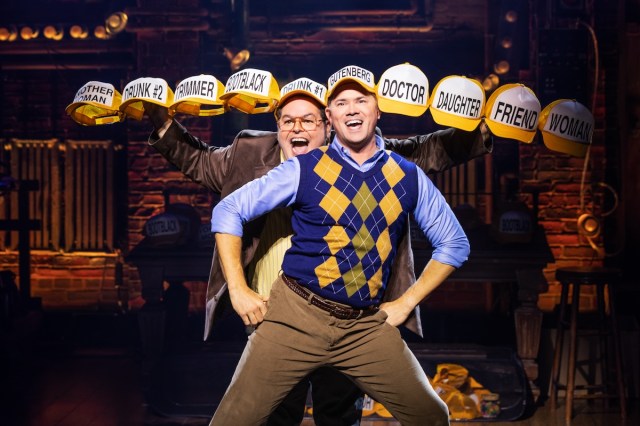 In 2006, long before Brown, King, and Timbers had a sleeper hit with Beetlejuice, Gutenberg! ran off-Broadway at 59E59, moving to the Actors' Playhouse for an extended run in 2007. Before that, it was developed at the Upright Citizzens Brigade and later performed at the New York Musical Festival (NYMF), an annual bonanza that has hosted musicals about Thomas Jefferson, Napoleon, and the posthumous trial of Pope Formosus. It was the ideal platform for this self-referential, almost uncomfortably self-aware musical about cultural scavengers attempting to leverage a superficial understanding of history and a modest talent for pastiche into a career in showbiz. The concept feels less amusing 17 years later, with NYMF dead and Broadway all but closed off to shows lacking brand recognition or a celebrity name above the title.
Gutenberg! has two, both Tony nominees from the original cast of The Book of Mormon, with a comedic chemistry that seems ideally suited for this kind of show. Rannells and Gad expend a tremendous amount of energy juggling hats and ludicrous accents (for some reason, the evil monk who plots to destroy Gutenberg's press is Cajun). They impressively sing every number, creating distinct characters for each role and very nearly rendering the hats superfluous. Aggressively "on," they convey the desperation these two characters share, even if their rapport is not hilarious enough to solidify Gad and Rannells as the next Broderick and Lane.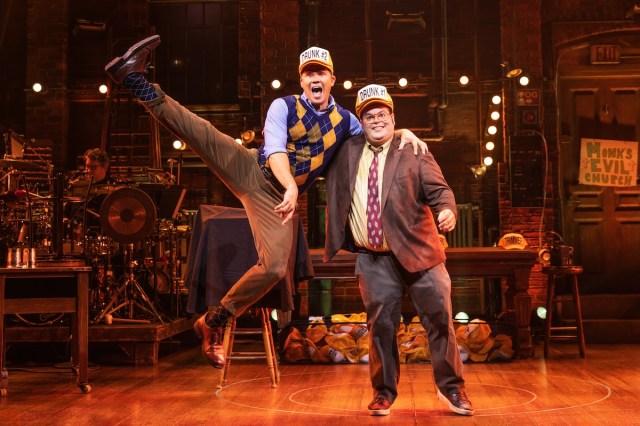 Timbers's staging is solid, if lacking in the kind of convention-breaking originality for which this show seems to beg. Scott Pask's Broadway Cracker Barrel set is obviously a fake empty stage, so a spectacular late transition comes as little surprise. Emily Rebholz appropriately outfits them in a slightly off-kilter vision of what Broadway composers might consider business casual: an argyle sweater for Rannells, a retro-90s tie for Gad. The hat tricks are clever, but not nearly as impressive as the Olympic-level quick-changes one can witness off-Broadway at Dracula, a Comedy of Terrors.
Jeff Croiter's lighting helps us to see what the creatives see in their heads, enhancing the natural theatricality of the piece. M.L. Dogg and Cody Spencer's sound design is so finely balanced that we never miss a single lyric (ex. "I'm just a crying clown / Wearing a painted frown / I hear a scary sound / It's a three-headed hound! / Found with a brown, round crown in hell!"). The problem with writing fake bad lyrics pulled from a rhyming dictionary is that it still forces us to listen to bad lyrics. That those lyrics are now being sung on Broadway doesn't justify their existence, and the charm of witnessing self-consciously bad theater wears off over the course of two hours, 15 minutes (including intermission). Gutenberg! feels a lot like beating a horse that has been dead for years.