NYMF 2015: Napoleon and Pope! An Epic Musical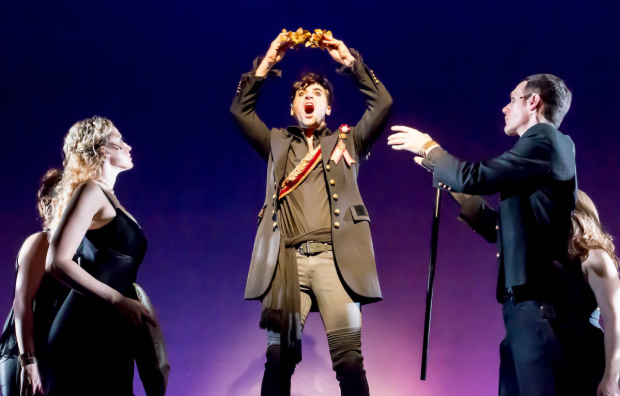 by Zachary Stewart
Napoleon tells the well-known story of the man who conquered Europe only to lose it all following a humiliating retreat from Russia (never get involved in a land war in Asia). Following earlier productions in 1994 and 2000, coauthors and composers Andrew Sabiston and Timothy Williams have revamped their book to be told from the perspective of a witty (if unreliable) narrator: longtime foreign minister and political survivor Charles Maurice de Talleyrand-Périgord (Matthew Patrick Quinn). It's a gamble that pays off.
Napoleon Bonaparte (Joseph Leo Bwarie) is a crude minor officer from Corsica who rises through the ranks to become Emperor on his sheer tactical genius and force of will. Of course, Talleyrand would argue that his maneuvering has something to do with it. Unfortunately, Talleyrand can't keep Napoleon away from the transfixing Josephine (Margaret Loesser Robinson), a woman whose lavish tastes and barren womb threaten to undo the empire. Their love-hate triangle forms the crux of Napoleon, with Talleyrand playing the role of a jealous political spouse — the real primary relationship in Napoleon's life. While an audacious spin on history, it makes for thrilling drama, especially in the capable hands of this stellar ensemble.
Deliciously smarmy, Quinn's Talleyrand is reminiscent of Dame Judi Dench in Notes on a Scandal: constantly scheming and narrating. Robinson is sultry and sympathetic as Josephine. Bwarie (who is on a brief hiatus from his job playing Frankie Valli in Broadway's Jersey Boys) gives a convincingly ballsy portrayal of Napoleon, tracking his life from impetuous youth to imperious adulthood.
Director Richard Ouzounian's efficient staging is perfect in this venue, but also suggestive of what the show could look like on a grander scale. Tracey Fess' Trash and Vaudeville costumes (The Little Corporal in skinny jeans) evoke Imperial France through a distinctly modern idiom. Similarly, music director Joshua Zecher-Ross manages to create a huge sound with just a five-piece band. The key ingredient is timpani, an ideal instrument for telling the story of an artillery commander. The strong-voiced cast sounds heavenly during the Victory chorus, a memorable recurring motif.
Sabiston and Williams' score is majestic and their book accessible without being dumbed-down. They squeeze a remarkable amount of history and intrigue into two very satisfying hours.
---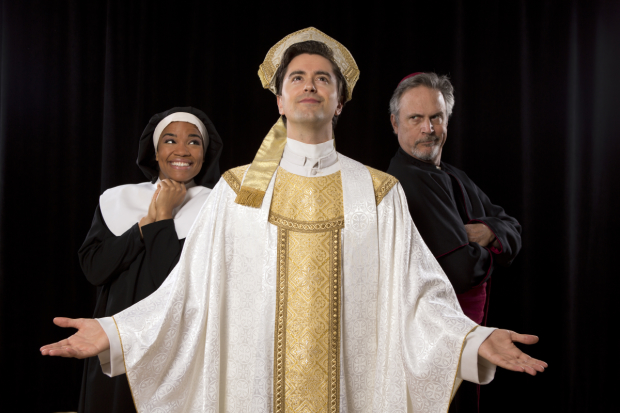 by Pete Hempstead
Hallelujah! One of the funniest musicals at this year's NYMF has taken the stage at PTC's Performance Space. Pope! An Epic Musical makes a youthful hero out of the Holy See in a tongue-in-cheek take on papal rivalries with a talented cast that cranks out one fun song after another. Its plot is predictable as a prayer's "amen," but, to paraphrase one of the show's songs, you've never seen a pope like this.
Pope (Sam Bolen) is a high schooler who has a calling from on high: He's destined to live up to his name and become the actual Pontiff. Mary Elizabeth (Britney Coleman) always had it bad for him, but theirs was a love that could not be, given the whole celibacy thing. Pope becomes a hero to millions of the faithful by solving their problems with catchy showtunes and inspiring sermons about blueberry muffins. In the meantime, Mary Elizabeth can't cope without her Pope and becomes a nun. Her spurned suitor Dexter (Dylan S. Wallach) then sets out to destroy Pope's reputation with a sex scandal. When the evil Archbishop (Ken Land) usurps the papacy, however, Pope must fight to restore his good name.
In a manic, ridiculously campy production written by Justin Moran and Christopher Pappas and directed by Peter Flynn, Pope! packs a litany of laughs and a surprising number of fun, lightly irreverent tunes into 90 minutes. Bolen plays Pope with a self-righteous goofiness that makes you love and loathe him at the same time. Land delivers a raucous performance as the sinister Archbishop and raises the roof with "Never Seen a Pope Like Me," followed by the hilarious "Goodbye O Ye Shameful" sung by his cardinals (Gilbert L. Bailey II, Jarid Faubel, and James David Larson). Bolen and Coleman get chuckles with "The Mass Duet" and its seemingly innocent sexual puns, but Bailey belts the real showstopper with "What Would Jesus Do" (that's "Jesús," as in the first name of a drug-addicted, womanizing baseball player).
If the writers were trying to offend anyone in Book of Mormon style, they failed miserably. There's nothing in Pope! that can't or shouldn't be taken with a grain of salt. But the laughs are heaven-sent.