Review: Did You See What Walter Paisley Did Today? Recalls Little Shop but Lacks Its Bite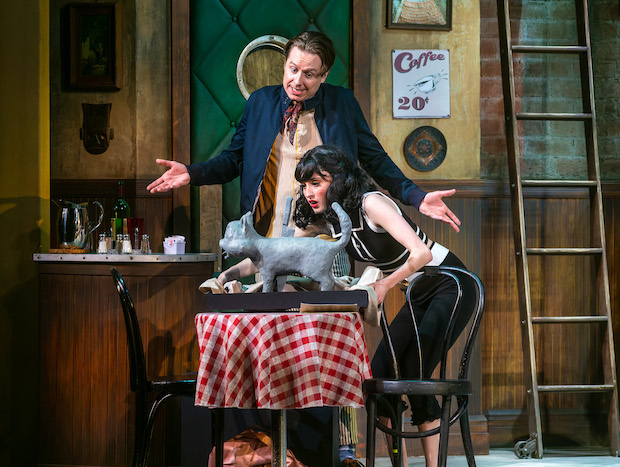 So many shows have issues post-intermission after sparkling in Act 1 that the term "Second Act Trouble" is a cliché. The musical Did You See What Walter Paisley Did Today?, which is having its world premiere at La Mirada Theatre, has the opposite problem. Act 1 lacks flavor and stakes, while Act 2 tightens up and begins to delight. The songs are catchier and the pace is jazzier in the second act.
Walter Paisley spoofs the cause célèbre culture of the 1950s. Walter (Steven Booth), a nebbish waiter at a beatnik coffee shop with artistic aspirations, suffers the doldrums of his flavorless life as he longs for pretty dance student Carla (Vanessa Sierra). Because the lyrics of the show's finale threaten audiences that if we reveal what Walter Paisley did today we'll become what Walter Paisley did today, let's just say that Walter finds inspiration in unlikely and deadly ways. His art becomes the toast of San Francisco, and the beat crowd cheers him for his innovations. But to quote a better satire of the period, will success spoil Walter Paisley?
The musical's heaviest albatross is its uninventive score. Randy Rogel, famous for the zany songs for Steven Spielberg's Animaniacs, seems like the perfect candidate to compose the score for a show like this. His lyrics are clear-cut, yet they're not as outrageous as the musical requires. The tunes themselves are forgettable, and the comedic elements of Rogel's book are forced and uninspired.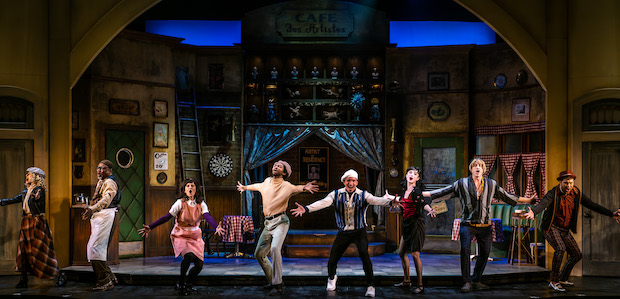 The story is an adaptation of Roger Corman's 1959 parody on the beat generation, A Bucket of Blood. Walter Paisley wants to separate itself from the musical adaptation of the film Corman made the year after, The Little Shop of Horrors, and it even makes a joke equating the two. Sadly, drawing a comparison only shines a light on how this show lacks the ingenuity of the Menken-Ashman musical.
While Little Shop utilizes the dazzling doo-wop girl-group phenomenon of the early 1960s, Rogel's score plays into gooier, bubblegum songs of the late '50s from Ricky Nelson, Paul Anka, and Connie Francis. Those songs loosen the suspense and intrigue that the morbid theme requires. Most importantly, while the love story between Seymour and Audrey captures our attention, the fame-seeking characters in Walter Paisley do not. Walter claims he loves Carla, but she's the obsession of a psychotic mind — that's not the best foundation for compelling love songs. Even Sweeney Todd loved Lucy and Joanna.
Director B.T. McNicholl does put together a professional production, with a talented cast and compelling visual elements. Yet Booth plays a rather bland Walter, exhibiting no quirks to endear himself. On the other hand, Kingsley Leggs, as Walter's overbearing boss, does have a few fun moments, particularly his showstopper "It's Gonna Be the High Life for Me."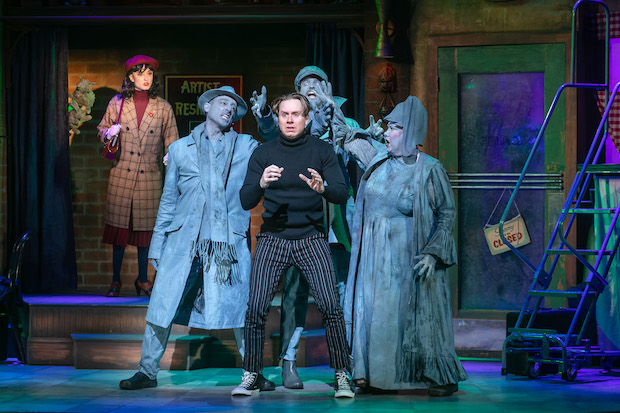 This production has an ace-in-the-hole, however, with Vanessa Sierra as the dynamic female lead. A gripping singer, skilled dancer, and endearing performer, she brings the show to life in each of her numbers, particularly her earlier-than-11 o'clock number "I'm Moving On." And puppet designer Aran de la Peña's singing animal corpses lend macabre delight to "He's Gonna Getchya!"
Choreographer Connor Gallagher does a great job toying with early Bob Fosse moves by creating abstract images with his dancers. It fits perfectly with the avant-garde nature of the era and should be pushed further. John Iacovelli's sets evoke the 1940s Broadway prosceniums with a traveling curtain for the story to continue while the sets change behind the curtain. Ann Closs-Farley's costumes pull from beatnik styles, and her make-up ghoulishly creates Walter's works of "art." Did You See What Walter Paisley Did Today? has the fundamentals to make a wacky and wild musical. With some tweaks, there's plenty of room for this show to develop into a killer musical.