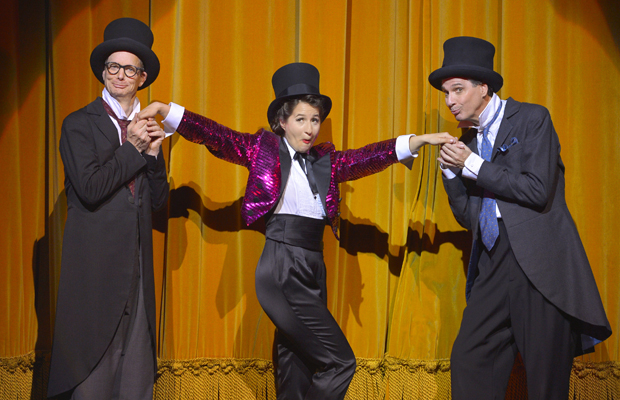 Judging by the loving ovations pouring out of at the Pershing Square Signature Center, Bill Irwin and David Shiner's vaudeville throwback Old Hats has reclaimed (and added to) the devoted following it earned in 2013 when it first graced the off-Broadway stage. Clowning may be "old hat" for Irwin and Shiner — two masters of physical comedy — but they're pros at dusting off their old tricks and making them shine like new. Although they do keep just enough nostalgia in their baggy pants pockets if pratfalls don't quite tickle our 21st-century funny bones.
The vignettes (directed with army precision by Tina Landau) range from a battle of top hat-tossing acrobatics to Irwin's iPad-comedy routine (with impressive feats of projection design by Wendall K. Harrington). In the poignant "The Hobo," a park bench and trash can set a familiar scene (designed by G.W. Mercier) as our classic sad clown digs though garbage for some treasures to brighten his dreary day. While we all greet the scene as a common trope, we end up watching it intently, just as we would the silent films of Buster Keaton or Charlie Chaplin. Yes, even though we've seen them before, the performances are still entertaining in their own right, not to mention mechanically seamless. But more than anything, it's the slice of theatrical history that keeps the butts glued to the seats, the eyes glued to the stage, and the smiles glued to our faces.
The truly laugh-out-loud moments come in the second act when the concept of audience participation reaches its breaking point and an entire silent film is re-created before our very eyes. Beyond the unpredictability that bold setup naturally brings to the table each night, if you saw these "old hats" on their first pass through town, you won't get too many (if any) surprises out of a return trip.
That is of course until Old Hats' new musical guest Shaina Taub takes over. A rising singer-songwriter on the musical-theater scene, Taub adds a burst of freshness to the show, taking advantage of her free musical reign amid vignettes as the evening's commanding chanteuse. Wielding an accordion and her very own sequined clown getup, she lends an infectious melodic style that brings together jazz, pop, and even a taste of gospel — all living in a slightly off-kilter world fit for a disorienting yet thoroughly joyful fun house. She occasionally interacts with Irwin and Shiner, as did her 2013 predecessor Nellie McKay during the silent pair's brief stab at dialogue. But for the most part, she and her band are on their own, tucked away stage right. While they lend Irwin and Shiner their perfectly timed symbol crashes and sound effects, we anxiously await their next opportunity to play another one of Taub's original tunes.
A fitting tribute to the pair of old pals manning the stage, Taub's final number, entitled "Reminder Song," is one a couple of clowns would particularly enjoy toasting over at the end of a long day. The chorus ends: "Hats off to everything that leaves a scar. For reminding me who my friends are." Even if sight gags and magic acts leave you cold, you can't help but join the celebration of this onstage camaraderie that cheers the theatrical traditions this duo is silently keeping alive.