Nantucket Sleigh Ride, Starring John Larroquette, Makes a Whirlwind of a Memory Play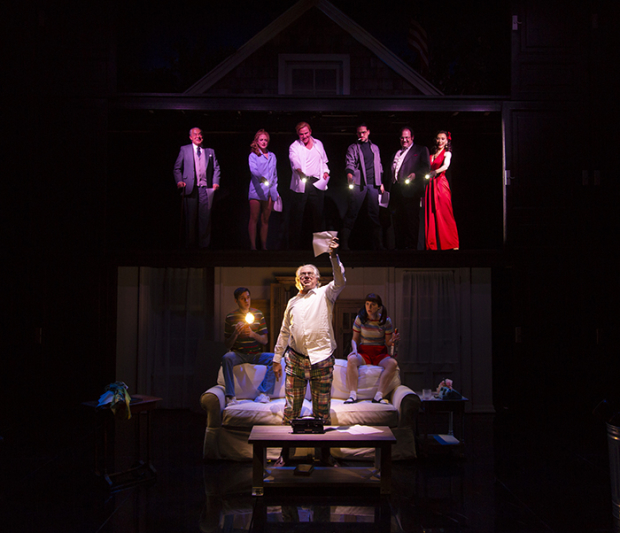 "I believe the imagination is the passport that we create to help take us into the real world." If you're a John Guare aficionado, you might recognize that as the personal credo of Paul, the compulsively lying protagonist of Six Degrees of Separation. A similar cockeyed imagination is at work in Guare's Nantucket Sleigh Ride, his latest production to take the Mitzi E. Newhouse stage at Lincoln Center Theater. And with its dreamlike recollections of one nutty Nantucket summer in 1975, Guare poses the playwright's chicken-or-the-egg question: Which comes first, the memory or the memory play? The answer, unfortunately, is as captivating as the tedious question.
Nantucket Sleigh Ride's venture into the memory play dives headfirst into the solipsism usually fated for plays about playwrights — in this case, a one-hit wonder named Edmund Gowery (John Larroquette). We meet him just as his triumph of the 1970s, Internal Structure of Stars, jumps to the fore of his consciousness after he's name-dropped in the New York Times crossword puzzle. Mundie (as Mr. Gowery is called) long ago exchanged the artist's life for a lucrative career in venture capital, but he looks back fondly on his brush with both fame and artistic inspiration (two things that have a hard time coexisting).
He even becomes compelled to find his next story — or perhaps his next story becomes compelled to find him — when siblings Poe (Adam Chanler-Berat) and Lilac (Grace Rex) walk through his office door. A couple of odd ducks with stilted speech and storybook names, they enter demanding answers about the summer of '75 — a gaping hole in their childhood memories, marked only by a copy of Jorge Luis Borges's Labyrinths signed by none other than Edmund Gowery. As Mundie says himself, "You can't bring up one memory without dragging another twenty three memories into high noon light." So, presented with faces and the literary idol of his past, off he goes on a "Nantucket Sleigh Ride" through his 35-year-old recollections.
Larroquette, as in all of his work, commands the stage with charm, nonchalance, and a subtle amount of ego that somehow buoys his likability. He maneuvers the play's choppy waters with an admirable amount of restraint. And yet, in the spirit of the title's whaling origins (slang for when a harpooned whale takes its pursuers for a wild ride across the sea), director Jerry Zaks attempts to sharpen the play's edges with high camp and bombastic humor that only occasionally lands with the comedic impact it's aiming for (Howell Binkley's abrupt lighting cues add punctuation to the comings and goings of reminiscences). The plot is certainly a maze, but it causes more seasickness than excitement, as you may be able to glean from the following attempt at a summary:
Mundie has $20,000 burning a hole in his pocket after the success of Internal Structure of Stars, so his lawyer Gilbert (Jordan Gelber) convinces him to buy a house in Nantucket with that money and rent it out for income (Mundie also happens to be having an affair with Gilbert's wife Antonia, played by Tina Benko, but that remains largely irrelevant). He then gets a call from the Nantucket police (a very funny Stacey Sargeant) accusing him of running a child pornography ring out of his Nantucket abode (he's not), forcing him to visit the house he never planned to see in person. He eventually realizes this was all the result of his refusal to see a community theater production of Internal Structure of Stars.
While in Nantucket, Mundie meets a frenetic man by the name of McPhee (Will Swenson, doing everything he can with a perplexing role), who happens to be having an affair with Elsie Spooner (Clea Alsip), star of the Nantucket production, daughter of a famous author who once lived in Mundie's Nantucket house, and wife of amateur director Schuyler (Douglas Sills). They all abandon Poe and Lilac (Chanler-Berat and Rex doing their best impressions of whining children), leaving them in the care of Mundie for hazy reasons having to do with a possible murder.
If you tracked only a small portion of that rundown, or lost interest halfway through, you're not alone. Considering that it's Poe and Lilac who jog these dormant memories for Mundie, you'd expect to see something more formative unfold between him and the children. But before those relationships have a chance to marinate, we're off on another errant tangent about Mundie's new adaptation of the Hitchcock film Suspicion directed by Roman Polanski, or a screenplay he might be writing for Disney (the only thing not overwrought about the play is David Gallo's suitably sparse two-level set).
The moments between these jolting turns of the whale are where we get a hint of the subjects Guare is trying to broach: the relationship between popular and successful art (Mundie's memories falling smack in the middle of the Jaws craze); the distinction between memory and reality (the figment of Borges, played by Germán Jaramillo, appropriately embodying that tension); and how the documentation of either can turn something fleeting into something (or someone) permanent. These are all substantial concerns for a playwright, particularly one of Guare's stature and significant legacy to reflect upon. And if you hold on long enough, you might pick up a few thought-provoking ideas that are applicable to the non-playwrights that roam among us. Sadly, I jumped ship before the whale wore itself out.