Laurie Metcalf Will Join Bruce Willis on Broadway in Misery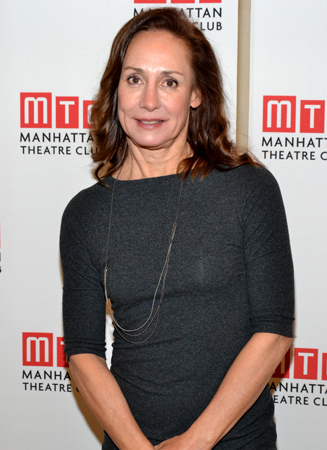 Laurie Metcalf will star as Annie Wilkes opposite the previously announced Bruce Willis as Paul Sheldon in Misery, producers announced today. Directed by Will Frears, Misery will play a 16-week limited engagement this fall at the Broadhurst Theatre. Previews are set to begin October 22 with an opening booked for November 15.
The role of Annie Wilkes was previously announced to be played by Elizabeth Marvel, who has withdrawn from the production because of scheduling conflicts.
The play is written by William Goldman (Butch Cassidy and the Sundance Kid), who also wrote the screenplay for the Academy Award-winning film of the same name, based on the acclaimed novel by Stephen King.
In Misery, successful romance novelist Paul Sheldon (Willis) is rescued from a car crash by his "number-one fan," Annie Wilkes (Metcalf), and wakes up captive in her secluded home where she forces him to write a novel to her specifications.
Misery has a set design by David Korins (Hamilton), lighting design by David Weiner (Romeo and Juliet), and sound design by Darron West (Peter and the Starcatcher). The play will be produced by Warner Bros. Theatre Ventures, Castle Rock, and Raymond Wu.
William Goldman's film adaptation of Misery, based on Stephen King's celebrated novel, was directed by Rob Reiner and released in 1990, starring James Caan and Kathy Bates, who won an Academy Award for her performance as Annie Wilkes.
This play adaptation of Misery made its world premiere at Bucks County Playhouse in fall 2012.
For tickets and more information, click here.