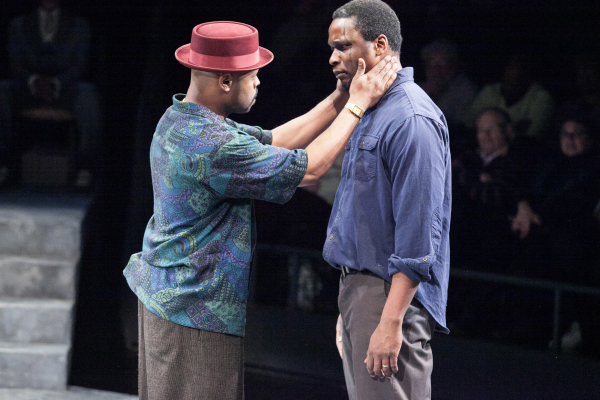 King Hedley II, at Arena Stage, is the ninth in August Wilson's 10-play Century Cycle, which describes life in the African-American community from 1900 to 2000. King Hedley II is a sensitively written vision of the way poverty and limited opportunity influenced Pittsburgh's Hill District in 1985, where guns and drive-by shootings were all too common.
The play opens with King Hedley II (Bowman Wright), a young man with a huge scar across one cheek, who returns home seven years after being sent to prison for murder. King lives with anger in his heart for the precious years he has lost.
Yet he has some dreams to sustain him. He is shown trying to make seeds grow in the infertile dirt behind his house. And he has an entrepreneurial dream as well: to get enough money together to open a video store with his friend, Mister (KenYatta Rogers).
Still, the measly part-time jobs that King qualifies for don't pay enough to allow him to put a down-payment on a store. When he and Mister can't raise enough money selling stolen refrigerators at $200 apiece, they break into a jewelry store and steal some cash.
King is further threatened by a smooth-talking con man and gambler named Elmore (Michael Anthony Williams), who returns after a long absence. Elmore is armed and dangerous. He knows secrets about the past that will destroy King's emotional well-being.
King and his wife, Tonya (Jessica Frances Dukes), live with King's mother, Ruby (E. Faye Butler), a former band singer. Tonya also provides a glimmer of hope in King's life when she announces that she is pregnant. King is delighted by the idea of being a father, but Tonya tells him she wants to have an abortion. The news becomes another heavy cross he has to bear.
The final member of the crew who shares the backyard where all the action takes place is Stool Pigeon (André De Shields), a scruffy, Bible-quoting, newspaper-hoarding spiritual commentator, who offers constant perspective on the past, on the future, and on humanity.
Wright does a beautiful job of expressing King's hope and his disillusionment, his tenderness and his rage. He demonstrates the dreamer whose bleak circumstances overwhelm his dreams. As the woman who loves him, Dukes is equally moving in her expression of her desire for nothing but to live with King, only without a child.
Butler is sensational as Ruby. She displays both the strength and grit she has relied on to get through life, as well as tenderness to Tonya and King. A great singer, Butler gets the opportunity to demonstrate her vocal talents with a bit of "Red Sails in the Sunset." Williams is equally fine as Elmore, who struts around the stage in his three-piece suits, matching hats, and shoes (evocative costumes by Ilona Somogyi).
The character who most often lightens the mood of the Hill District's menacing streets is De Shields' Stool Pigeon, dressed in raggedy clothes and hilarious in his addresses to the inhabitants of the District and to the Almighty.
Director Timothy Douglas gives this production a rapid pace and plenty of energy, with particular attention to Wilson's language, which shifts quickly from exposition to aria-like poetry.
Tony Cisek's spare set keeps most of the actors within view even when they are not acting, creating a sense of their being witnesses to the unfolding drama. Slabs of concrete on the ground and ceiling suggest jail, while Ruby's and Stool Pigeon's houses are represented by chairs at opposite sides of the stage.
Although not as tightly constructed as some of Wilson's other plays, King Hedley II is a brilliant evocation of how difficult it was for many underprivileged black men to thrive during Reagan's "Morning in America."
This production, which emphasizes the struggle of many economically challenged African-American men of that — and this — period, perfectly represents the environment that Wilson wanted to convey, where violence and disillusionment are constantly present and where the only elements the central character will consider dying for are hope and a desire for honor.