Justin Kirk Returns to His Theater Roots in The Invisible Hand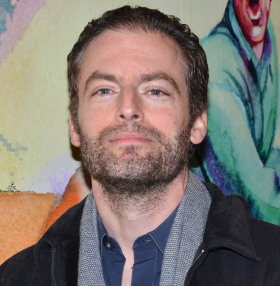 At the start of the first act of Ayad Akhtar's The Invisible Hand, Justin Kirk is being held captive. In this new drama at New York Theatre Workshop, Kirk plays Nick, an American finance guru trapped in Pakistan as the hostage of a militant Islamic organization that forces him to raise his own $10 million ransom fee. It's a vastly different role for the actor, known for his sharp comic timing and performances as Andy Botwin on Showtime's Weeds and Prior Walter in HBO's film version of Angels in America (for which he received an Emmy nod).
"I got the offer, read it immediately, and I said yes that night," Kirk says of the attention-grabbing play. "It's the first time I've done that in years. I'm a real neurotic. Every time something comes up, I'm like, 'I can't do that. I don't like to leave my house.' But this seemed to be one of those no-brainers. When you read something or get an offer, either it resonates or it doesn't. I was immediately excited to jump into that world."
It crossed his desk at the right time. Kirk had just finished shooting the first season of a new FX Network series Tyrant, in which he plays a U.S. diplomat thrust into a political crisis when the tyrannical president of a Middle Eastern country dies and his brutal son takes over. "They're regionally similar," Kirk notes of the two very specific, very timely pieces. "In many ways, that part of the world is a big story of our time."
But while it's a very fertile subject for television and film, its coverage in the theater world is still only beginning to take flight. Playwright Akhtar, whose 2013 Pulitzer winner Disgraced recently opened on Broadway, is at the forefront. "They're good plays," says Kirk, who attended the opening night of Disgraced with his Invisible Hand castmates. "They're so different in tone and setting, but they're filled with flawed characters and you don't know which way is up, which is what I like to see in theater."
Despite having played larger venues on Broadway when he starred in Other Desert Cities and Love! Valour! Compassion!, stepping out onstage at the intimate New York Theatre Workshop reminded Kirk of how much of a connection can be forged with a live audience. "The way the beautiful set design is," he says, "the ceiling is dropped not only onstage, but through the house. It's this bizarre intimate vibe we have with the audience. [New York Theatre Workshop] is a deceptively small house; it feels bigger than the two hundred seats that it is. But everyone hangs on every moment. It's a cliché that the audience tells you what the play is, but I was just reminded of how true it is. What the play is, in various scenes, becomes clear based on the people who are [in the audience]."
And this whole experience is just a theatrical appetite-whetter, with even more theater plans on the horizon. "I can't get out," he jokes. Next on the docket is These Paper Bullets!, a riff on Shakespeare's Much Ado About Nothing by Rolin Jones that features songs by Green Day's Billie Joe Armstrong and played Yale Repertory Theatre in March. "I'm going to be workshopping that at the end of this month. The playwright is a good friend of mine. He was a writer on Weeds. I'm getting ready to go into that, hopefully with an eye on a production next season at the Atlantic. I've been excited about it for a long time."