Interview: Mamie Gummer Gives Grace Kelly's Character a Makeover in Dial M for Murder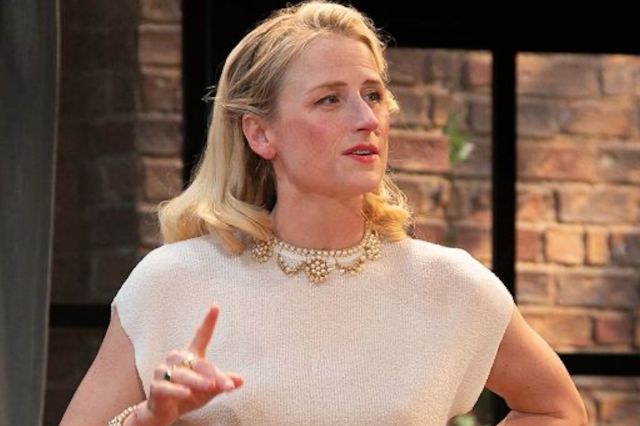 Talent may run in Mamie Gummer's bloodstream — after all, she is the daughter of Meryl Streep — but the 39-year-old actor has certainly earned her stardom all on her own, impressing audiences onstage in Mr. Marmalade, Les Liaisons Dangereuses, and Ugly Lies the Bone, not to mention her remarkable work in the recurring role of attorney Nancy Crozier on CBS's The Good Wife.
Now, after a multiyear hiatus, Gummer has returned to the stage as the duplicitous Margot in Jeffrey Hatcher's adaptation of Frederic Knott's classic thriller Dial M for Murder, being presented through July 23 at the Bay Street Theater in Sag Harbor, New York.
TheaterMania recently chatted with Gummer about why she chose to return to the stage with this play, stepping into the figurative shoes of Grace Kelly (who played her role in Alfred Hitchcock's celebrated film version), how motherhood — and daughterhood — have affected her, and the anticipation of working with her real-life siblings in late July in a reading of Chekhov's Three Sisters.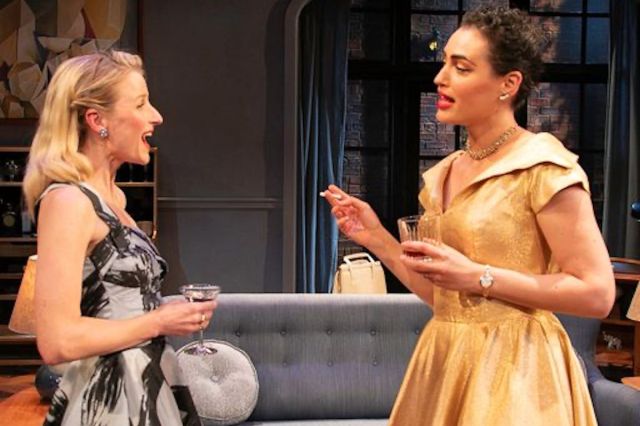 This interview has been condensed and edited for length and clarity.
You haven't worked onstage for about four years, during which time you had both of your children. Why did you decide to come back now?
It was time to dust up my wings and I couldn't have asked for a better re-entry to work and creative expression. The setting here is so beautiful and soothing. And because of the WGA strike, my husband [TV writer Mehar Sethi] can be here with me and the children.
Does it help that you've worked before with your director, Walter Bobbie?
Absolutely. I have this shorthand with Walter which we developed when I did School for Lies with him at CSC. He is such a brilliant director, and I appreciate every aspect of his job so much more than when I was younger and self-involved. We're doing this show much more quickly than I am used to, and Walter was so smart in suggesting to all of us a couple of weeks before we started rehearsals that we should be off book when we arrived. It's really a much more complicated show in terms of props and blocking than I realized, so that really helped!
I assume this role was also a big factor in choosing this show?
Definitely! I felt there was an opportunity to present a stronger character than in the movie. I feel she was originally written quite passively and Jeffrey's new interpretation really ups the stakes and empowers her, especially in the treatment of her love affair, while still being true to the 1950s. I started to watch the movie again on the plane ride from Los Angeles, and once again I became frustrated by her character in the film — no shade on Grace Kelly. I didn't even make it through the whole thing. So much of the movie is so different from what we're doing that it didn't feel like it would serve my portrayal to keep watching.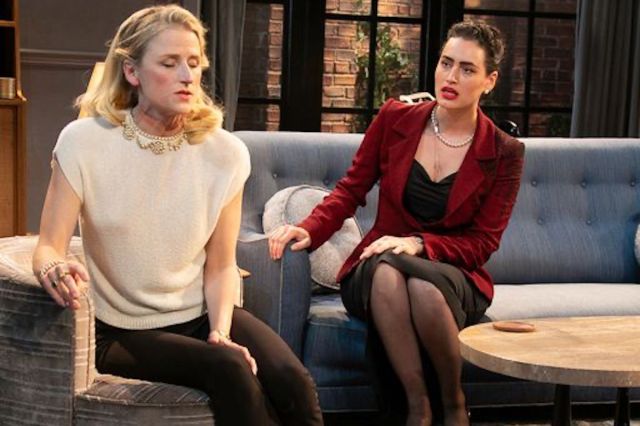 Do you think being a mother has changed your approach to acting?
We'll find out if motherhood has changed me as an actress. I do know I am trying how to balance and prioritize my children and my career. It's so different to care for someone more than acting. For their sake, I feel like I need to stay safe, grounded and level at all times, which runs counter to my experience as an actress. The good thing, at least, is my vocal coach Deb Hecht says my voice has dropped.
Have you learned anything from being the daughter of an actress?
What I saw growing up is that, ultimately, seeing my mother be happy and fulfilled trumped any momentary pain we felt from her being gone. And because my dad [Donald Gummer] was an artist, he had flexibility in being around and taking care of us. My husband is a comedy writer, which is not done virtually – he needs to actually be in the writer's room — so it may not end up being the same situation. But we'll see.
Right after you finish this, you're heading to Williamstown to do a reading of Three Sisters with your real-life siblings Gracie Gummer, Louisa Jacobson and Henry Wolfe Gummer. How excited are you?
We did a few rehearsals already before the pandemic since we were supposed to do some a semi-private reading in Los Angeles. But Gracie went into labor when we went to do the reading, so it got postponed. Just to sit around and talk about the play was a luxury itself. And there's so much to mine in Chekhov every time you read him. The only "bad" thing is we are playing the sisters in our real-life chronological order, and I consider myself more of Masha than an Olga. But I'll find the stuff I need — I always do!