Interview: Kevin Cahoon Gets Joy From Making People Laugh in Shucked
"I've been in some shows that people have really enjoyed," Kevin Cahoon says, "like The Lion King and Hedwig. But Shucked is a whole other experience."
With Shucked, the corn-based musical at the Nederlander Theatre, Cahoon is back on Broadway for the first time since playing George in The Wedding Singer in 2006. The gig is a long time coming — not just because it's been 17 years since his last mainstem outing, but because Cahoon has been with this project since its very early days, when it was still a musical adaptation of the TV show Hee Haw.
"I always knew the show was special," he says happily of the Robert Horn-Brandy Clark-Shane McAnally project, "but it has connected with people in a way that's just mind-blowing. I've met people after the show who have said, 'We're from Nebraska. We are from Iowa. We're from Ohio. We've never felt like there has been a show that spoke to us.' And that's the most rewarding part."
The following conversation has been condensed and edited for clarity.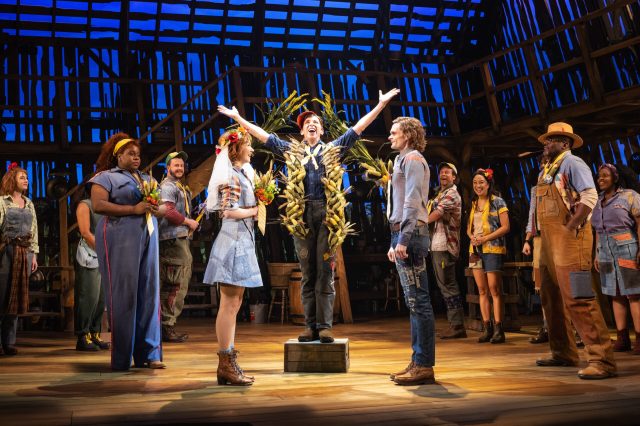 This conversation has been condensed and edited for clarity.
You were involved with the show when it was still the Hee-Haw musical.
Moonshine. Yeah. I did two readings before we did that production in Dallas. The minute I got the sides for the audition, I knew I had to be in the show. I was like, "This is the funniest, smartest, sweetest material." That was a completely different version of what it is now. It took eight years to find its heart and voice.
What were some of the differences?
Well, the big difference is that there was no corn. Corn wasn't dying, so the stakes were low. Now that the corn, which is the lifeblood of the community, is dying, they are forced to solve a communal problem, as opposed to one girl's journey to find herself [which was the overarching theme of Moonshine]. The minute that Robert put that in, it shifted the entire show to a new place, and when Gordy, played by the brilliant John Behlmann, comes back with a solution to fix their problem, that raises the stakes even more.
Your character was called "Junior Jr." in Moonshine, and now he's Peanut.
In the previous versions, he was just the county clerk. He would see this bad guy looking at land plots and all that. Now, he's been opened in a way: he's the town preacher, he's the town philosopher, and he's mostly there to raise his brother, Beau [Andrew Durand]. I'm the older brother and all we have is each other.
Peanut also has a way with one-liners.
When I was doing research, I found that there's this great tradition of country storytellers that started out during the Great Depression and the Dust Bowl, like Minnie Pearl and Jerry Clowder. They had a way of talking to people in a very simple, pure, straight way. They were a voice for a part of rural America that didn't have anyone speaking for them. I think about those comedians when I'm doing the show every night. It's simple, it's pure, and it's truth.
How does it feel to make people happy like that with this show?
It's the most rewarding experience of my career, without a doubt. I am grateful. I'm so honored. I can't wait to get to the theater each day. It's the perfect show after the pandemic when we were so isolated. We've come out of it and the sun is bright yellow and we're all together laughing, not having having to think or worry too much. Over the past eight or nine years, I was like, "It's never gonna happen." And thank God it happened now, as opposed to before, when maybe it wasn't going to be the right time in the world for it. We are all having the biggest love affair with each other, and we're having the time of our life.
Do you like corn? Cause I would imagine it would be weird to be in a show that's all about corn if you don't like corn.
I love corn! I love cornbread. I love cream corn. I love corn cakes. People bring cans of creamed corn and boxes of Corn Flakes for us to sign after the show.