Interview: James T. Lane Talks About His Show Triple Threat and Why He's Doing Things His Way Now
Theatergoers already know James T. Lane as a triple threat: a skilled actor, singer, and dancer. Lane has wowed Broadway audiences in The Scottsboro Boys, led the showstopper "Too Darn Hot" in the 2019 revival of Kiss Me, Kate, and has had multiple stints in Chicago, most recently as Billy Flynn earlier this year. He has toured with Fame and Ain't Too Proud, starred in the Broadway revival of A Chorus Line, and chalked up more regional credits than you can count.
But the title of Lane's new solo work, Triple Threat, refers not to just his prodigious talent, but rather to three key factors of his identity: he is Black, gay, and an addict. Soon after landing his breakout role on the Fame tour in 1997, Lane grappled with drug addiction that derailed his career, ultimately pushing him to confront unresolved trauma stemming from sexual abuse he suffered in his youth.
In Triple Threat, Lane portrays over 20 characters, wading through fragmented recollections of his path out of drug dependency. The journey takes him from audition rooms to crack houses, tracing a sometimes absurdly funny but often disturbing journey that ultimately left Lane homeless. He also gives voice to the marginalized folks he met along the way – those not always afforded the same opportunity to see their stories told.
Plus, there is a lot of singing and dancing. TheaterMania spoke with Lane about the show, which runs at Theatre Row through July 30.
This conversation has been condensed and edited for clarity.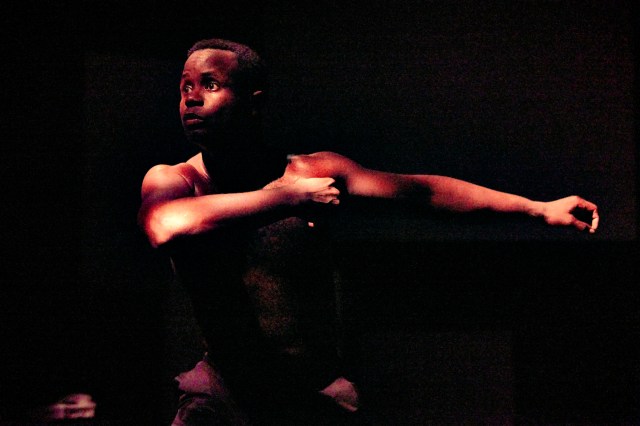 What was the initial impetus behind Triple Threat?
I had tea with David Lan, who was artistic director of the Young Vic, when I was doing Scottsboro Boys in London. I pitched him an idea about Sammy Davis Jr., and he said: "No, I'm interested in you." And no one had ever said that to me before. So I wrote about my experiences as an active drug addict. After reading it he said, "This is you? That's not who I see in front of me, this bright and inspiring person. Keep writing."
You then kept working on it for many years. How did it change and develop?
At one point it was a play with 12 characters. Then, an interesting turning point: when I was in the Chicago area doing Bert in Mary Poppins, I invited some folks over to do a reading. And one by one, everybody canceled. So I said: "I'm just going to read what I have aloud, by myself." And what I found out was, I know all of these people, and it needed to be done as a one-man show. I love the solo work of Whoopi Goldberg, John Leguizamo, and Anna Deavere Smith – and I realized, this is what this is. Plus, a whole lot of dancing and singing.
The style of Triple Threat isn't what audiences might walk in expecting. There isn't much direct address, and it's not linear – the structure is very fragmented. How did you settle on that approach?
The overarching feeling of that time in my life was fragments. The world of addiction and of sexual abuse, it's full of compartmentalizing. So that's why it's this kaleidoscope of conversations, experiences, trauma, told in movement, dance, acting, and singing. It's a reflection of the state of being of someone who has lived through trauma. It is not what you expect, and there is no hand-holding.
You embody a wide array of characters you met along the way, others dealing with drug dependency and incarceration. Why did that larger social context feel important?
I was on the train the other day and there was this guy stretched out on the seats, twitching and doing the things that a person who had a rough night would be doing. I looked to my right, and people were just shaking their heads. People are left in those places. They're hiding in the dark, or they are forgotten by society. This play gives a peek into the lives of people that are struggling with addiction and mental health issues. I want to put these people on the stage so you can feel their humanity.
The song "On Broadway" is threaded throughout the show, but the lyrics take on a different meaning each time. At first it feels inspirational, but then lines like "I won't quit till I'm a star" start to feel more disturbing. Why did you pick that song?
When you hear that baseline, that is New York City, Bob Fosse's All That Jazz starts with it, that is the Broadway song. The show happens in my mind, and there can be so many things happening in my experience at one time, but the engine is always: "Gotta get to Broadway." The marrow of the play is that feeling of getting there, of achievement, the shit along with the sunshine. The song evokes all of that.
There is such love for Broadway in the show, and pride in the many roles you've gotten to play. But you also call out the challenges you've faced in breaking out of the ensemble, and that most of the Black roles you've played have been written by white artists.
Getting work and building your reputation, that all matters. But after King Kong, I chose to start saying no to ensemble parts. It was very scary. But to not make that leap would have hurt worse. I could have stayed in Chicago for 25 years. It's a great job to have. But my soul would not let me do that, because I needed to have creative responsibility.
Walking around in this skin, and having had success, no one expects me to call it out. And that's the rub, right? I hope it inspires people to see me in a different way, and to create things for people who look and sound like me. And I will continue to create my own work too.