Review: James T. Lane Gives New Meaning to the Phrase Triple Threat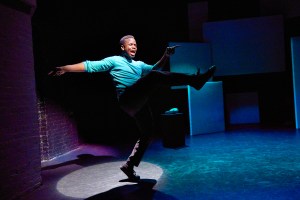 In the entertainment world, a "triple threat" is a performer who excels in acting, singing, and dancing. Anyone who has seen James T. Lane perform knows that he fits that bill. He really wowed me a few years back when he scorched the stage during his performance of "Too Darn Hot" from the last Broadway revival of Kiss Me, Kate, so I knew going into his new solo play, Triple Threat, that he can put on a show. But holy shit, what a show!
It's tough to distinguish yourself in an overworked genre like the autobiographical confessional. Too often such pieces feel like audition monologues performed in the hopes that a producer sitting in the audience will take notice. That's not the case here; we already know Lane has talent, and he already gets work (he just finished a stint as Billy Flynn in Chicago this April). At once hilarious, heartbreaking, and hopeful, Triple Threat feels like one man's authentic catharsis.
Lane seems to be toying with the audition trope at the beginning as he enters from a side door and stands onstage in front of an invisible director who asks him what the T. in his name stands for. The answer (Tyrone) launches him into the story of his upbringing in South Philly. Raised by his mom in a fatherless home, Lane attended the William Meredith Elementary School for the Performing Arts and got hooked on dance from day one. His talent landed him a part in a tour of Fame in his early 20s, and he seemed destined for stardom.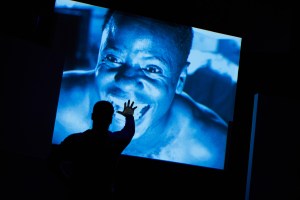 But Lane doesn't spend much time on these early years. Instead, he rushes headlong into the darkness that derails him just as his career is taking off. He starts hanging out late in the clubs, hooking up in bathhouses, and falling into a drug spiral that sucks him down into an abyss of crystal meth and crack addiction (lighting designer Emmanuel Delgado cloaks these fever-dream scenes in menacing shadows accompanied by DJ Potts's jarring sound design). He starts missing shows, losing work, going broke, abandoning friends, and eventually becomes homeless. It's a nightmare that he can't wake up from — until he does.
There's never a dull moment in the whole 70 minutes, and rarely have I felt myself so emotionally jostled in such a short time. From laughing out loud at his portrayal of perps in a bull pen (at one point, Lane was arrested for prostitution) to being terrified by his ghastly reenactment of a crack high, Lane gives a tour-de-force performance that leaves your head spinning.
Director Kenny Ingram also makes Lane's show stand apart from others by blending scenes and characters to suggest the fragmented reality of drug addiction. Lane (thankfully) does very little direct monologuing to the audience (though he does break the fourth wall occasionally for spontaneous banter). Instead, he tells his story through song ("On Broadway" features prominently throughout), dance (choreography by Ingram), and a breathtaking roster of some two dozen characters — including his mother, a few racist white lovers, and Eartha Kitt — plus versions of his personality that inhabit him like he's a manic medium. T'ij D'oyen projects videos of several of those characters (usually in drag) onto the back panels of Teresa L. Williams's set. In a stroke of brilliant dark humor, "Clair Huxtable James" appears onscreen and teaches us how to make a crack pipe.
It's been about 20 years since Lane stopped making those, started his recovery, and returned to Broadway and the West End in shows like A Chorus Line and The Scottsboro Boys; but those productions are nothing like his Triple Threat, which is about as honest, unapologetic, and in-your-face a confession as it gets. In the end, Lane understands that it's our perceptions of ourselves that guide our choices — for him it was the "triple threat" of being Black, gay, and an addict. As a gay man, I can't help but feel grateful that Lane found the guts to put his story out there, and if you're in town for Pride, you need to check it out. There's something in it for you.