Interview: Amy Brenneman Listens to The Sound Inside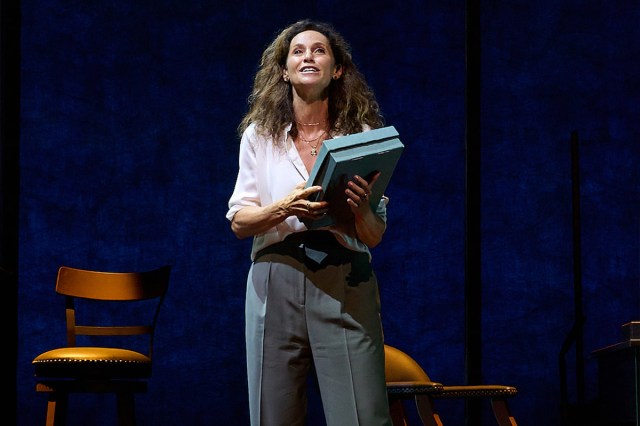 Over the past four decades, Amy Brenneman has found enormous success on television, with starring roles on NYPD Blue, Judging Amy, Private Practice, and The Leftovers. She also performed on various stages across the country, including Playwrights Horizons and Lincoln Center Theater.
Currently, Brenneman has taken on the challenging role of Bella, a brilliant and acerbic college professor in Adam Rapp's Tony-nominated two-hander The Sound Inside at the Pasadena Playhouse.
TheaterMania recently talked to Brenneman about her journey with this play and what her next theatrical outing might be.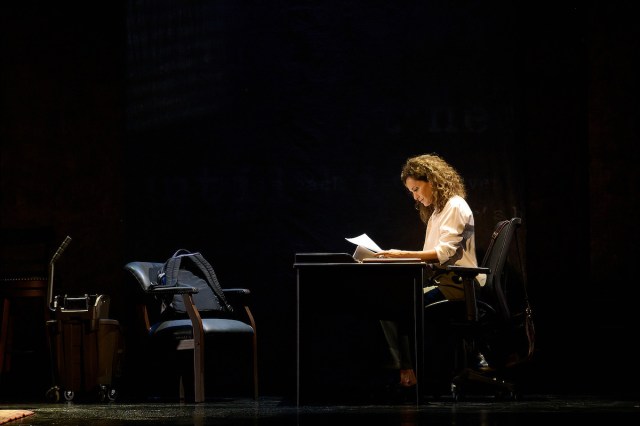 This conversation has been condensed and edited for clarity.
How did you get the part of Bella?
I got offered it when I was knee-deep in summer chores, especially getting my son ready to go to college. Since I've had kids, I have always planned my work around my family and their schedules. I really wasn't sure I would have the time to do this.  But I read the script, and I immediately knew it was a well-written play, even if I didn't immediately know what it was supposed to be. In any case, my husband thought I should do it, so I eventually said yes. Now. I think God gave me this play or I would have been organizing and reorganizing my sock drawer this month.
Did you see the Broadway production?
No, I didn't, but after I got the part, I read some reviews and articles about it. And I was bit intimidated because everyone said that Mary-Louise Parker was so magnificent, and I knew she had won the Tony Award. Look, we do new productions of plays all the time – I spent most of my early years in theater doing nothing but classic plays – but this felt a little scarier. And even though the rehearsal process was so organic. I got very nervous before our first performance. I remember thinking to myself that night, this is why Meryl Streep doesn't do stage work anymore. But it gets easier being up there with each performance.
Still, I imagine you would not have said yes unless you related to Bella?
Yes. I do relate to her as an artist and person. I went to Harvard, so I didn't have to fake her intelligence. I was not as well-read as Bella, though, so I had to read all these books that Bella talks about. I particularly loved the James Salter books. They are so beautiful and clean, and they really gave me some insight into her. Just as important, though, I know many people who use their intelligence and wit to hurt people. Personally, I think Bella does that because of her pride, and because she's become this very isolated person. And because of her cancer, she goes from a person who knows everything to someone who doesn't know anything. When I thought about it, I felt like I could be Bella if I didn't have my husband and my kids.
Does it feel odd to do such an intimate play in such a large theater?
Not at all. To me, she is telling a story in a big lecture hall. She actually says she is standing in front of a group of strangers. So, to me, the big theater makes sense. I also like having all these people in a large theater as my other scene partner, especially since the fourth wall immediately disappears in this play. The audiences here have been so responsive every step of the way; they gasp, they clap, and most importantly, they laugh. When I read the script, I thought there were some very funny lines, but all the New York reviews talked about was the play's intensity and nothing about laughter.
With both of your kids out of the house, are you re-committing to doing more theater?
Yes, there was about eight years when I didn't do any theater, but now I am going to try to do more – at least a play every year. I like doing theater because there's so much that you can do that doesn't work on camera. Personally, I think it's really hard to do a monologue on camera and keep the audience interested.
Would "more" include one of the plays you've already written?
I would love to remount Overcome. It's my story about how I love being the mom of a neurodiverse daughter and how we deal with diversity. I feel like that's something that needs to be celebrated.