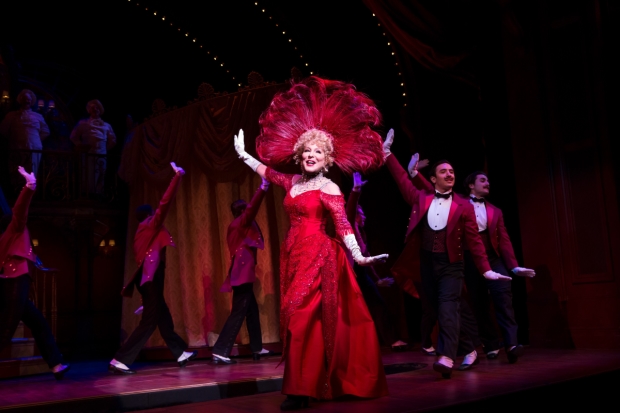 Bette Midler. That name is enough to convince legions of fans to open their wallets, as evidenced by the reported $40 million in advance sales to the Midler-led Broadway revival of Hello, Dolly! at the Shubert Theatre. For devotees of the Divine Miss M, it really won't matter what the critics say: They are not going to miss an opportunity to see Midler sing on Broadway for this first time in 37 years (her 2013 appearance in I'll Eat You Last was nonmusical). It just so happens, though, that Midler is dishing out comic gold in a joyous revival that will remind you why you fell in love with Broadway in the first place.
Based on Thornton Wilder's The Matchmaker, Hello, Dolly! is the story of Dolly Gallagher Levi (Midler), an enterprising widow making her way in New York City circa 1885. Among her many consulting gigs, she is currently brokering the match between lady milliner Irene Molloy (Kate Baldwin) and Yonkers-based animal feed merchant and half-a-millionaire Horace Vandergelder (David Hyde Pierce). Or so it would seem: Dolly actually plans to wed Horace herself so she can spread his money around like manure. She'll have to make it seem like it was his idea first, though.
Complicating matters is the star-crossed love between Horace's niece, Ermengarde (Melanie Moore), and painter Ambrose Kemper (Will Burton). Also, when Horace rides down to Manhattan to participate in the 14th Street Parade, his two store clerks, Cornelius (Gavin Creel) and Barnaby (Taylor Trensch), decide to play hooky. Their mischief leads them to a double date at the most expensive restaurant in the city, where madcap hilarity ensues.
Under the direction of Jerry Zaks, Dolly is as catchy and irresistible as ever. Jerry Herman's hit-parade score will stick with you for weeks. Under the steady baton of Andy Einhorn, a rich-sounding 22-piece band plays Larry Hochman's radiant new orchestrations. Meanwhile, the cast brings pristine comic timing to Michael Stewart's hilarious book. Warren Carlyle takes the best parts of Gower Champion's original choreography and adds some tricks of his own. Your jaw may very well hit the floor during "The Waiters' Gallop," in which the men of the ensemble make it look like there are hundreds of dancing waiters onstage (there are 10).
At the center of it all is Midler, a living legend playing a part most closely associated with another living legend, Carol Channing (who originated the role of Dolly and played her in the last two Broadway revivals). Using her unassailable comedic instincts and singular presence, Midler makes Dolly her own: She's big-hearted, sassy, and occasionally caustic. Throwing in a line of brogue here and there, we completely believe this is an Irish-Catholic girl who has become culturally Jewish by marriage and osmosis. We watch, rapt, as she masticates a turkey leg for what seems like four minutes, her absolute command of our attention never slipping.
Midler's voice is not what it once was, but she makes up for that with a winning mixture of humor and humility: On the night I attended, a coughing fit preceding "Before the Parade Passes By" turned into an endearing moment of vulnerability as Gavin Creel twirled onstage to offer her a drink of water. She took it, thanked Creel and the audience, and proceeded to knock it out of the park. By the end, she had the audience on its feet, singing and clapping along. Welcome to gay church.
It is a testament to Midler's generosity as a performer that she jubilantly shares the stage with so many other funny folks: Looking like Mark Twain in a production of The Pirates of Penzance, David Hyde Pierce brings cartoonish upstate virility to the role of Vandergelder. Jennifer Simard has us in hysterics with her grotesquely squeaky portrayal of faux-heiress Ernestina Money. Speaking of outrageous names, Beanie Feldstein makes an unforgettable Broadway debut in the relatively small part of shop assistant Minnie. She steals every scene she can get her hands on, and we love her for it.
Zaks gives this cast a candy-coated world as bright and delectable as their performances: Santo Loquasto's detailed sets conjure a dream of old New York while offering plenty of secret hiding places for the ensemble. Zaks and Carlyle naturally take advantage of this in their animated staging, which has actors popping out of barrels and disappearing behind a grand staircase. Loquasto (who also designed the costumes) outfits the cast in a rainbow of fabrics: ornately trimmed dresses for the ladies and richly patterned waistcoats for the gents. The colors explode under Natasha Katz's spectacular lighting. While the production numbers are extraordinary, some of the most memorable songs happen downstage of the elaborately embroidered red curtain: It's just the performer and the audience, evoking a vaudeville sensibility that all-too-often feels absent from Broadway.
Midler does that too. She is a showgirl of the highest order who recognizes every performance as a live event, never to be repeated. She embraces the audience and the energy it brings with a giant bear hug. That makes this revival of Dolly a rare experience that even the most jaded theater-goer will have trouble resisting. What can we say but, "Hello, Bette! It's so nice to have you back where you belong."