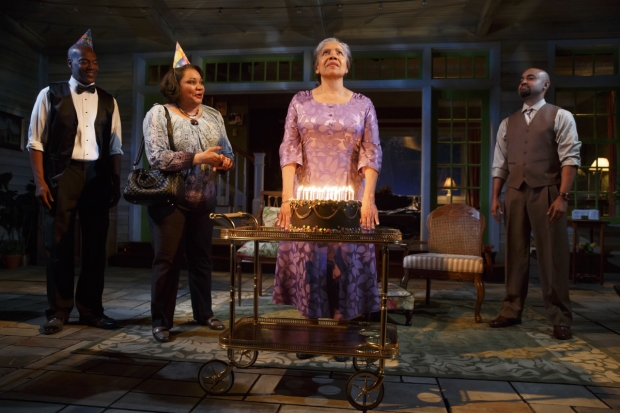 The rain beats down, the waters rise, and the floor threatens to split asunder. Seems like the perfect conditions for a party, right? Tarell Alvin McCraney (The Brother/Sister Plays) imagines just such a soiree in his magical new play, Head of Passes, now making its New York debut at the Public Theater. As a dramatist, McCraney exhibits admirable ambition. But in his quest to pen a universally resonant drama, he has neglected some fundamentals.
The name of the play is taken from the marshy area where the Mississippi River splits into three branches, a largely uninhabited part of Louisiana that is quickly being reclaimed by the rising tide. Shelah (Phylicia Rashad) is the matriarch of a stalwart local family that made its fortune running a bed-and-breakfast for oil workers in the Gulf of Mexico. With her husband dead, Shelah now lives alone in that stately B and B as it slowly deteriorates. She intends to pass the house on to to her sons, Spencer (the funny and imposing J. Bernard Calloway) and Aubrey (Francois Battiste), hoping they will revive the family business. Cookie (Alana Arenas), a wayward illegitimate daughter, is only spoken of in hushed tones. They have gathered, along with Shelah's doctor (Robert Joy) and friend Mae (Arnetia Walker), to celebrate Shelah's birthday. Dressed in tuxedoes, father-son catering duo Creaker (John Earl Jelks) and Crier (Kyle Beltran) are there to assist. Except for the doctor, none of them are aware that Shelah is dying. A torrential rain threatens to develop into a full-blown hurricane, pulling this once-grand house into the sea.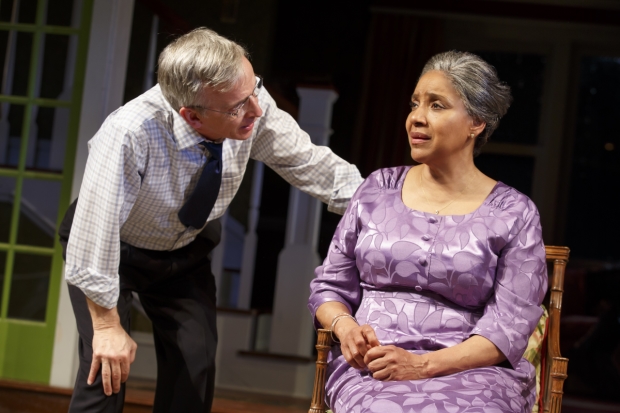 More than most contemporary American playwrights, McCraney reaches for ancient and universal questions: What makes a family? Who pays for the misdeeds of the dead? Is there a God? One can see McCraney's expansive thematic curiosity in the predecessors he references (intentionally or not). Important offstage plot points arrive via messenger, as in ancient Greek drama. "Pour. Oh pour," Shelah implores the sky, Lear-like. As the house crumbles around her, one is reminded of Circe in Toni Morrison's Song of Solomon, a surviving witness of divine retribution for a sin long overdue. McCraney notes in the program that Head of Passes is inspired by the Book of Job, a story of persistent faith in spite of God's cruelty. We can certainly see that in this tale of a religious woman near the end of her life whose faith is tested by unspeakable tragedy.
This magnificence occasionally gives the play a presentational quality. Moments of high drama explode like popcorn from the tiniest, hardest kernels of exposition. The family business, Cookie's drug addiction, and the environmental degradation of the land are given little attention and seem like afterthoughts. Even the family tree (three children mirroring the three arteries of the Mississippi) appears contrived. As with the house in which it is set, one gets the sense that this palatial human drama does not rest on a particularly solid foundation.
Director Tina Landau does her best to fill out McCraney's sketch by crafting believable relationships between the actors. Jelks and Beltran sensitively flesh out a B-plot of filial angst that McCraney abandons almost as soon as he takes it up. Similarly, Arenas gives a memorably unpredictable performance, oscillating between skittish and collected, in a role that is essentially a Dr. Phil cliché: We're led to believe that her drug habit is the result of unresolved childhood trauma, but this seems like a red herring in an age when millions of Americans suffer from opioid addiction and not all of them were subject to horrific abuse. It's a conflation that feels dated and sensational.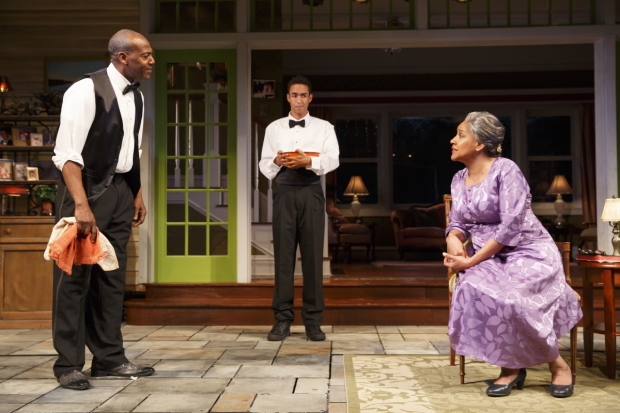 Leading the cast, Rashad serves as a life raft, rescuing the central story from drowning in a stormy sea of confusion. We always know exactly who she is and what her relationship is to everyone else. She impresses with her virtuosity in the second act during a Wagnerian aria of a monologue in which huge swathes of the backstory are dumped on the audience. By the end, we come to understand that Shelah doesn't even know anymore whether she's talking to God, or just to herself.
Landau orchestrates some truly remarkable stagecraft throughout this crisis of faith. Scenic designer G.W. Mercer creates a detailed, realistic enclosed porch that effectively evokes a Louisiana manor. With the help of Jeff Croiter's eerie lighting and Rob Milburn and Michael Bodeen's jarring sound cues, he then choreographs its destruction. The earth-shattering first-act finale will leave your mouth agape.
Unfortunately, the realistic water-filled craters onstage aren't quite enough to distract from the massive holes in McCraney's story. Head of Passes has the potential to be the next great American play, but the author needs to shore up the basics first. Of course, I would rather see a boldly ambitious drama fall short than an intentionally modest one achieve its limited goals. There is nothing modest about Head of Passes.