Gettin' the Band Back Together Announces Student Rush Policy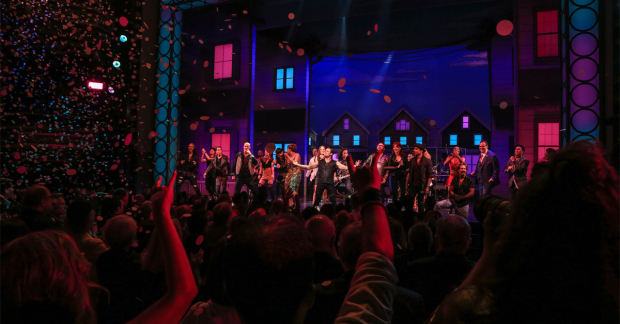 Gettin' the Band Back Together has announced a $37 student rush ticket policy beginning today, August 27, at the Belasco Theatre. Tickets will be available when the box office opens, limited to two per person, and subject to availability. A valid student ID must be presented when purchasing rush tickets.
Gettin' the Band Back Together follows Mitch Papadopolous, who always dreamed about being the next Bon Jovi. However, he chose security over stardom and left those daydreams behind for a day job. For a while, he thought he had everything — the high-paying job, the high-rise apartment — until his 40th birthday, when he got handed a pink slip and had to move back in with his mom in Sayreville, New Jersey. When his high school archnemesis threatens to foreclose on their house, this big-shot banker must save his small-town home the only way he can…by winning the Battle of the Bands.
Directed by Tony Award winner John Rando and choreographed by Chris Bailey, Gettin' the Band Back Together began previews on July 19 at the Belasco Theatre in advance of an August 13 opening. The show has original music and lyrics by Mark Allen and a book by Ken Davenport and the Grundleshotz with additional material by Sarah Saltzberg.
The cast of Gettin' The Band Back Together includes Mitchell Jarvis (Mitch Papadopoulos), Jay Klaitz (Bart Vickers), Manu Narayan (Dr. Rummesh "Robbie" Patel), Paul Whitty (Michael "Sully" Sullivan), Sawyer Nunes (Ricky "Bling" Goldstein), Marilu Henner ("Mitch's Mom," a.k.a. Sharon Papadopoulos), Kelli Barrett (Dani), Becca Kötte (Tawney), Garth Kravits (Ritchie), Tamika Lawrence (Roxanne Velasco), Noa Solorio (Billie), and Brandon Williams (Tygen Billows). The ensemble also includes Lindsey Brett Carothers, Ryan Duncan, Scott Richard Foster, Jenny Hill, Nehal Joshi, J. Elaine Marcos, Rob Marnell, Jasmin Richardson, Ian Ward, and Tad Wilson.