Front Page's Halley Feiffer and Holland Taylor Autograph Their Plays at BroadwayCon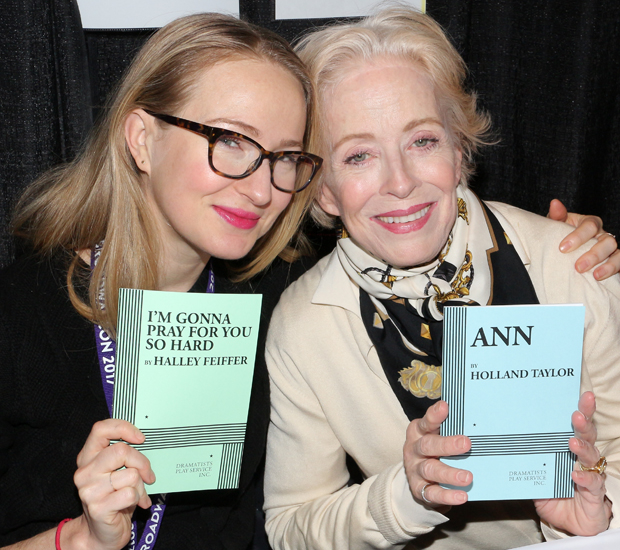 Stars of The Front Page Holland Taylor and Halley Feiffer were on hand to sign copies of their plays at the 2017 BroadwayCon at the Jacob Javits Center on January 27.
The three-day fan-fest for theatergoers and Broadway enthusiasts welcomed the actor-playwrights to the Dramatists Play Service table. Taylor is the Tony-nominated star of her own play Ann, about the life of late Texas governor Ann Richards. An Emmy winner for The Practice, Taylor's many screen credits also include Two and a Half Men and Bosom Buddies, as well as the films The Truman Show and Legally Blonde, among many others. Feiffer is the author of the plays I'm Gonna Pray For You So Hard, How to Make Friends and Then Kill Them, and A Funny Thing Happened On The Way To The Gynecologic Oncology Unit At Memorial Sloan-Kettering Cancer Center of New York City.
Ben Hecht and Charles MacArthur's 1928 comedy The Front Page features Taylor and Feiffer as a mother-daughter pair, alongside a cast that includes Nathan Lane, John Slattery, John Goodman, Jefferson Mays, Sherie Rene Scott, and Robert Morse, along with Dylan Baker, Patricia Conolly, Dann Florek, John Magaro, Danny Mastrogiorgio, Christopher McDonald, David Pittu, Joey Slotnick, Lewis J. Stadlen, Micah Stock, and Clarke Thorell. Set to play the final performance of its limited engagement on January 29, The Front Page runs at the Broadhurst Theatre under the direction of Jack O'Brien.
For tickets to see Feiffer and Taylor in The Front Page, click here.