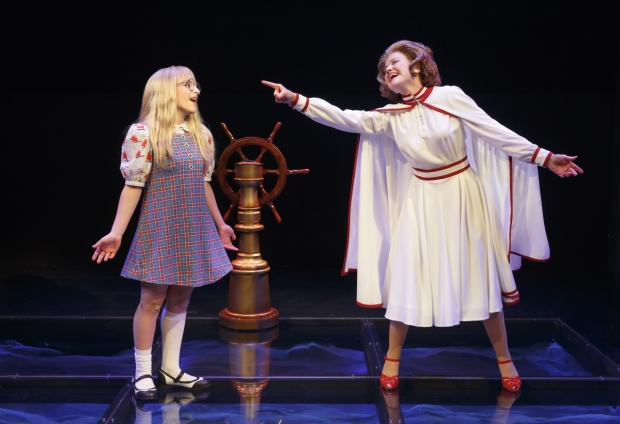 While future President Trump rides America's anti-establishment fury, Michael John LaChiusa crafts a musical masterpiece from some of the dysfunctional families that established "the establishment" with First Daughter Suite — a follow-up to his 1993 musical First Lady Suite — now making its world premiere at the Public Theater. Every presidential family from Nixon through Bush II (excluding the Clintons) are represented in four fantastical vignettes. With plenty of infamy attached to each surname, LaChiusa certainly does not exonerate any of these American royals, but he does offer a few deeply empathic and wildly theatrical conjectures about the disgruntled girls our past presidents would (or would not) kiss goodnight after a long day of questionable decision-making.
Few musical-theater writers have LaChiusa's talent for getting inside the minds of females and funneling their emotions, idiosyncrasies, and rawest desires into a concise, melodious score — just as he did with First Lady Suite and his 2011 Annie Edison Taylor musical Queen of the Mist. With this particularly enigmatic collection of mothers and daughters — a group of "ladies" typically relegated to photos beside the White House Christmas Tree — LaChiusa and director Kristen Sanderson run away with artistic liberties, just staying on the right side of the line between genius and insanity.
The anchor that keeps the confounding piece from teetering over the cliff is the brilliant cast embodying these fictionalized figures, many of the actresses doubling up on characters. Barbara Walsh unfortunately appears only once, leading the first scene as a martini-swilling Pat Nixon. She dons Pat's signature red coif (all of the musical's spot-on wig designs by Robert-Charles Vallance) and a taut floral dress, seemingly engineered by costume designer Toni-Leslie James to mold her body into a rigid first-lady posture. While rumblings of Watergate build, Pat mediates an ongoing spat between her bratty daughters Tricia and Julie (Betsy Morgan and Caissie Levy, respectively) on the day of Tricia's White House wedding. All the while, the ghost of her exacting, saintly mother-in-law Hannah (an impeccable Theresa McCarthy) badgers her from the shadows until Pat breaks down into a reflective musical monologue about her loveless marriage. Walsh explodes with inner demons, but quickly collects herself, making sure to draw a clear line between Pat's internal fragility and the outer poise she hopes to pass on to her "dignified" daughters.
It doesn't take long to realize that First Daughter Suite dissects not just the daughters' White House experiences, but a collection of mother-daughter power struggles that happen to unfold in the political spotlight. Alison Fraser joins Levy (offering a standout vocal performance) to deliver a delectable scene as Nancy Reagan and her unruly daughter Patti Davis. They try to reconcile their relationship from a pair of lounge chairs (an example of Scott Pask's bold yet economic set designs) while Patti parades her liberal rebellion by flaunting her ripped fishnets and disparaging her mother's "Nancy Reagan red" bathing suit (Isabel Santiago makes a cameo as well as Reagan's maid Anita Castelo). Mary Testa adds several more layers of mother-daughter relationships in the closing vignette with a poignant iteration of America's matriarch Barbara Bush (beautifully shadowed by Tyler Micoleau, with light also emanating from the blue-tinted ground like silent ocean waves). Though best known for the political men in her life, Barbara is mother-in-law to a fellow first lady, Laura Bush (an eerily accurate portrayal by Rachel Bay Jones), and perpetually mourns the loss of a child (McCarthy reappearing as her three-year-old daughter Robin Bush, who died of leukemia in 1953).
The scene will bring a tear to even the most righteously Democratic eye. And yet it's not LaChiusa's heartrending moments that leave the greatest impression: It's the inanity that he packs inside the mind of a young, nerdy Amy Carter (played by the talented Carly Tamer), who dreams of being friends with the older and cooler Susan Ford (Morgan, rocking a '70s jumpsuit and a Farrah Fawcett hairdo) in the scene that closes Act 1. Their mothers — southern belle Rosalynn Carter (played to perfection by Jones) and a beer-soaked Betty Ford (a beyond boisterous Fraser) — join the girls on a fantasy boat trip that goes off the rails in ways you can't even imagine. LaChiusa's more perspicacious audiences may be able to glean some profundity from the absurdity, but even if no deeper meaning runs beneath the waters of their sailing adventure, it is the gold standard of unadulterated theatricality. And after 44 executive reigns, we've hopefully learned by now that first families are nothing if not theatrical.