EXCLUSIVE: Meryl Streep, Kevin Kline, and More Featured in Free Public Theater Posters for Papp Exhibit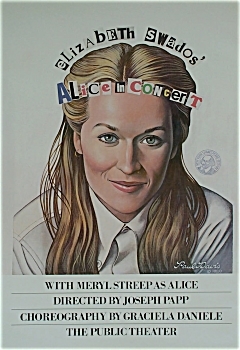 The Public Theater will present an ongoing exhibition of Posters for Papp, a curated collection of Paul Davis' iconic artwork for the off-Broadway mainstay and its founder, Joseph Papp.
Between 1975 and 1991, Davis created 51 posters for Papp's productions at the Public's Astor Place home, the Delacorte Theater in Central Park, and the Public's residencies at Lincoln Center and on Broadway. He served as art director for the company from 1981-1991. The posters are inspired by theater artwork Papp, the founder and late artistic leader of the organization, saw on a trip to Poland in the 1970s.
Davis' first commission was for a poster of Sam Waterston as Hamlet. Subsequent works include The Pirates of Penzance with Kevin Kline, The Cherry Orchard with Irene Worth and Meryl Streep, and The Threepenny Opera with Raúl Juliá, among many others.
The exhibition will officially open November 3 at a private unveiling of the 16 posters selected for the Newman Theater Gallery. It will be open to the public in that location permanently thereafter.