Everyone Knows She's a Sniper, But Here are 8 More Interesting Facts About Dr. Ruth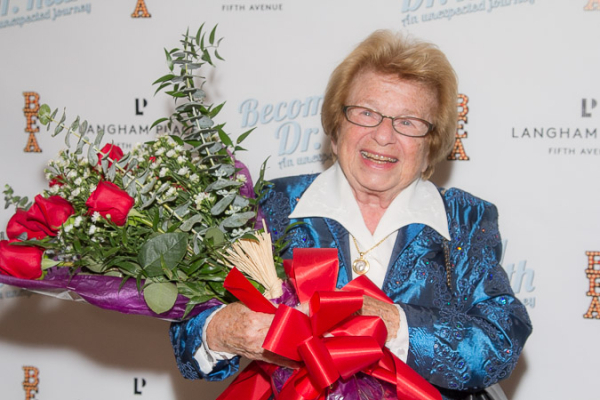 It's become fairly common knowledge that Dr. Ruth Westheimer, diminutive sex therapist and cultural icon, was a sniper in the Haganah (and critically wounded by an exploding shell) during her late teens. But theatergoers who have made it to the Westside Theatre to see actress Debra Jo Rupp in Mark St. Germain's Becoming Dr. Ruth, a one-woman show about Westheimer, know there's even more to this fascinating life story. TheaterMania asked Dr. Ruth herself for some highlights.
Fact 1: Dr. Ruth became interested in studying sex while working at Planned Parenthood.
"I worked for Planned Parenthood. I trained professionals to be family-planning counselors, and I thought, my gosh they talk only about sex — they don't talk about culture or literature. And then maybe a few hours later, I thought, what an interesting subject matter."
Fact 2: But what she originally wanted to be was…a pediatrician.
"At the age of nine or ten, I wanted to be a doctor. I wanted to be a medical doctor, a pediatrician, because I knew that I was short and I thought I'd be a good pediatrician for children."
Fact 3: Even as a child she wrote her own rules.
"In the Jewish tradition, girls usually did not go to synagogue on Friday night, but since I was an only child, I did go with my father on Friday evening to the synagogue. That was wonderful because I loved going with my father, and now thinking back, I think even more [about] how wonderful it was."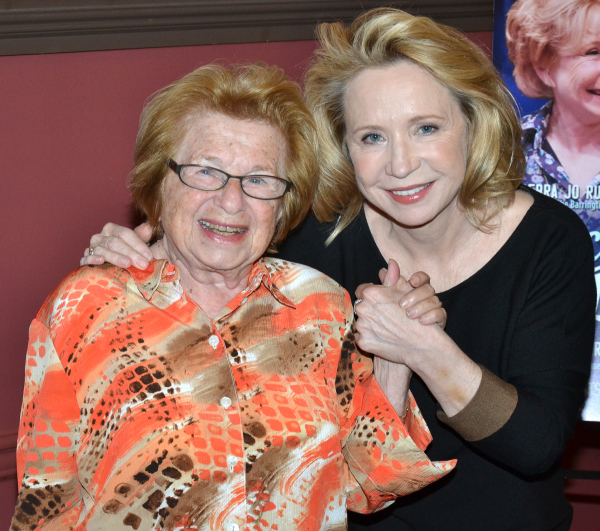 Fact 4: Dr. Ruth likes to go see her autobiographical play a lot.
"[Playwright] Mark St. Germain did a fabulous job. I see it a lot. I'm going every few days. I sit there, I have to pinch myself and say, Ruth Westheimer, keep your mouth shut, that is not you on stage, that's the brilliant Debra Jo Rupp."
Fact 5: Dr. Ruth refused to take speech lessons and now Debra Jo Rupp needs coaching to learn her accent…"Only in America."
"When I came to this country they said I had to take speech lessons. At the time I made one dollar an hour in market research. I certainly didn't have money or time to do speech lessons. Debra Jo now had to take a speech coach to learn my accent. Then you have to put next to it, 'Only in America.'"
Fact 6: Dr. Ruth prefers to call it near-Broadway.
"I'm not calling it off-Broadway, I'm calling it near-Broadway."
Fact 7: Dr. Ruth has had the same devoted "minister of communications" for over 30 years…that's longer than any of her marriages.
"Pierre A. Lehu and I have been working for 32 years. When my children want to know where I am, they call Pierre. And I'm not computer literate so Pierre has to get me everything that I need on a fax. I don't know anybody else who has somebody for 32 years and it's still working."
Fact 8: Dr. Ruth isn't shy about really wanting you to come see her show.
"Every place I go, I carry around the little postcard advertisement for Becoming Dr. Ruth, and I give it out… I don't say people have to see it, but I say, 'If you want to see something interesting, go see Debra Jo Rupp in Becoming Dr. Ruth. Expect a journey.' Tell your readers to go see the show and then [they'll] be surprised how often I was married."