Emmy Winner Christian Clemenson Tackles Harvey Fierstein's Casa Valentina
Christian Clemenson is one of Hollywood's most recognizable character actors. He counts films like Hannah and Her Sisters, The Fisher King, and Apollo 13 among his screen credits. His extended television résumé includes a 50-episode run as the brilliant but socially awkward attorney Jerry Espenson on Boston Legal, for which he received a 2006 Emmy Award for Best Guest Actor in a Drama Series. He's been most recently seen on-screen playing attorney Bill Hodgman on American Crime Story: The People v. O.J. Simpson.
It's been three decades since Clemenson has stepped onstage (he made his Broadway debut as a replacement in the original production of Noises Off). Now, he's back on the boards, starring as the steely and venomous Charlotte in the West Coast premiere of Harvey Fierstein's acclaimed drama Casa Valentina at the Pasadena Playhouse.
For Clemenson, the play — about a 1960s resort in the Catskills that exclusively caters to heterosexual transvestites — was as unfamiliar to him as walking around in high heels. And it intimidated him.
This is your first time doing theater in three decades. Why was now the right time for you to come back to this particular medium?
I had been working on a project, and there were parts of it that were not artistically satisfying. In haste, I sent an email off to my agent saying I need to do something I've not done in thirty years. I think I need to do a play again. To my agent's credit, they were like "Great, we're happy to hear this." Within a week, they had an offer to do [Casa Valentina]. I had heard of the play, not seen it. I, of course, read it immediately, and met with the director, David Lee. He's so charming and smart that I just leapt in.
What was it about the role of Charlotte that interested you?
I was intimated by the role, and that was an interesting feeling for me. I thought, "Wow, how long has it been since you've done something that really scared you?" It's a very challenging play. It's not just the high heels and the undergarments and the wigs. I'm exhausted. I'm not used to doing plays and working six days a week. I'm so tired I can barely stand up. But it's all going well, and the play raises such interesting issues that every rehearsal is full of such animated discussion. It really does prompt deep, passionate feelings.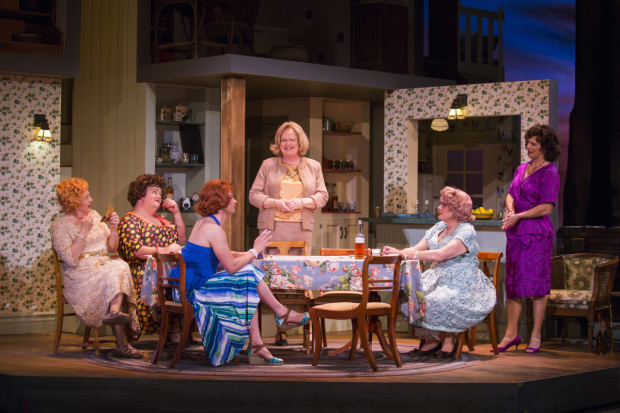 How familiar were you with the subject matter that Harvey Fierstein is writing about?
What's so amazing is that I knew none of this. I pride myself on being fairly well informed. I didn't even really understand that there was a community of transvestite heterosexuals. And when you know their history was almost completely lost [until] a photo album was found, it's quite amazing. I'm very interested in it all.
Have your theater muscles come back after so many years of working on-screen?
It's a bit like getting back on a bicycle. It's a little wobbly at first, but the muscles kick in and remind you what it's like. What I love is that there's this sense of complete ownership in your creation that you don't have in movies and television. When I go to rehearsal, there is no Charlotte until I create her. With movies and television, yes, there's your creation, but then it's edited, and the director will do what he does. What you finally see is several steps removed from what you created. Here, every night, it will be my creation. I will be guided, obviously, by the script, the designers, and the other actors, but at the heart of it, I have to create it. As an artist, that is a very satisfying and powerful feeling.
When I interviewed Reed Birney, the role's originator, he said that when he got in costume, he wanted to look like Grace Kelly in Rear Window but ended up as Tippi Hedren in The Birds. Who do you think you look like?
When I first started, I thought I wanted to be like Nancy Reagan, but I'm turning out more like Barbara Bush, I'm afraid. The shoes were immediate for me. I had to get the high heels on as fast as I could. The wig was next, and then the makeup. Adding the undergarments, I am not looking forward to at all. [laughs] The item of clothing that I'm wearing is called an all-in-one. It's a girdle, a brassiere, all in one piece. Getting into that is a monumental effort, and once you're in it, that's it. So going to the bathroom, I don't know how that happens. I think I literally have to remove all of my clothes. I continue to be amazed about how women deal with these things and why they've dealt with these things for as long as they [have]. It's brutal.
What's coming up for you once the run of Casa Valentina ends?
There's another season of a show called Turn that I recur on. Although it's already wrapped, it hasn't aired yet. [But] I've made a commitment to this theater, to this director, to this company, and I'm going to be here for the duration of this run. I've purposefully turned down work to make sure that this is not disturbed. It's a hard thing to do when you consider how little you get paid doing theater, but ultimately, I really felt a personal responsibility to see it through, and that is what I'm doing.