Dinner Is Over as Broadway's Pulitzer-Winning Disgraced Announces Closing Date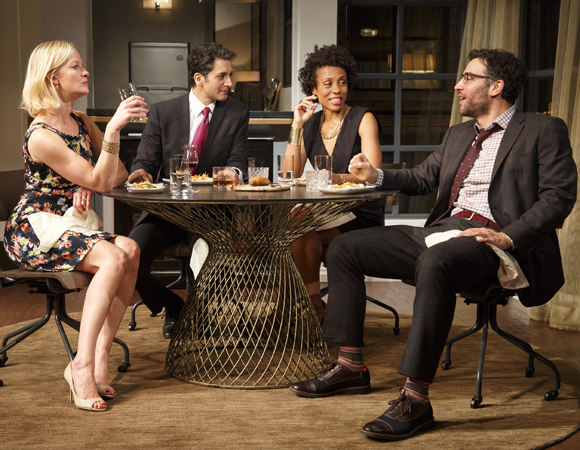 Disgraced, Ayad Akhtar's 2013 Pulitzer Prize-winning drama, will end its Broadway run on March 1 after 27 previews and 149 performances at the Lyceum Theatre. Kimberly Senior directs the drama, which previoulsy played in New York at Lincoln Center Theater's Claire Tow Theater. It opened on Broadway on October 23, 2014.
Hari Dhillon leads the cast as Amir, as Muslim-American lawyer whose happily married life explodes when a polite conversation over dinner turns into a fiery discourse on race and identity. He is joined by Gretchen Mol as Amir's artist wife, Emily; Josh Radnor as gallery-owner Isaac; Karen Pittman as Isaac's wife, Jory; and Danny Ashok as Amir's nephew, Abe. Dhillon and Ashok reprise performances they originated in a separate production at London's Bush Theatre. Pittman played Jory at Lincoln Center.
A national tour of Disgraced will begin in November 2015.
The production features scenic design by John Lee Beatty, costume design by Jennifer Von Mayrhauser, lighting design by Ken Posner, and sound design by Jill DuBoff. It began previews September 27.
For tickets and more information, click here.