Dear Evan Hansen, 2017 Was a Good Year for the Tony Awards and Here's Why
Sometimes it's a lot more fun to see the understudy. When the lead is not a big star riding on a wave of entrance applause, he often has to fight for it, which can result in an unforgettable performance. At least, that seemed to be the promise of House of Cards actor and former Old Vic artistic director Kevin Spacey, who is a big star, but an unlikely host for the Tony Awards. Spacey has spoken openly about being the "25th person asked to host the Tonys" after the likes of James Corden, Tina Fey, and Hugh Jackman declined. He boldly threw out this awkward fact onstage and turned it into a running theme for his opening number.
Dressed in a striped blue polo shirt and wearing a cast à la Dear Evan Hansen, he sang, "Have you ever felt the ratings could disappear, / that if you host, no one would cheer?" In similarly rewriting the opening to The Great Comet, he chanted, "There's a show going on right now on air, and Neil Patrick isn't here." It has yet to be seen if this year's telecast was truly the ratings disaster Broadway's Cassandras predicted, but like any great showman, Spacey knows how to play the expectations game like an old concertina. In this case, the telecast and his hosting exceeded our hopes.
When an awards ceremony has the potential to drag, one of the most important duties of a host is to not delay the proceedings, and Spacey didn't. He returned sparingly to show off a few celebrity impersonations (Johnny Carson and Bill Clinton) and make thinly veiled jokes about his confirmed bachelorhood: "Whoopi, how long have you been in the closet," he asked the daytime TV host as she emerged from a small clothing storage room on the set. This happened shortly before Spacey donned his Norma Desmond costume. It was slightly surreal yet undeniably entertaining.
This year's telecast also benefited from the suspense of having several highly competitive and unpredictable categories: Ben Platt and Andy Karl (the latter won a Drama Desk Award last week) looked to be neck and neck in the Leading Actor in a Musical category, while Come From Away was primed to come from behind and steal Dear Evan Hansen's thunder in the coveted Best Musical category. In the end, DEH took home six awards, including Leading Actor (Ben Platt), Featured Actress (Rachel Bay Jones), Book, Score, Orchestrations, and Musical.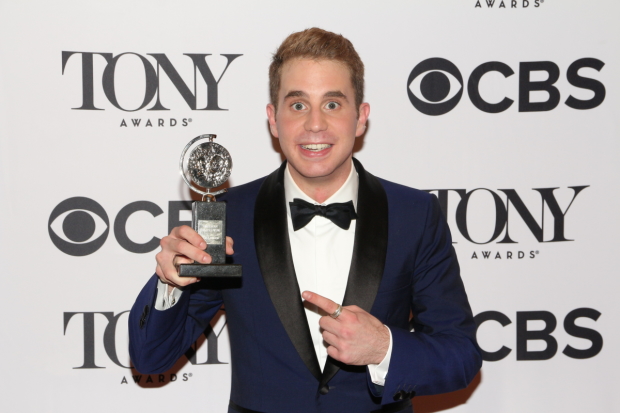 The race for the Best Play Tony was far less nail-biting, with Oslo clenching the Best Play Tony, having won the Drama Desk, New York Drama Critics' Circle, and Outer Critics Circle Awards this past month. Still, we were glad to hear the four nominated playwrights (all Broadway newbies) give an elevator pitch for their shows during the broadcast.
Nine musicals performed at the ceremony this year, and we're not confident that any of them will make it into future listicles of favorite Tony performances: Groundhog Day presented the somewhat sleepy second-act ditty "Seeing You," while Come From Away did its exposition-heavy opener, which feels odd when performed out of context.
Of all the Best Musical contenders, Natasha, Pierre, and The Great Comet of 1812 came the closest to showing off the breadth of its stagecraft: As Josh Groban led the cast (scattered throughout the theater) in a stirring chorale, an onstage audience emerged from the darkness behind him. Russian pandemonium ensued, with actors dancing, singing, and making out everywhere in Radio City Music Hall. Tony Awards telecast director Glenn Weiss caught it all, giving the home audience a sense of what it's like to have a Broadway musical envelop you. Now that's how you sell tickets to viewers in Ohio.
Shockingly, Rachel Chavkin, the visionary director behind The Great Comet, walked away from the evening empty-handed (although set designer Mimi Lien and lighting designer Bradley King both won in their categories). The Best Director of a Musical award went to Christopher Ashley, who earned it with his sleek staging of Come From Away. The directing award for plays proved to be one of the biggest upsets of the night, with first-timer Rebecca Taichman (Indecent) besting a field of seasoned Broadway veterans. Stumbling over her words in her acceptance speech, Taichman seemed the most surprised by her win.
Of course, there was no upset in the category that looked inevitable from the very beginning: Bette Midler took home the Tony Award for Best Actress in a Musical for her performance in Hello, Dolly! It's her first Tony in a competitive category (she won a special trophy in 1974 for "adding lustre to the Broadway season").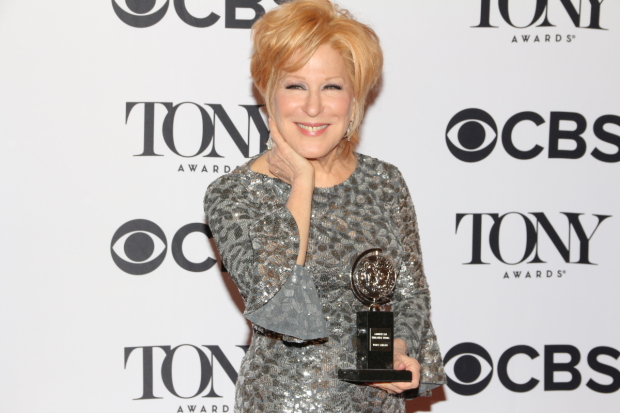 Rumors have swirled about Midler's lack of stamina, but last night she became the first awards recipient I've ever witnessed to outlast her play-off music. As Midler delivered a lengthy list of thanks, the music from the band became ever louder. Nevertheless, Bette persisted, until they ran out of notes to "There's No Business Like Show Business." And then she kept talking. No one was going to shuffle her off. Now that's stage presence.
Consequently, the telecast ran over by 14 minutes (six fewer than last year's Hamilton extravaganza). Dressed as Frank Underwood from House of Cards, and with Mrs. Underwood (Robin Wright) by his side, Spacey handed the Best Musical envelope to presenter Lin-Manuel Miranda and looked straight into the camera to say, "I want to get the hell out of here before Bette Midler thanks anyone else." Oh, don't worry: She kept going in the press room.
Despite all the talk of hosts and horse races, the thing we'll remember most from 2017 is the work: Multiple innovative new musicals and four new American plays from writers who are making their Broadway debuts. Tonight was Broadway's chance to show off to America, and it did so in spectacular form.