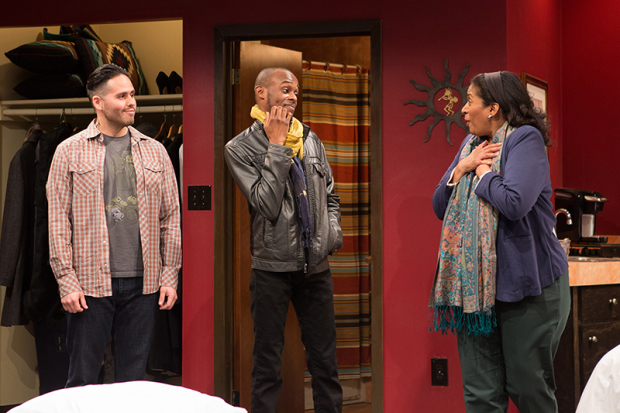 Rachel Bonds's play Curve of Departure is receiving a dynamic East Coast premiere at Studio Theatre. Bonds has an excellent ear for the details of everyday American speech and for the significant role silence plays in that speech.
In early December in a hotel room in Santa Fe, New Mexico, four characters gather the night before a funeral. As they speak, they slowly reveal their relationships to one another. Rudy is an elderly man who is having problems related to his age, specifically memory loss and incontinence. He is the father of Cyrus, a man who abandoned his father, wife, and child years earlier. Cyrus is the man whose funeral is scheduled for the next day.
Linda is Rudy's daughter-in-law and Cyrus's ex-wife. Felix is Linda's son. Jackson is Felix's boyfriend. Felix and Jackson have just flown in from Los Angeles to attend the funeral and are sharing a hotel room with Linda and Rudy for one night.
During that night, there is almost no talk of Cyrus, since he is someone who caused great pain to Rudy, Linda, and Felix. Instead, the three related characters talk primarily about their plans for the future. The main question facing them is whether Linda will stop teaching and stay home to take care of Rudy, since she refuses to put him into a home and he clearly needs constant care.
Peter Van Wagner is delightful as the sometimes entertaining, sometimes cranky Rudy, a Jewish New Yorker always eager to tell stories about growing up in a large family on the Lower East Side. Bonds gives Rudy the most lyrical passages in the play, including a stunning paean to New York. Van Wagner nicely captures all the warring emotions of a man at the end of his life, angered by the fact that his body is breaking down but still in love with vivid memories of Manhattan.
Ora Jones is exceptional as Linda. She easily shows off the wit and depth of Bonds' writing. When Felix and Jackson arrive, Linda begins to grill her son about Jackson's part-time job, implying that Jackson might be taking advantage of Felix's generosity. Her motherly concern is utterly credible. But later in the play, Jones shows another side of Linda as she talks privately – and sympathetically – to Jackson about his young niece, a homeless child whom Jackson is looking after.
Justin Weaks plays Felix as a nervous young man, using his slender frame and constant movements and gestures to convey the anxious insecurities of his character.
Sebastian Arboleda's Jackson is deep and sensitive — the polar opposite of Felix. In one of the most intimate discussions of the play, Jackson describes to Linda how his niece is only just beginning to make eye contact with him. Arboleda makes this moment one of the most moving in play.
Mike Donahue directs Curve of Departure at a brisk pace, but does leave moments for silence to fall among the characters, adding greater impact to Bonds' rendering of the emotional distances between each of the characters. There is also a great deal of humor in the piece, which Donahue makes the most of in his direction.
Lauren Helpern's set is a typical southwestern motel room with blue and brown Navajo blankets and pillows on two double beds. Generic local art decorates the walls. Costume designer Kathleen Geldard dresses Linda in a purple sweater and black slacks. Felix and Jackson are dressed credibly as hip young Californians, while Rudy wears pajamas and slippers throughout. Lighting designer Scott Zielinski creates a gorgeous sunrise for the final scene, allowing this curiously mismatched family to enjoy something together on the day of the funeral.
A great deal happens in Curve of Departure, all of it through Bonds's ability to make her characters communicate verbally or to signal their unwillingness to communicate. Even though a painful past is what ultimately brings these people together, Bonds keeps all four characters rooted in discussing the present and the future. Between the intense, beautifully crafted text, Donahue's careful direction, and the cast's impeccable acting, Curve of Departure is one of the finest productions currently running in Washington, D.C.