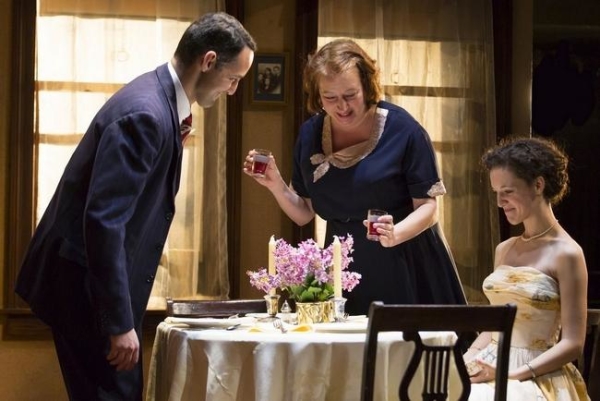 In David Cromer's revival of Come Back, Little Sheba, William Inge's 1949 drama about ordinary people living in an unidentified mid-America town, the actors — Adrienne Krstansky as Lola, and Derek Hasenstab as Doc — not only perform their roles but inhabit them as well, requiring the audience to participate in their desperation. By naturally focusing on mundane details of their lives and on the slow passage of time, Cromer demands viewers to become voyeurs in a more personal way, as if they were also engaged in getting through each day.
A chiropractor and reformed alcoholic, Doc was forced to drop out of pre-med studies at the university when he got his girlfriend, Lola, pregnant and had to marry her. Lola is a former high school beauty queen who has gone to ruin: a slovenly, disorganized housewife with little to do besides cleaning up their shabby house. The death of their baby meant she could have no more children, and their 20-year marriage has held because neither of them has anywhere else to go.
The ties and lies between the couple come to the surface after a perky, calculating 19-year-old college student, Marie, rents a room in their house. Marie reminds Lola of happier times when she, too, was young and courted by many boys. Doc has a different reaction, a forbidden attraction to the young, alluring woman, and an idealized but false impression of her innocence.
Throughout the play, Lola moves to the porch to call Little Sheba, the dog she loved and lost, a symbol of the erosion of youth and beauty over the decades gone by. Doc knows that Sheba will never return; Lola refuses to give up hope.
Cromer has assembled an excellent cast of actors for the Huntington Theatre Company's production, led by Hasenstab and Krstansky, in her breakout performance. Krstansky as Lola is fearless in confessing her neediness, by word and deed, as if each confrontation is a victory to be won. Dressed in shapeless clothes with the stooped-over posture of a person who knows defeat and humiliation, she counts it a good day if she can get dressed, clean up the sink, and flirt with the postman (Adam Zahler) or the milkman (Michael Knowlton) or engage her busy neighbor, Mrs. Coffman (Maureen Keiller) in conversation. Krstansky uses two of the basic five senses as the only conduit she can manage for a relationship, whether touching the muscles of Marie's stud boyfriend, Turk (Max Carpenter), or stealthily watching him and Marie (Marie Polizzano) make love on the parlor couch. She is equally thrilled at meeting Bruce (Nael Nacer) and seeing him with Marie, when he supplants Turk to claim his fiancée.
Hasenstab is locked in a seething body of anger and regrets, as his character tries to put his dreams behind him. Dressed in a proper suit and slouch hat, he is a 20th-century everyman, gathering the courage to face his world of disappointments. At home, Doc is constantly telling Lola to forget the past and move on, when he is not belittling her for her behavior. At his second-act explosion, it's as if two decades worth of bitterness have turned to fire and brimstone, directed at his terrified wife. Hasenstab's Doc is a marvel of control until he loses it, and then painfully comes to understand that he must play the hand he's been dealt.
Cromer is a master of the nuances of daily human life. And his eye for details is on display to an exceptional degree in this production. In one scene, Lola stands in the darkened parlor, listening to Doc's entrance, after he's been missing for a whole day. Cromer directs both actors to total stillness, for what seems like an eternity, to enforce the meaning of Doc's return. As in real life, the action slows down to nothing but waiting.
The setting of a front parlor that connects to the kitchen (with a real gas stove) is a perfect translation of Inge's "old house in a run-down neighborhood of a Midwestern city" (designed by Stephen Dobay and lighted by Mike Durst).
At the play's end, Lola takes over the story, fixing breakfast for her husband, and signaling a transformation of sorts in their relationship. If the play is dated in certain ways, including the older couple's suppression of sexual desires in contrast to the physicality of the young lovers, the sense of loneliness and diminished expectations remains universal, to hook the viewer into acknowleding the fragility of the human condition.