Casa Valentina, Harvey Fierstein's First New Play in More Than 25 Years, Opens on Broadway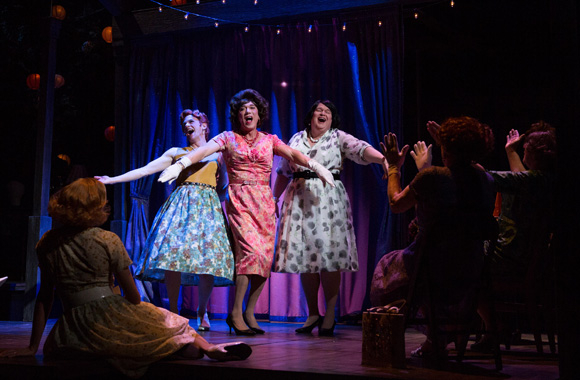 According to sexologist Dr. Sari Locker, at least 90 percent of all men who dress like women are straight. This statistic might come as a huge surprise to Broadway fans accustomed to shows like Priscilla Queen of the Desert and La Cage aux Folles, shows about gay men in drag. Broadway is about to get an education in cross-dressing, however, when four-time Tony winner Harvey Fierstein's Casa Valentina opens at the Samuel J. Friedman Theatre.
The cast features Patrick Page (Spider-Man Turn Off the Dark), Reed Birney (Picnic), two-time Tony winner John Cullum (The Scottsboro Boys), Tony winner Gabriel Ebert (Matilda The Musical), Lisa Emery (Relatively Speaking), Tony nominee Tom McGowan (Wicked), Larry Pine (The Royal Family), Nick Westrate (A Moon for the Misbegotten), and Mare Winningham (Picnic). They all wear dresses and heels. Two-time Tony winner Joe Mantello (The Normal Heart) directs this world premiere by the Manhattan Theatre Club.
It's the early 1960s: George (Page) and his wife, Rita (Winningham), own and operate a resort in the Catskills for men who like to dress like women. Once George is at the resort, he instantly becomes Valentina. The house is a paradise for these straight men and their female alter egos. A rabble-rouser named Charlotte (Birney) tries to organize the men into a political movement, but a lot of these girls just want to have fun. Will they be able to overcome their differences?
You can see production photos below:
For tickets to Casa Valentina, click here.