A Young Boy Takes a Big Leap in Billy Elliot the Musical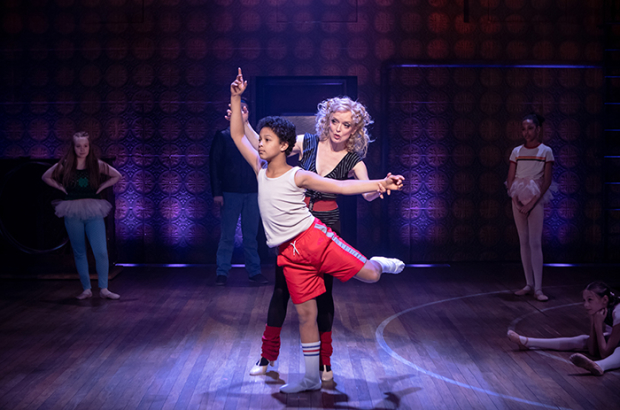 Initially a film, Billy Elliot was set in northeastern England during the 1984-85 coal miners' strike and told the story of an 11-year-old boy whose mother had died, whose father was emotionally inaccessible, and who learned to channel his frustrations through dance. In 2005, Billy Elliot the Musical appeared, using the original script supercharged with music by Elton John. Now, Signature Theatre is mounting an explosive production of the musical.
Against an ominous background of people fighting over food and of angry policemen itching to subdue fights, the coal miners decide to strike for better wages, believing that solidarity will win the day. Billy's coal-miner father gives his son 50 pence a week for boxing lessons. After attending a lesson, Billy's coach asks him to give the key to the gym to Mrs. Wilkinson, the ballet teacher. In the process of giving her the key, Billy observes a ballet class, and his understanding of the world changes forever. He begins to attend ballet classes instead of boxing.
Soon, Billy's father finds out his deceit and decrees that there will be no more ballet. There is more ballet, of course, as Mrs. Wilkinson has seen a spark of talent in Billy and is determined to help him audition for the Royal Ballet. She tutors him for free every day after school, and soon Billy out-pirouettes the girls of Mrs. Wilkerson's ballet class.
There is a great deal of drama both before and after Billy gets his chance to try out, involving everything from national politics to local economics. One highlight in particular comes at the end of the audition, when Billy is asked what it feels like to dance. He responds with an extraordinary number ("Electricity") in which he shows and sings his emotions.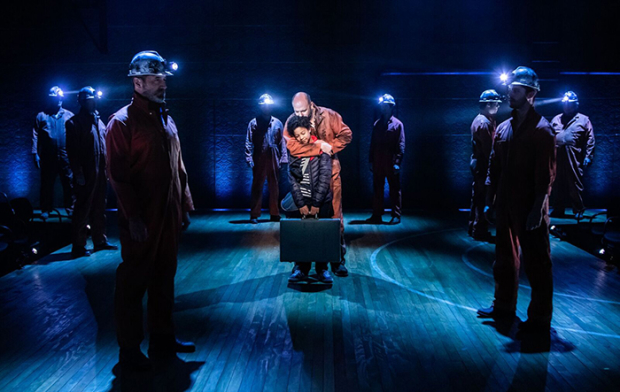 On press night, Owen Tabaka appeared as Billy and proved himself not only an able dancer, but a talented singer, actor, and gymnast. Tabaka has an appealing demeanor and is more than capable of handling the different kinds of dances implicit in his role: ballet, tap, and the muscular "stomp" dancing. His high, clear tenor is most effective in the scenes where he remembers his mother ("The Letter") and their mutual love. Nancy Anderson portrays Mrs. Wilkinson as a strong, cheeky woman, willing to stand up to Billy's father for the sake of giving Billy a future.
Chris Genebach plays Billy's father as a ham-handed, selfish brute in the beginning of the musical, but once he sees Billy dance, he changes his attitude and decides to let Billy audition for the Royal Ballet. It is that change in attitude that lets the ending of Billy Elliot feel superficially optimistic, although nothing changes in the town around them. In addition to this core cast, Catherine Flye appears as the spry, quick-witted Grandma.
Director and choreographer Matthew Gardiner does an excellent job of making this Billy Elliot twirl and spin right along. The script could seem almost melodramatic, but Gardiner emphasizes all its humor and energy. He meshes 18 main characters with an 11-member ensemble plus a 10-member group of Ballet Girls to come up with a community that is large and significant in Billy's life.
Nine musicians perform the score and are ably conducted by Tom Vendafreddo. Scenic designer Jason Sherwood uses a series of screens at the back of the thrust stage to create a variety of places: the Elliots' kitchen, the gym, and the front door of Mrs. Wilkinson's house. Kathleen Geldard's costumes include everything from boys' gym clothes to the girls' ballet-class attire.
Signature's Billy Elliot is not simply the story of a boy who learns to deal with trouble through dance. It is also a subtle portrait of a place that knows it is dying but refuses to give up its fight. When everyone in Billy's town kicks in whatever little they have to send him to London, it is a heartwarming comment on the ability of minds to change and on the power of community to achieve the extraordinary.