A Con Artist Attempts to Evade the Men Who Love Her in Marnie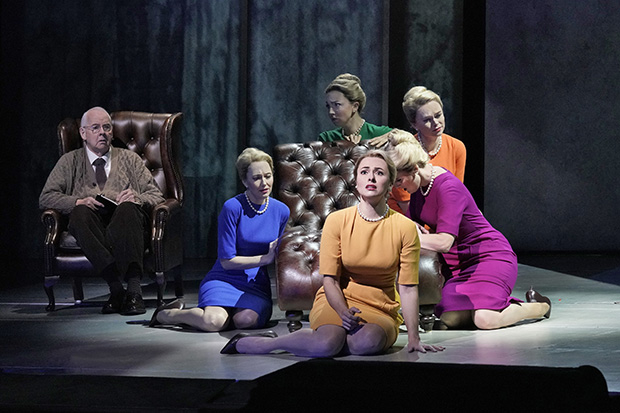 Why do we assume that a woman who prefers to live independently must be pathological? It's a question raised by Marnie, Nico Muhly and Nicholas Wright's new show at the Metropolitan Opera, which commissioned the piece (its second original Muhly opera after 2013's Two Boys). Based on the 1961 paperback thriller by Winston Graham, which later became a 1964 film by Alfred Hitchcock, Marnie turns out to be a musically impressive if emotionally and intellectually unsatisfying opera. Considering the fascinating story undergirding the pretty notes, it could have been a lot more.
Marnie (Isabel Leonard) is a small-time con artist. She works in a job long enough to gain the trust of her employers before she disappears with the payroll, shedding her former identity and hair color for a new one in a different city. Her only family is her elderly mother (Denyce Graves), while her only real love is her horse Forio, which she keeps in oats with her loot. She's able to get away with it by keeping a low profile, but when she interviews for her next job at Halcyon Printing, she runs into a snag: She recognizes her potential boss, Mark Rutland (Christopher Maltman), from a previous job. Not seeming to recognize her in return, he hires her. Will she be able to maintain her cover? The aggressive sexual advances of Mark's brother, Terry (a magnificently clear and resonant Iestyn Davies), complicates matters, as do Mark's growing feelings for her.
Told in first person from the perspective of the title character, Graham's novel is riveting as we're made privy to the thoughts of a clever recluse. Alfred Hitchcock's 1964 film adaptation excises that interior monologue, resulting in a much duller story about a psychologically damaged woman turned to a life of crime. Muhly and Wright's opera lands somewhere in the middle.
When Marnie's voice does come through in the opera, it grabs hold of our attention with an iron grip. This is especially true through an emotional and vocally powerful performance by Leonard, who is able to capture the furtive intelligence of Marnie in her vocal intonation. (Why are the most thoughtful roles in opera always written for mezzo-sopranos?)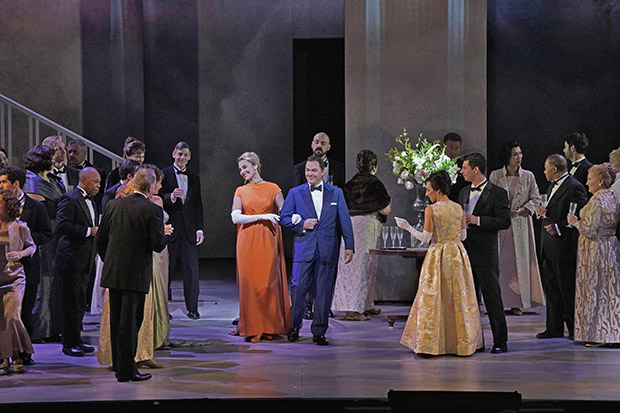 Unfortunately, Muhly and Wright have written no arias through which Marnie can unleash her acerbic cynicism and tell us what she really thinks in a sustained fashion. Like the film, this opera is more interested in the psychological underpinnings of her behavior. This might be excusable if Graham's libretto didn't linger on the banal: Characters sing their prosaic dialogue, like people pretending to be in an opera while perusing the aisles of Tesco. Wright's words never rise to the level of poetry, even when the moment calls for it.
Disappointingly, Graves is completely underutilized as Marnie's mother, a woman whose dark history has left an indelible mark on her daughter. With the exception of a truly disturbing flashback scene, Graves portrays a generic cigarette-smoking crone, with no hints of the twisted menace that resides within. It's a Freudian trope, and not a particularly interesting one when left unexplored.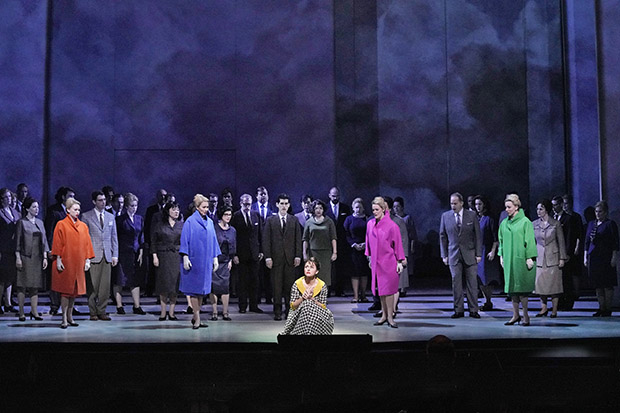 At least the preoccupation with psychology leads to some of Muhly's more arresting music, all marvelously executed under the baton of Robert Spano, making a memorable Met debut. Four other women in identical blond wigs play the shadow Marnies (Deanna Breiwick, Dísella Lárusdóttir, Rebecca Ringle Kamarei, and Peabody Southwell). They're the physical manifestation of Marnie's many identities, and when they sing together in their chill-inducing straight tones, they sound like nuns in the cloistered abbey of one woman's mind. An earlier choral number evoking the nagging voices in Marnie's head is the most menacingly beautiful in the show.
Director Michael Mayer's fluid staging deftly conjures the transient world suggested by Muhly's fluttering woodwinds and tempestuous strings. Julian Crouch and 59 Productions facilitate easy transitions with a set of moving screens onto which they project a dark watercolor world. The principals stand out against this muted backdrop in Arianne Phillip's vibrant period costumes. Lighting designer Kevin Adams delivers dark shadows, allowing the opera to intermittently slip into the horror it craves.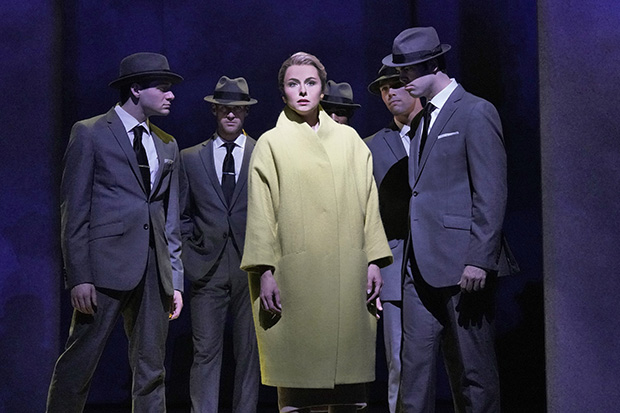 Mayer's blocking and Lynne Page's choreography is deliberate and continuous so that the entire cast seems to be moving as one giant organism. The most notable example of this is a troupe of male dancers in dark suits and fedoras. Looking like a chapter of Pilobolus composed entirely of FBI agents, they haunt Marnie throughout, watching what she's doing and invading her personal space. They are the anthropomorphized male gaze and their presence is oppressive enough to make us wonder: Is Marnie the crazy one, or is it the rest of us for assuming that this kind of voyeurism is acceptable?
Certainly, the men in this opera seem to think they are in an entirely different story, in which the knight rescues the fair maiden from her own neurosis. But Marnie lets Mark know that she only consented to rescue out of a lack of options. That fundamental tension between the story Marnie wants to tell and the one she is forced into is one to which a lot of people (especially women) can relate. It should have made for a more interesting opera.