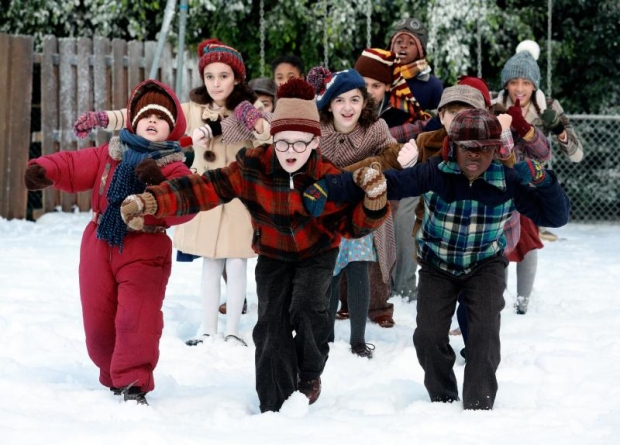 What would you do if your kid wanted a gun for Christmas? Depending on how you vote, you might either recoil in horror or swell with pride. Children, firearms, and Christmas would occupy a central place in the American psyche even without the perennial influence of A Christmas Story, Jean Shepherd and Bob Clark's holiday movie about an Indiana kid who wants nothing more from Santa than a Red Ryder B.B. gun (which is not exactly an AK-47). That film is ubiquitous this time of year, as acknowledged by pop singer Bebe Rexha in "Count on Christmas," the sugar-rush of an overture to A Christmas Story Live! on Fox. Rexha coyly sings, "There's another movie marathon on TV / Which one could it be?"
For those who have somehow avoided the 24-hour back-to-back airings on both TNT and TBS, A Christmas Story tells the story of nine-year-old Ralphie Parker (Andy Walken), the aforementioned Indiana gun nut. It's December 1940 and he wants that Red Ryder real bad, but his mom (Maya Rudolph), teacher (the hilariously effervescent Jane Krakowski), and Santa himself (a salty David Alan Grier) all respond with the dreaded reproach, "You'll shoot your eye out." He still has hope that his dad (Chris Diamantopoulos) will pull through, given that he's a man who knows something about object fetishism, as evidenced by the garish leg lamp he displays in the front parlor. "I won a major award," he sings about the trinket as he leads a kick line of chorus girls dressed as lamps.
As you might have guessed, this isn't a straight adaptation of the 1983 film, but rather, Benj Pasek and Justin Paul's 2012 Broadway musical, a breakout success for this songwriting team that would go on to win the Tony for Dear Evan Hansen. This show doesn't have quite the emotional heft of Hansen, but it does add several toe-tapping showstoppers to a well-known comedy.
Robert Cary and Jonathan Tolins have written a reverent teleplay that preserves most aspects of the original story while watering down elements that might not fly with a 2017 audience: For instance, a scene in a Chinese restaurant replaces an offensive Asian caricature with a surfeit of classism as the restaurant owner (Ken Jeong) trots out a magnificent a cappella quintet to serenade the Parkers during dinner, explaining that the performers are his sons, "all Ivy League."
A Christmas Story joins the ranks of Hairspray as a movie that became a musical that became a live movie-musical. When a property goes through so many iterations, one begins to appreciate the storytelling power of the camera, of which directors Scott Ellis and Alex Rudzinski take full advantage. The good-guy-with-a-gun song, "Ralphie to the Rescue," is presented in handsome black and white, like an old Western. A scene in which Ralphie's teacher writes an effusive letter to his parents about his brilliant composition (about how much he wants the gun) is washed-out, visually creating Ralphie's euphoric delusion.
Set designer Joe Celli has created an Indiana winter wonderland, complete with what looks a lot like real snow. It is especially amazing to see cars from the '30s and '40s drive past the Parkers' front window. William Ivey Long's costumes get the period right and turn out the glitz for multiple fantasy musical sequences. Yes, there is an occasional malfunction, like when a door ornament comes crashing down in one of the kitchen scenes, but this excellent cast of performers always goes on with the show.
S.N.L. veteran Maya Rudolph particularly shines as the beleaguered Mrs. Parker, delivering the song "Just Like That" with simple maternal reassurance. Even a line flub is turned into an opportunity for Mom and Dad to flirt (good save, Diamantopoulos). Unfortunately, Matthew Broderick (who plays the adult Ralphie) has no one in the narrator realm to bail him out of his numerous line fumbles.
At least Broderick looks like a plausible adult version of Walken, whose crazed eyes and manic singing voice perfectly convey Ralphie's desperation. Ana Gasteyer gives a memorable performance as Mrs. Schwartz, the Parkers' Jewish neighbor, and J.J. Batteast (who plays Ralphie's friend Flick) impressively sings with his tongue stuck to a flagpole. Dancing phenomenon Artyon Celestine consistently stands out from the ensemble, leading us to conclude that this kid really ought to be a star.
Through zippy performances and lavish design, A Christmas Story Live! is a fun-filled presentation of a story that was always a little off-putting. Essentially, it's the tale of a bratty kid who behaves terribly and still gets exactly what he wants — a firearm. Perhaps this is a dark commentary on the way we've celebrated the holiday in America, even as far back as 1940, but it doesn't necessarily need to be so: Five Hollywood years and a world war later, George Bailey learns the true meaning of Christmas in a far superior holiday film. Given my three hours back, I would just watch that instead.