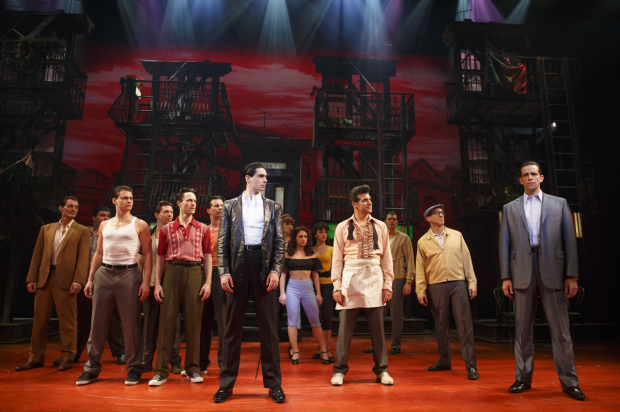 West Side Story made us believe in ballet-dancing gangs. Les Misérables successfully musicalized the deadly Paris Uprising of 1832. Sweeney Todd even held onto its darkness through songs about pie. So, does Chazz Palminteri's autobiographical account of his 1960s Bronx upbringing translate to a world where mob bosses croon and locals pirouette through the neighborhood? Sometimes.
The appeal of A Bronx Tale — from its earliest days as Palminteri's one-man stage play through its famous 1993 screen adaptation — is the intimate look at a world responsible for shaping the family story that unfolds inside it. In a nutshell, that story revolves around young Calogero, who grows up torn between the influence of his hard-working father, Lorenzo (Richard H. Blake doing touching justice to Robert De Niro's sympathetic performance on film), and the local mob boss Sonny (an ever-reliable Nick Cordero as yet another towering bully with heart) who takes the boy under his tutelage.
When a property has been waxed to a commercial Broadway shine as this one has at the Longacre Theatre, it's hard to locate the cracks and crevices that originally gave it character. But when the rhythms and melodies of the story's milieu are fully engaged in painting the picture of this microcosm on Belmont Avenue, A Bronx Tale The Musical is completely captivating — the opening number setting the bar for this standard. Instead of the a cappella group Cool Change harmonizing to "The Streets of the Bronx," the show opens with a doo-wop quartet beneath the Belmont Avenue street sign. They accompany an introduction from our narrator and main character Calogero Anello, played by the perfectly cast Bobby Conte Thornton in a standout Broadway debut. With the warmth and strength that comes from a New York Italian upbringing, Thornton gives us a wistful welcome to the streets of his character's youth, realized to stunning effect by the towers of shadowy fire escapes lining Beowulf Boritt's set (Howell Binkley's lighting design beautifully accentuates their contours). The ensemble then breaks into a chorus of "Belmont Avenue," where Sergio Trujillo's blood-pumping choreography to the '60s groove makes "the neighborhood" look and feel like a place you want to spend the next two hours.
With music by Alan Menken (best known for his work on Disney's The Little Mermaid, Newsies, and Aladdin) and lyrics by Glenn Slater (who collaborated with Menken on The Little Mermaid and is also currently represented on Broadway by School of Rock), there's a bouncier feel to this Bronx Tale than the versions of the story you might already know. Even so, Jerry Zaks and his codirector, Robert De Niro (who helmed the 1993 film), start the show with a vibe as slick as the male ensemble's hair. The showstopping number "I Like It," performed by the pint-sized, swagger-filled Hudson Loverro as Young Calogero (or "C" as Sonny nicknames him), is another standout tune you'll leave the theater happily singing. Lorenzo's song to his son, "Look to Your Heart," however, falls into the cloying category of generic musical theater and unfortunately becomes the oft-reprised anthem of Menken and Slater's score.
The majority of Cordero's songs also lack distinct melodic character, but are diverting nonetheless. "Roll 'Em" is a particularly fun scene between Sonny and Young C, who becomes the mobster's good-luck charm during a game of craps, while "One of the Great Ones" gives Sonny a chance to share his alternatingly poignant and comic nuggets of wisdom on life and love. As the man who tap-danced to a Tony nomination as "Cheech" in Bullets Over Broadway and dug some heart out of Earl, Jenna's abusive husband in Waitress, there seems to be no character in whom Cordero can't find the perfect balance between strength and empathy.
And then there's the love story — not typically an afterthought in a musical, but that seems to be the slot this one has fallen into. Triple-threat Ariana DeBose is phenomenal in her small role as Jane, C's African-American love interest a few neighborhoods over on Webster Avenue (the tune to "Belmont Avenue" gets a fitting reprise at the top of Act II with fresh orchestrations from Doug Besterman and an African-inspired dance break by Trujillo that has been added since the show's world premiere at Paper Mill Playhouse).
Jane and C have a minimal amount of time to justify their Romeo and Juliet-esque romance, but even with an expedited courtship and awkward segues in Palminteri's book, you understand how Jane fits into the landscape of C's life in the old neighborhood. His recollections converge into a story that is a little more neat and tidy than you'd expect coming from the gritty streets of the Bronx. But I suppose that's the beauty of narrating your own tale. It's yours to tell.