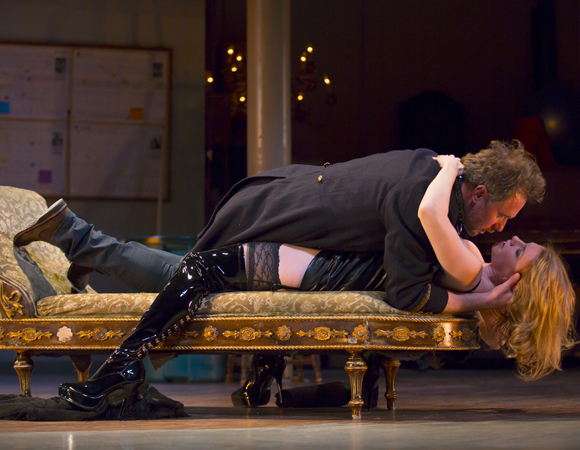 Venus in Fur is like a psychosexual tennis match, and watching it is as much fun as Wimbledon — with Serena Williams in lingerie and leather and wielding wit and a whip instead of a racquet. David Ives' 90-minute two-hander, a delicious twist on Leopold von Sacher-Masoch's 1870 S&M primer Venus in Furs (which inspired the Velvet Underground song of the same name and has been made into several films), is as playful as it is mysterious. The setup is this: A sexy actress reads for a playwright/director who has written a straightforward, period-set adaptation of Sacher-Masoch's racy if ultimately feminist novel. They bat around the material, even engage in a bit of improvisation, as attraction mounts and power shifts back and forth. But just who is this ditzy if gorgeous gal who has shown up for her audition hours late, without an appointment, and lugging a bag of tricks that includes props, costumes, and an inexplicable-if-near-perfect familiarity with the script?
At the BU Theatre, the curtain rises on a vast, cluttered rehearsal space flanked on one side by a block of theater seats. Claps of thunder and the pelt of torrential rain set the stage for either melodrama or the supernatural. In fact, there will be a bit of both, illustrating the cleverness of Ives' framing device. By having the imperious playwright/director and enigmatic actress role-play the abjection-craving masochist and the neighbor he pushes to dominate him, Ives is able to explore the 19th-century work's themes of gender stereotype and ricocheting power without completely giving in to its stilted luridness. We get an outline of the Victorian entanglement of Severin Kushemski, whose cane-wielding auntie turned him into a submissive supra-sensualist, and Wanda, who reluctantly agrees to humiliate him. But the real power Ping-Pong and sexual fireworks are between dramatist/director Thomas and actress Vanda, who shows up bearing both period and sex-shop finery and seems to know Thomas' play better than he does.
At first Vanda irritates Thomas with her breezy, dismissive assessment of his play: "Basically, it's S&M porn." Later she adds, "You don't have to tell me about S&M — I'm in the theater." Indeed, Ives has fun with, and asks provocative questions about, power dynamics in show business as well as between the sexes. There are times in the encounter when Vanda becomes the director and even the writer, Thomas the taker of orders and vessel for her words and ideas. At other times he is running the show, even as the willingly enslaved Kushemski does in Sader-Masoch's tale, since he is the initiating fantasist. But is Thomas, who at one point calls Vanda an "idiot woman" and "idiot actress," a sexist? Is his play degrading to women? Is Vanda his "female Frankenstein monster" or his undoing?
Of course, all of this sexual, heady, and thespian cat-and-mouse is risky as well as kinky business. It needs to be daringly and smartly played, as it is by Chris Kipiniak and especially Andrea Syglowski in Daniel Goldstein's crackling production. Nina Arianda originated the latter's role off-Broadway in 2010 and won a Tony for the subsequent Broadway production, but it's hard to imagine she was better than Syglowski, whose Vanda can be endearingly funny, especially when feigning daffiness or supplying cheek, but who exudes a sensuality that is very deliberate and commanding. She also looks fantastic in costume designer Charles Schoonmaker's clingy bits of garter, lace, and leather, and struts about on glistening patent-leather cothurni that would have given an ancient Greek actor pause (this following a sexily protracted scene in which they are applied and zipped up by Kipiniak's Thomas). Kipiniak, for his part, has to play a mere if smugly masculine mortal, and he is a little simpering when impersonating Sacher-Masoch's Wanda. But his Thomas is alternately pithy, condescending, angry, and helpless. And the chemistry between the two is such that, whoever's on top, the audience wins.