Square Go Pins Down How Boys Become Men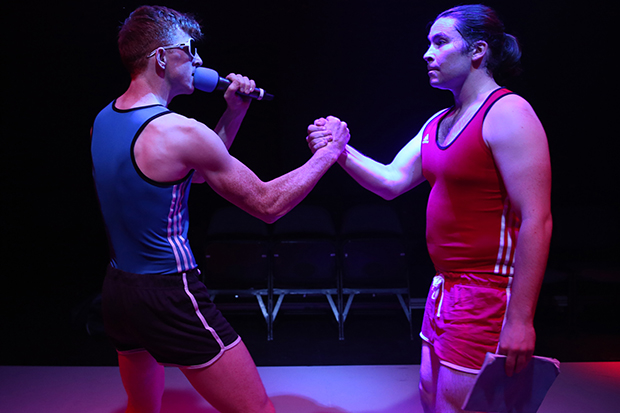 Kieran Hurley and Gary McNair's Square Go is performed in the round, a tight formation in the already intimate Theater C of 59E59 Theaters. In these close confines, we the audience become the circle of schoolchildren chanting "fight fight fight," the organic arena that forms around young men whether they choose to step into it or not. Square Go is an unassumingly brilliant look at the impossible expectations we place on boys, and the role model gap that is being filled by all sorts of negative forces.
The title of the play is the term adopted by students of Hammerston High School (an average high school in an average part of Scotland) to describe a one-on-one fight at the school gates. Every boy gets his "square go," 13-year-old Stevie (Gavin Jon Wright) informs us, calling it "a rites of passage thing." Today, his best friend Max (Daniel Portman) is having his square go with school bully Danny Guthrie. Max feigns toughness, but he's actually terrified. He looks for inspiration on the school wall of fame (all the kids who made it to college), in his father (conspicuously absent), and in professional wrestler "Macho Man" Randy Savage (a television hero this 21st-century boy knows from the old VHS tapes his dad left him). None of them offer the kind of guidance Max needs as he approaches this all-important test of manhood.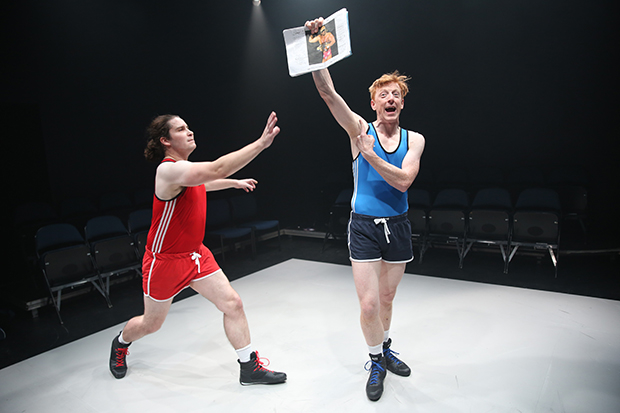 Portman (best known for playing stalwart squire Podrick Payne on Game of Thrones) shows us the weight of anticipation on his furrowed brow. His Max is clearly smart, sensitive, and easily wounded by words. Unluckily enough for him, he's stuck with Stevie, an underminer with a taste for malapropisms. "You're gonnae get pure tabernacled," he tells Max before the big fight. Portman and Wright exquisitely capture the dynamics of the adolescent male friendship, in which affection is most frequently expressed through an insult because a compliment might come off as too gay. And boy, do they insult.
Hurley and McNair zealously sling slang as they show off their prodigious talent for vulgarity: Max calls Stevie a "wee knob cheese," and Stevie retorts that Danny is, "one hundred percent gonnae snap your baws off." The English may have invented the language, but the Scottish have transformed it into an art.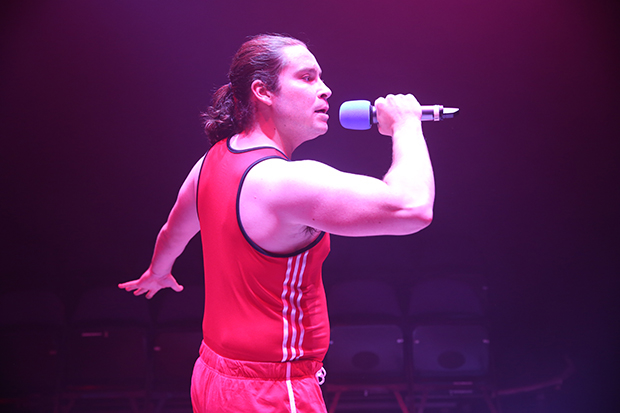 Director Finn Den Hertog creates a universe of adolescent anxiety on a stage approximately 10'x10'. This is delineated by a white square painted on the floor, but the actors regularly step beyond it to interact with us directly. Peter Small facilitates flashbacks and dimension shifts with his targeted lighting, while sound designer Kieran Lucas transforms this tiny room into a giant arena through amplification and a heart-pounding original soundtrack by Frightened Rabbit. Movement director Vicki Manderson has choreographed some surprisingly athletic stunts in this limited space, and Martha Mamo has appropriately outfitted the actors in tight-fitting active wear, the humiliating evidence of a growth spurt that has not been followed by a trip to the mall.
It's the little details that make Hertog's production memorable: As Portman passed by my side of the audience, I got a whiff of body spray, an olfactory representation not only of puberty, but of the rusty tools we give boys to make it through that change without inconveniencing us too much.
This is not to say that it's easier to be a young woman. Emily Davis and Erin Markey covered similar territory (and in a similar form) in their thrilling two-hander Singlet. But the crisis of masculinity has proved to have frightening implications, from mass shootings to the rise of white identitarianism.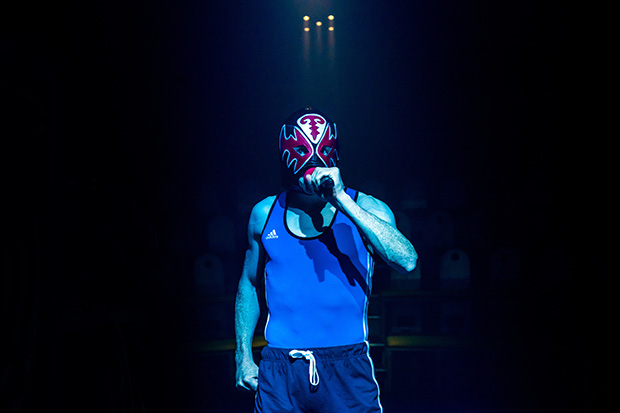 Hurley and McNair confront the audience with an inescapable truth: Even as our sexual politics shift, adolescent men (especially from the working class) are still expected to exhibit toughness and few other emotions. We can rage against "toxic masculinity," but that really doesn't solve any problems for boys like Stevie and Max, who are looking for someone to guide them down the path to manhood today. They're not likely to find that guidance in an elite culture that speaks of all masculinity as if it were nuclear waste, but they might find it on YouTube or 4Chan. Compared with some of the role models available to young men today, Randy Savage looks like an Eagle Scout. In just over an hour, Square Go wrestles with one of the most urgent problems of today, and leaves us all in a puddle of sweat thinking about the solutions.