Review: Irish Rep's Meet Me in St. Louis Is a Gloriously Sung Christmas Present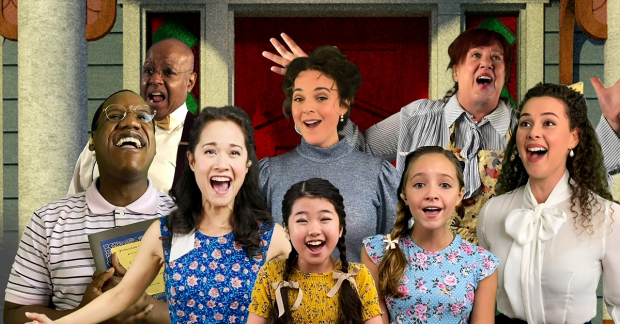 You can count on it every Christmas season: the Rockettes in a kickline onstage at Radio City, the glamorous shop windows across Fifth Avenue, the homey holiday show at the Irish Repertory Theatre. After nearly a year of presenting technically ambitious virtual theater — created with Zoom, green screens, and a generous dose of spit and vinegar — the Irish Rep has managed to top itself with this year's yuletide offering, Hugh Martin, Ralph Blane, and Hugh Wheeler's Meet Me in St. Louis. Sometimes, you don't realize how much you need to see a musical until the waterworks start, and for me, that moment came at the very beginning during the overture.
Adapted and staged by Irish Rep artistic director Charlotte Moore — who played Anna Smith in the original Broadway production — Meet Me in St. Louis (itself based on the Kensington Stories of Sally Benson and the 1944 Vincente Minnelli film) is a tale of romantic foibles: Esther Smith (Shereen Ahmed) is in love with John Truitt (Max von Essen), the "boy next door," as the song goes, while her sister, Rose Smith (Ali Ewoldt) is waiting for a romantic declaration from Yalie Warren Sheffield (Ian Holcomb). It follows these stories — and those of the rest of the Smith family — in the year leading up to the 1904 World's Fair, with changes abound for all.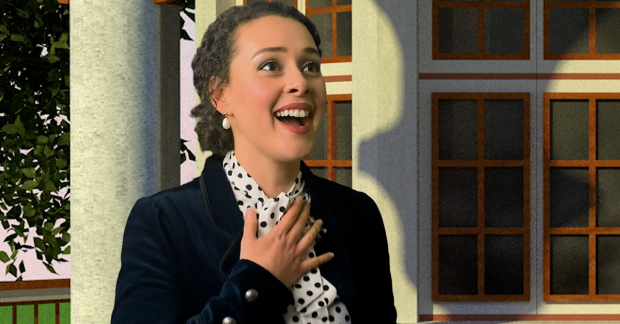 Like most musicals of that era, the plot of Meet Me in St. Louis is really just a closet in which to hang numbers that have not just become theatrical standards but American cultural classics. Chief among them is "Have Yourself a Merry Little Christmas," first performed onscreen by Judy Garland, covered by the likes of everyone, and is wonderfully sung here by Ahmed, who also gets the show's second best-known standard, "The Boy Next Door," and takes the lead on the third best-known tune, also, "The Trolley Song." I could listen to Ahmed (who had been touring as Eliza Doolittle, the first Egyptian-American actor to take on that role, in My Fair Lady as theaters shut down) sing those songs all night and still happily ask for more.
And she's not the only one. If anything, this production is just a showcase for glorious voice after glorious voice: Ewoldt and von Essen, of course, and particularly Melissa Errico, one of the very best singers around, who plays Mrs. Smith and knocks the song "You'll Hear a Bell" out of the park. A seven-piece orchestra, recorded live at in the theater itself, is an added bonus. Musically, this production is to die for, and with a diverse, inclusive cast that's much more reflective of the contemporary world than the period of the text, it's a great example for theaters looking to live up to their Equity statements they released this past summer. (The Irish Rep doesn't always do that, and they should be applauded here for taking a major leap in the casting department. Every little bit helps.)
While there are a few charming technical snags here and there, as to be expected, Meet Me in St. Louis is generally a marvel of editing, with Meridith Sommers doing a fabulous job of superimposing remotely taped performers on top of charming, picturesque backgrounds by scenic designer Charlie Corcoran. There's even a multi-Zoom kiss between two of the lovers, which might be a first. At an extremely dark time for this country, this show is a lovely little gift, a reminder of the hopefulness we should have as we arrive at a new year. "Next year all our troubles will be out of sight," indeed.