Dave Malloy's Thrilling Octet Is an A Cappella Chorus Line About Internet Addicts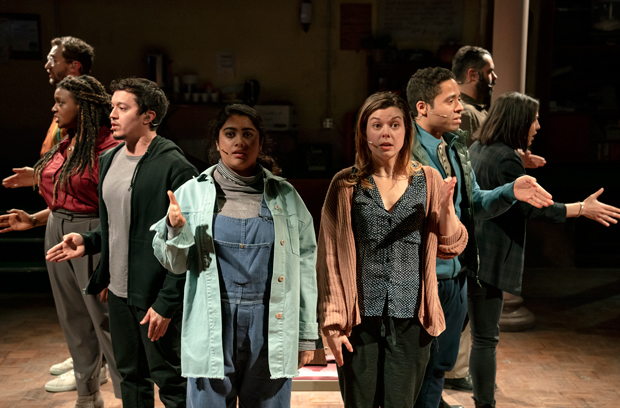 A Churchy basement. Ancient vinyl floor, folding chairs, a coffee urn. A tube of ChapStick idly lost under a pew. A thick layer of dust and ashes seems to cover everything. In come eight souls that have been lost to dependence. Welcome to the Friends of Saul, a mysterious support group whose meeting Dave Malloy allows us to eavesdrop on in Octet, the thrilling and difficult work that launches his five-production residency at Signature Theatre. It's an a cappella musical, but In Transit it isn't. Think of it more like A Chorus Line — if A Chorus Line had been written in the style of an Annie Baker play.
There's a war going on out there somewhere, and its refugees are a group of people who've been destroyed by addiction to the Internet. There's Jessica (Margo Seibert), who had a meltdown that went viral. Henry (Alex Gibson) can't stop playing candy-related smartphone games. Karly (Kim Blanck) is done with the swipe right grind. One guy thinks God appeared to him in the form of a little girl (J.D. Mollison). They've been gathered together by the enigmatic figurehead Saul to discuss and cure themselves of their habits. But, just like one of Malloy's most famous characters from a different show, Saul isn't here. He might not even be real.
Musically, Octet is Malloy's most accomplished show to date; the transfixing score and vocal arrangements he's built for this production manage to eclipse his skilled creations in works like The Great Comet and Ghost Quartet. Here, his virtuosic and emotive eight-part harmonies are not only made up of vocals, but mouth sounds like pops and clicks, body drumming, and even the synchronization of pitch pipes. Simply on a technical level, it's one of the most inventive scores I've ever heard, with clever lyrics that match (though in some cases I wish they were as deep as they are prolix).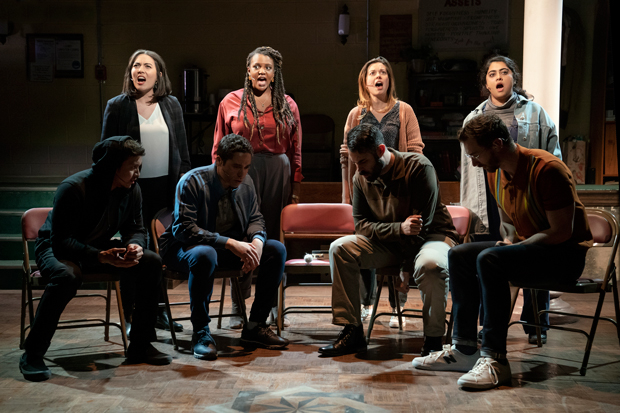 Malloy's book is just as crafty, but in subtler ways. On a structural level, he borrows from concept musical forebears like A Chorus Line and Company, which introduce us to characters and their backstories one by one. The inspirations don't just end there; they include the Persian poet Rumi, The Hitchhiker's Guide to the Galaxy, Black Mirror, and many others. The figures in the Major Arcana of Tarot serve as the basis for the individual characters. There's a lot to absorb, especially in the second half of the piece, which veers into the territory of the mystical. It would take more than one viewing to take it all in, and honestly, I'm fine with that.
Annie Tippe, one of Malloy's regular collaborators, stages the show in a way that's completely in tune with the text's version of reality, where everything looks standard but is just a little off. In addition to Amy Rubin and Brittany Vasta's meticulously realized immersive set, Brenda Abbandandolo's costumes go a long way in adding texture to the characters, while Christopher Bowser's lighting finds unique ways of becoming extremely unsettling. Extra credit must be given to musical director Or Matias, who guides the collectively exceptional company through inner ear pieces, and sound designer Hidenori Nakajo, whose efforts make it so every vocal impulse is heard with crystalline clarity.
Octet is one of those rare shows that's ambitious as hell and actually delivers on it's promise. It's admittedly not for everyone — if you thought The Great Comet was impenetrable, this is even trickier — but those who thrive on theater will likely appreciate it. Once again, Malloy tests the genre by pushing it to its limits, and Octet ultimately delivers the one-of-a-kind feeling that emerges only when you're able to lose yourself in a musical, as opposed to the black mirror you're reading this on.