You're a Good Man, Charlie Brown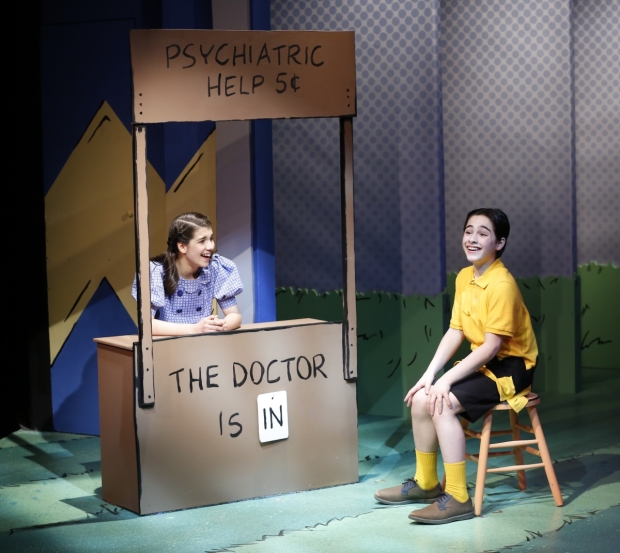 The 1999 revival of Clark Gesner's You're a Good Man, Charlie Brown contained many firsts. For young audience members, it was an initial taste of Broadway. For seasoned theatergoers, it was an introduction to major talents like Roger Bart and Kristin Chenoweth. For this pair, it was their primary opportunity to show the world how invaluable they are as performers. As a result, the scenes they stole as the Peanuts characters Snoopy and Sally Brown netted them Tony Awards.
The York Theatre Company's current revival of the musical will surely prove to contain a similar number of mind-molding experiences for viewers and cast. Just like in 1999, this production provides several of the stars, all of which have professional credits and are younger than the age of 15, a first chance at the spotlight. And those who head to the theater at St. Peter's Church will likely recognize the star potential in these young actors, even if the presence of actual children takes the tone of the work in a different direction.
Inspired by the comic strips of Charles M. Schultz, You're a Good Man, Charlie Brown is a series of vignettes, which Gesner himself describes as "an average day in the life of Charlie Brown." Charlie (Joshua Colley) is browbeaten by the world — not only can he never seem to get his kite to fly, but he can't bring his team to victory in an important baseball game. Even worse, he doesn't receive Valentine's Day cards from his elementary school friends.
But they're all too preoccupied with their own lives to notice Charlie's solitude. His piano-playing friend Schroeder (Gregory Diaz) is struggling to get his friends to recognize the accomplishments of the great composer Beethoven. Lucy (Mavis Simpson-Ernst, perfectly crabby) is dispensing bad advice from her psychology stand, while trying to steal the prized blanket of her baby brother Linus (Jeremy T. Villas). Charlie's sister, Sally (Milly Shapiro, a Tony honoree for Matilda), is busy coming up with new philosophies and chasing rabbits. And then there's Snoopy the dog (Aidan Gemme), longing for supper and dreaming of a life as a fighter pilot.
With adult actors playing the Peanuts gang in both the original 1967 production and the revised 1999 revival (Andrew Lippa and Michael Mayer provided additional material), the show was in keeping with the sensibilities of the beloved comic strip, which presented the fears of post-World War II America through the eyes of children, but with a decidedly adult sense of humor. Charlie's seemingly harmless psychological issues were humorous when delivered by a self-effacing grownup playing a child. But when an actual child is playing Charlie, and subjected to some pretty harsh verbal jabs, the show becomes unexpectedly serious.
Tonally Michael Unger's production, which uses the 1999 script, loses the gleeful winks that gave the original productions their humor. When presented earnestly, the show doesn't quite work —and it's hard not to worry about Charlie's child psyche. While the show has a happy ending, here it feels like a more disturbing look at a desperately unhappy youth and his awful pals (a la Burt V. Royal's Peanuts-inspired satire Dog Sees God). But the kids give it their all, especially Colley, who in the title role is thoroughly heartbreaking while still finding sweet, affable humor in Charlie. Similarly, Gemme mines the deadpan humor we know and love in Snoopy, and Villas steals the first act by dancing an adorable pas de deux between Linus and his blanket (the otherwise sufficient choreography is provided by Jennifer Paulson Lee).
Unger's staging keeps the show sunny at all points. The lighting (by Graham Kindred) is vibrant; the set (by Brian Prather) is appropriately cartoony and childlike. Grier Coleman's costumes are perhaps the evening's most high concept element; watch out for an amusing sight gag involving Charlie's outfits. Eric Svejcar leads a jaunty three-member band, though the higher keys should have been altered for the cast members whose voices are in the midst of changing.
Overall, this iteration of You're a Good Man, Charlie Brown feels like a production at an arts-based middle school, which isn't a bad thing. There's bound to be a young someone seated in the dark of the auditorium who dreams of being onstage for real. And if that's the very least the production can offer to the next generation of theatergoers and actors, the mission has been accomplished.