Working Celebrates a Population of Unsung Heroes for City Center's 75th Anniversary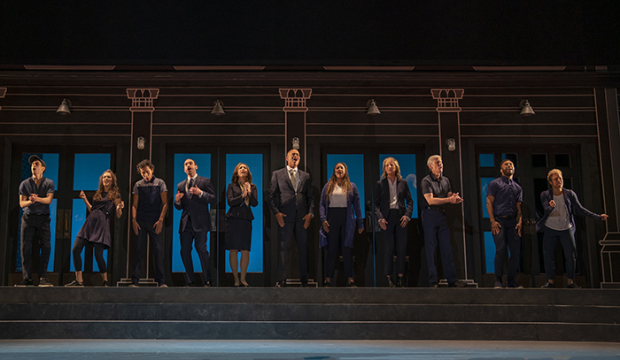 It's only fitting that New York City Center should pay tribute to the American labor force, just as the 2020 Democratic presidential candidates take the debate stage to woo working-class voters. Working, adapted by Stephen Schwartz and Nina Faso from the book of the same name by Studs Terkel, is a series of musical character studies, profiling those people our politicians like to call the "backbone of America": a teacher, a waitress, a mason, a delivery boy, a maid, a truck driver, and so on. The lovely thing about Anne Kauffman's Off-Center production (as opposed to political oratory) is that it's delivered with a wholesome spirit of generosity and gratitude, and expects nothing in return.
A brief history of Working: It was first produced in 1977 and combined firsthand accounts from various workers with songs by Schwartz, Craig Carnelia, Micki Grant, Mary Rodgers, Susan Birkenhead, and James Taylor. Lin-Manuel Miranda contributed two more songs to the score in 2012 (perhaps explaining all the Hamilton and In the Heights alums in this cast), and in its current incarnation at City Center celebrating the New York venue's 75th anniversary, the production has incorporated additional interviews with City Center staff from security guards to box office managers.
It's one of the more modest productions City Center has seen in recent years. Set designer Donyale Werle re-creates City Center's exterior as the backdrop for the 90-minute revue, featuring only a handful of fully staged numbers in between a collection of stand-and-deliver songs sung behind music stands (Andréa Burns's robust waitress soliloquy, "It's an Art," stands out as a showstopper for that very reason). Fortunately, this is a cast of people who can hold an audience in the palm of their hands. David Garrison sings beautifully in Carnelia's "Joe," a musical tour through the daily life of an aging man; Javier Muñoz offers a tearjerking rendition of Schwartz's "Fathers and Sons"; and the teenage Mateo Ferro has charisma for days in his solo number "Delivery" (one of Miranda's contributions). Ferro doesn't have the same vocal prowess as performers like Christopher Jackson (who plays a soulful valet in Grant's "Lovin' Al") or Tracie Thoms (who belts out Grant's "Cleanin' Women"). However, he sings with the youthful enthusiasm of a kid earning his first paycheck and salivating at the sight of a tip — a sound that shouldn't have a Broadway polish.
And while we're on the subject, to answer every Mad About You and As Good as It Gets fan's burning question — no, Helen Hunt (the Oscar-winning actor who has taken this opportunity to make her musical-theater debut) does not have a trained singing voice. She does, however, hold her own on a technical level, and more than delivers in her performance, at one moment singing as a no-nonsense veteran teacher (Rodgers and Birkenhead's "Nobody Tells Me How"), and another as a housewife (Carnelia's "Just a Housewife") who silently absorbs society's derision. Neither of these women sings like Patti LuPone in the real world, so it's heartening to see that they don't on a big New York stage either.
Between songs, there are intermittent monologues delivered in the voice of City Center workers, which, depending on the attitude you bring to the theater, can either feel touchingly personal or excessively sentimental. And yet, you leave the theater with the distinct impression that it makes no difference which side of that fence you yourself landed on. This production hasn't been created for City Center's regular patrons, but rather is a long overdue gift to the workers who keep those patrons safe, secure, and entertained. In a world that rarely exists to serve them, we should all be happy to listen to them for a change.