What the Constitution Means to Me Asks, "Should We Abolish America's Founding Document?"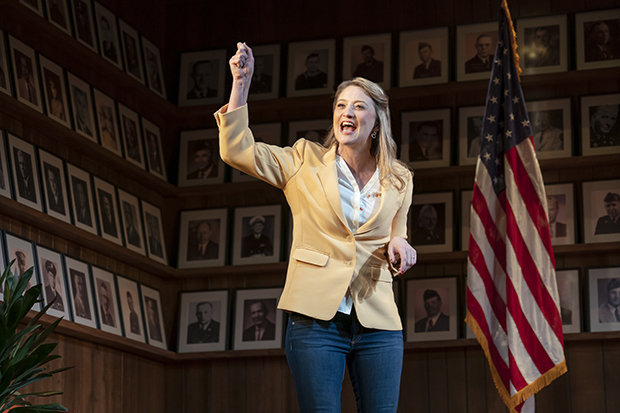 Have you ever thought of the perfect thing to say only after you've left the room? The French call this l'esprit d'escalier, and while it most often refers to a witty comeback to an insult, one can think of few situations more insulting than the unequal state of women in a country founded on the principle that "all men are create equal." That is the subject of Heidi Schreck's exhilarating new play, What the Constitution Means to Me, which has transferred to Broadway's Helen Hayes Theatre following two sold-out runs downtown. Taking the form of a civics lecture, it is the surprise thriller of the season.
That's because Schreck (who wrote and performs the play) is possessed with l'esprit d'escalier: When she was 15, she used to travel around the country to American Legion halls and compete for scholarship money by giving speeches on the Constitution (she funded her entire college education this way). While she has lost the text of her prize-winning speech, she attempts to re-create it here. Except that 30 years of hindsight keeps intruding into her youthful enthusiasm for America's founding document. Anecdotes from her life and the century-long history of the women in her family (starting with her great-great-grandmother, purchased as a mail-order bride) point out the Constitution's many shortcomings when it comes to protecting Americans (especially American women). This is not the speech she actually gave, but perhaps it's the one she ought to have given.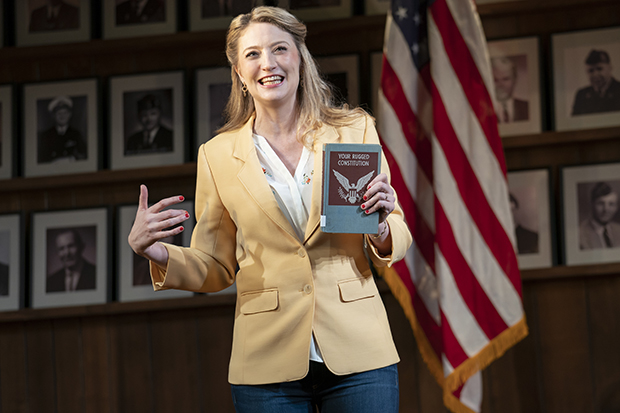 Schreck's blending of the past as it was with the past as she wishes it had been causes us to question the reliability of memory. She admits to this when she says, "We performed these speeches to audiences of older — mostly white — men, and in my memory, they were all smoking cigars. Although, in retrospect, I think that can't be true." Through this haze of imaginary cigar smoke, we see the futility of pining for an imagined past that was "great," and the impossibility of "again" — at least in real life.
The theater is another matter, and Schreck seems to float above time and space as she re-creates and rewrites her past, pausing to comment on the difference between the negative rights of our Constitution (which says what the government cannot do) and the positive rights of more modern constitutions (which say what citizens are entitled to do). She also blasts through the artificial boundaries of form as she effortlessly gambols between memory play, confessional monologue, and political debate.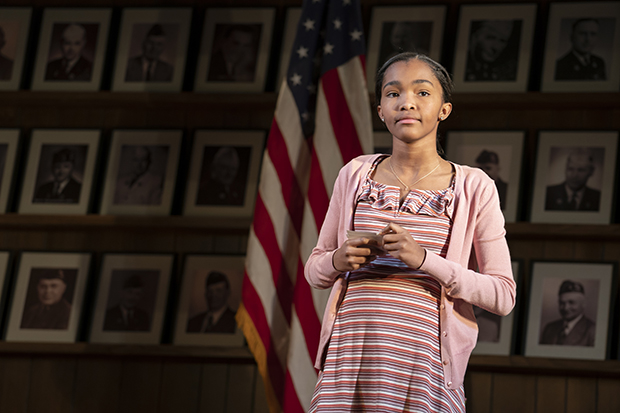 That last part arrives near the end of the show, when the astonishingly poised Rosedely Ciprian (just 14 years old) joins Schreck onstage for a parliamentary debate on the question, Should we abolish the United States Constitution? (Ciprian alternates this role with Thursday Williams.) This is the section most likely to get your heart racing, not least because of Ciprian's rabble-rousing delivery.
There's a third actor: Dressed as a legionnaire, Mike Iveson stoically sits stage left through most of the play keeping time and silently scrutinizing Schreck's every word. As she speaks, he purses his lips like Mitch McConnell — although I suspect he might be doing this to prevent himself from laughing.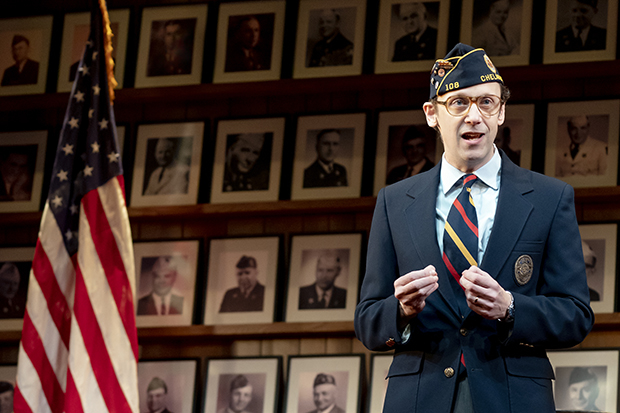 Luckily, the rest of us don't need to hold back, because we cannot. Schreck is seriously funny, conveying her text with breathless charisma and a sunburst of a smile. "I was raised to be psychotically polite," she reveals, somewhat superfluously. Her asides seem to have asides as she delivers an unvarnished and personal monologue that keeps us laughing even when she's discussing disturbing subjects.
Director Oliver Butler's production showcases Schreck's singular presence and helps us connect with her perspective through well-chosen visuals. Rachel Hauck's set looks like a giant diorama of a Legion hall plopped down onstage. The wood-paneled walls are lined with headshots of what seems like a battalion of legionnaires, their unblinking male gaze on Schreck. Michael Krass has costumed her in blue jeans and a yellow blazer than accentuates her adolescent golden-retriever personality. The moment she takes it off and transforms fully into her adult self (a beat she delivers with an exhausted exhale) is the most significant transition in the whole play. Sound designer Sinan Refik Zafar supports Schreck's passages about the Supreme Court with audio of oral arguments, including a truly infuriating clip of Antonin Scalia quibbling about the word "shall" in order to deny a woman's right to sue her local police department after it failed to protect her children.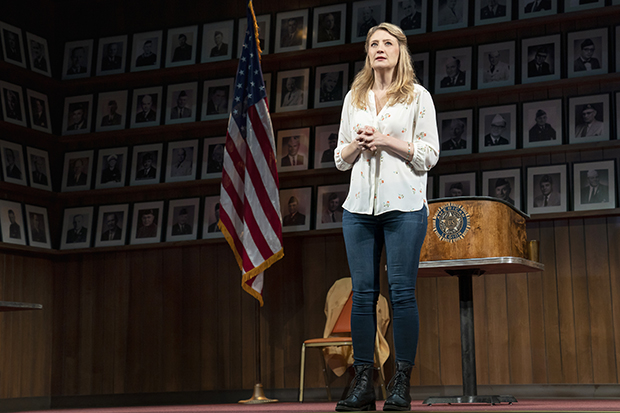 Schreck makes a compelling argument that no governing document will ever be a panacea for society's ills, and that we will always have to depend on the good faith (or contend with the lack thereof) of the people charged with interpreting that document. That makes What the Constitution Means to Me a rallying cry for active participation in our democracy, which doesn't end at the ballot box. It means actually running for office and amending long-standing provisions of the highest law of the land. That's not a drastic measure, but an essential part of the process.