Veep Star Anna Chlumsky Is Living on Love on Broadway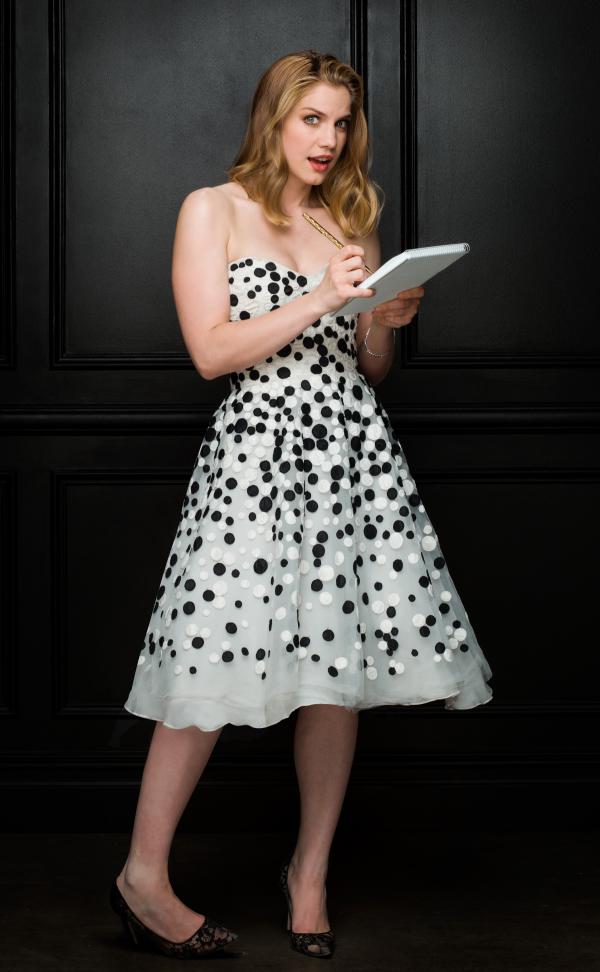 For Anna Chlumsky, 2015 will forever be known as the year she got to do two Broadway shows back-to-back at the same theater. First up was Scott Ellis' daffy revival of Kaufman and Hart's You Can't Take It With You, in which she replaced Rose Byrne as Alice Sycamore. The second, beginning tonight at the Longacre Theatre, is Joe DiPietro's Living on Love, a new comedy directed by Kathleen Marshall about an opera singer (celebrated soprano Renée Fleming), her maestro husband (Douglas Sills), and the ghostwriters they hire to pen their memoirs.
Chlumsky plays Iris Peabody, the young woman engaged by the conductor to write his book, except he won't tell her anything about his life. The role, which she originated last summer at Williamstown Theatre Festival, fits perfectly in her canon of quirky but lovably endearing characters, a list that includes Vada Sultenfuss in the '90s films My Girl and My Girl 2 and Amy Brookheimer, the trying-to-keep-it-all-together chief of staff on the current TV show Veep, which earned her a pair of consecutive Emmy nominations.
Amid rehearsals for Living on Love, TheaterMania chatted with Chlumsky to discuss her newfound Broadway windfall, the similarities between Veep and theater, and the world-renowned opera diva who likes to hum in the rehearsal room.
You went from zero Broadway shows to two Broadway shows all within three months. How did that happen?
You know, it was a surprise. I knew that this show was trying to transfer from Williamstown. They had me in the loop a little bit, so I was getting very excited and keeping all my fingers crossed that we'd get to do it again. And then in the interim, Scott Ellis, in all of his generosity, thought of me for replacing Rose [Byrne] in You Can't Take It With You. It's really not every day that the calls just come without you even knowing, and that one did.
Was it hard to come into such an eccentric ensemble midway through the run?
You would have to be such a grump not to fit in with that! They were just the kindest, most inviting, playful [group]. I am so happy that that was the experience I got. It was a delight. At the end, we got to bow and have a moment to say, Oh my gosh, this is what we get to do for a living.
Tell me about Living on Love. What was it that attracted you to the play?
I adore that tradition of crackling screwball language that Joe [DiPietro] has so beautifully carried on in this play. I'm very much somebody who grew up on old films and in a house filled with classical music. I just thought that this was going to be a super fun romp to do. And with Kathleen at the helm, I knew it was set up for success. She's whip-smart and has such a keen sensibility of cause and effect, which is what a great choreographer and director has to have. Initially, even before hearing Douglas Sills do the role, I was more intrigued by Is this going to work? Can this work? And the second we sat down at the table in Williamstown and I heard him do it, it was like, Ohhh, holy crap. This works.
What is it like to work with Renée Fleming?
She's so cool. And she's funny. I keep trying to find a synonym for down-to-earth. Grounded, maybe. She's a terrific person, and she makes you forget that she's as illustrious as she is. And then her cell phone will go off and it's Itzhak Perlman, and you're like, Oh, that's right. I get a free little measure of Renée every day for my job.
Will the show appeal to her fan base from the opera world?
The show is surrounded with classical music and opera. So anybody who comes because they're fans of classical music and opera will be perfectly entertained. In our rehearsals, we do respect the music and we play with some. And then, you know, she's a musical person and she'll just hum things. And it's heaven.
You've said in interviews that you all workshop the episodes of Veep before you start shooting. Does that remind you of working in theater?
It's something that I've always revered about our process. It does have a sense of the company of the theater, of putting on a show. Some directors will let us, depending on how much time we have, do some of those long ensemble scenes all in one take. Those are my heaven days. I call them the one-act plays. You can tell on TV which ones those are. They still edit them, but you can at least see that we're all living in the scene. It's very theatrical being able to do it that.
Now that you're on Broadway, what are your dream roles?
I've got a slew of them that I wouldn't even attempt to list at this point. It's kind of nice that people are putting it in terms of Broadway now. I always tell people who are like, "Do you like theater or film better?" that I like "good." Wherever the good stuff is being done, that's what I like to be in.