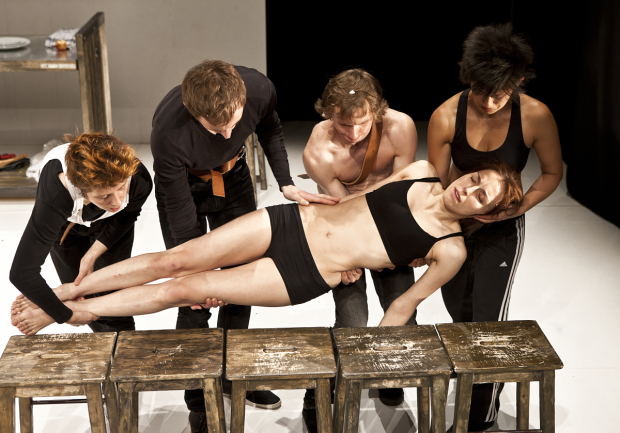 Didn't any of the parents of the Belarus Free Theatre actors teach their kids not to play with food? Perhaps they did, but their transgressive artist children thankfully didn't obey. That's one of the takeaways from Trash Cuisine, Belarus Free Theatre's food-flinging engagement at La MaMa's Ellen Stewart Theatre. The show thrillingly raises important questions about the modern state of capital punishment through a well-choreographed barrage of sights, sounds, and smells.
Trash Cuisine marks the return of Belarus Free Theatre to La MaMa after a high-profile appearance in 2011, right on the heels of the contentious 2010 presidential election and the protests in Belarus that landed many of the company's artists in jail. The troupe is officially prohibited in Belarus.
This follow-up (their first English-language work) was partially inspired by the trial of Vladislav Kovalyov and Dmitry Konovalov, two young Belarusians who were convicted of a terrorist attack on the Minsk subway and quickly executed. Many Belarusian dissidents are convinced that the attack (which took place in the months following anti-regime protests) was staged by the government to instill a fear of change among the population.
While Belarus Free Theatre gives ample time to tell this story from its home country, the scope of the play expands to examine executions in places all around the world. An Argentinean couple perform a tango in a spotlight, nearly slipping on walnuts as masked men lurking in the shadows roll them across the floor. A Thai and Belarusian executioner feast on strawberries and champagne, nonchalantly discussing their methods as two people are stuffed into body bags downstage. The snooty diners of a posh American supper club lip–synch the words of defense attorney Clive Stafford-Smith as he vividly describes the electrocution of one of his clients. None of them seem to really notice the words they are mouthing, blissfully (and maddeningly) refusing to even seriously engage with the topic. They seem more interested in the wine list. Behind each of these vignettes is a fundamental question: What right does any state have to take the life of any citizen?
Somewhat disappointingly, playwright-directors Nicolai Khalezin and Natalia Kaliada never prod very far into this question, nor do they give much airtime to our societal justifications for the death penalty. A devil's advocate presenting this case might do a lot to spice up the event and make it less of a polemic. Kaliada and Khalezin seem satisfied to let us fight that out after the show. Instead, they focus their script on the act of capital punishment itself. Its unpleasantness is laid bare onstage through frighteningly committed performances.
Much of the power of '"Trash Cuisine'' derives from the use of real physical obstacles in the telling of the story. Using just eight stools (set by Yuri Kaliada) the actors create an array of death and torture devices. At one point, a blindfolded performer walks backward on a line of these stools as another actor frantically tries to extend the platform so the actor won't fall. Somewhat ridiculously, the actors attempt to slice onions with giant meat cleavers and machetes. Every member of this eight-person ensemble fearlessly dives into the production, to chilling result.
With luxurious diction and an unsettling physicality, Philippe Spall serves as a kind of grim Food Network host, reciting Shakespeare and munching on an apple as he guides us through the depths of human violence. His description of a French delicacy, the ortolan (a songbird drowned in Armagnac and eaten whole), is thoroughly revolting. It's not nearly as bad as Esther Mugbambi's terrifying descriptions of the Rwandan genocide, during which Spall fries meat in a skillet. As the smell wafts over the theater, you may feel nauseous.
The show occasionally verges on what Antonin Artaud called the "Theater of Cruelty": All of our senses are engaged, sometimes in overwhelming ways, as when a piercing tone rings through the space for a full 60 seconds as a way to simulate the sound of the electric chair. Many in the audience wince and cover their ears to block out the noise, but this certainly seems like a luxury compared with what the people onstage are going through.
Composer Arkadiy Yushin sits on the side of the stage, underscoring each moment with his guitar and drums. If your senses of smell and sight do not move you, Yushin's heartbreaking music surely will.
Obviously, this is not theater for the faint of heart. If Trash Cuisine is ever presented at one of our nation's many sensitive liberal arts colleges, it will almost certainly come with a trigger warning. Still, this unique and rigorous political theater is not to be missed.